How Jeep Vehicles Become Desert Rated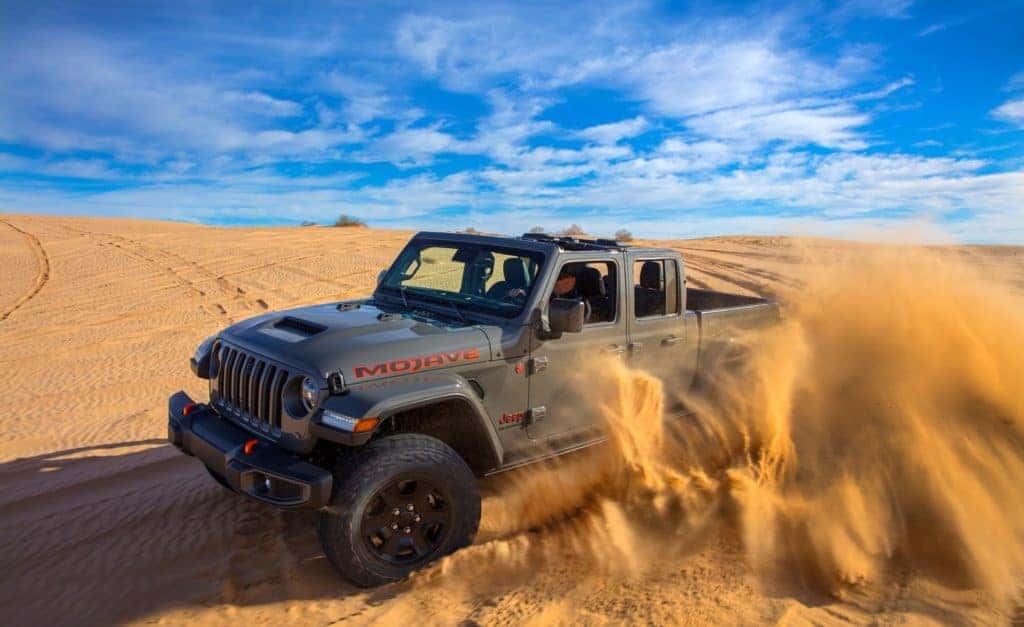 If we were to judge by automakers' actions as of late, we would notice that it's apparent consumers are interested in numerous off-road-race-ready pickups. Jeep is the latest brand to explore this segment with the introduction of the brand's first Desert Rated designation. Much like the existing Trail Rated badge reserved for Jeep's most capable SUVs, the Desert Rated badge takes specs to the next level. Jeep named five different categories — Ride Control and Stability, Sand/Dirt Traction, Ground Clearance, Maneuverability, and Desert Prowess — in which vehicles must excel to earn the newly-minted Desert Rated designation.
Ride Control and Stability
While crossing the desert at high speeds, a Desert Rated Jeep vehicle has to maintain its heading regardless of the bumps and dips it crosses over. Additionally, not only does a Desert Rated Jeep need to maintain its stability, but it also has to possess the durability to withstand such off-road efforts frequently. Introduced on the latest Gladiator Mojave, the Desert Rated badge relies on the following gear to get across the desert in a controlled manner:
A front track that's been widened by a half inch to add stability and accommodate the shocks
Military-grade suspension fluid that functions at high temperatures without sacrificing performance
10mm-thick cast-iron axle tubes
Frame reinforcements where the engine and transmission mounts
Patented 2.5-inch diameter remote-reservoir shocks designed for high temperatures
Sand/Dirt Traction
Jeep vehicles who earn a Desert Rated badge have to be able to accelerate on all types of desert terrain, and that includes rock, gravel, sand and dirt surfaces. Traction-enabling features on Desert Rated Jeep vehicles include:
A low-range transfer case
Dana 44 front and rear axles
33-inch Falken Wildpeak all-terrain tires with a tread pattern on the sidewall
A standard electronic-locking rear differential that can lock at higher speeds when necessary
Ground Clearance
Ground clearance is of the essence, as it functions as the main way of protecting the vehicle from sharp rocks and the like. Features that aid in ground clearance include:
A standard front skidplate for protection
A 1-inch suspension lift for added clearance and jounce travel
Maneuverability
It is vital for any desert-crossing vehicle to retain its agility as it navigates around obstacles. Such a feat requires a vehicle to have a "sportier" steering and suspension setup, and Jeep achieves this with improved suspension tuning rates and steering ratio. Additionally, the Gladiator Mojave is improved with an increased rear anti-roll diameter.
Desert Prowess
Desert prowess means that a vehicle must be able to handle the hard running required to traverse difficult desert conditions that include excessive dust and sand and intense heat. For Jeep, this could mean the addition of special sand separators in the intake system or revisions to the cooling system. Other technologies, such as features that nearly-customize throttle, transmission shift points, and traction-control, are also very important when it comes to being Desert Rated.
Visit The Jeep Experts at Hollywood Chrysler Jeep to learn more about Jeep vehicles and their off-roading abilities. Check out the 2020 Jeep Wrangler and 2020 Jeep Gladiator while on your visit and take them for a spin. Follow The Jeep Experts on Hollywood Chrysler Jeep social media for the latest Jeep news.
Photo Source/Copyright: Autoguide