Inexpensive Ways to Customize Your Jeep Wrangler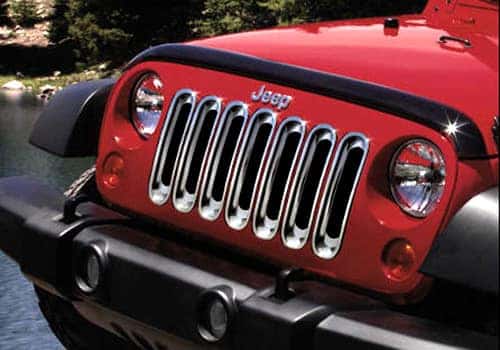 Jeepers are among one of the few vehicle owners on the planet who have the ability to make their vehicle truly one-of-a-kind. The Jeep® way of life nearly dictates that accessories and aftermarket parts be a part of the experience – ranging from simple badges and lift kits to even trail battle scars. While the costs of customization can be a deterrent for some, the Wrangler offers plenty of ways to modify and accessorize without breaking the bank. Some modifications are geared towards looks, while others definitely improve function – and all depend on what the Jeeper needs.
Leather & Chrome Shift Knobs
An inexpensive accessory that's easy to install and meant to enhance the existing transfer case and shift knobs.
Custom Metal Fuel Door
Jeepers can add a sporty look with a custom metal fuel door. Doors are available in chrome, stainless steel, or a black powder coat and are easy to install. Locking fuel doors are also available for those who seek to protect their fuel from theft or contamination.
Decals
Decals offer an easy way to make a Wrangler one-of-a-kind – be it replacement decals, Jeep Wave decals, or Badge of Honor Program decals and badges.
Dash Trim Accents
Interior accent accessory parts are often offered in brushed silver or chrome finish to match factory interior trim pieces. They're also injection-molded and made to match the interior pieces for an exact fit. Pre-installed high-strength adhesive tape makes installation a snap.
Side Mirrors
Changing the stock mirrors is also another inexpensive option that gives Jeepers the ability to improve the look and overall feel of their vehicle. Styles range from rugged to chrome and round to square design.
Light Guards
Jeep light guards contribute to both style and function. Meant as a way to protect headlights and taillights from being damaged in rough terrain, these light guards add a whole other layer of rugged style as they cage the existing lights.
Grille Inserts
Intended to add style to the front fascia, grille inserts range from chrome inserts that lock in with the grille slots for an additional menacing look or graphics that sit behind the grille for a more personalized style.
Shade Top
Shade tops vary depending on style from one- to four-piece tops that fit right under hard tops, soft tops, and bikini tops. The purpose of these tops is to reduce exposure to sunlight and diminish wind noise when going topless.  
These are just a few of the relatively inexpensive options available to Jeepers when it comes to customizations. It doesn't always have to be an extravagant lift kit that makes the world of a difference as more than plenty of the items listed here have the ability to drastically change any Wrangler's style. If a lift is what you're looking for then look no further than The Jeep Experts here at Hollywood Chrysler Jeep! We specialize in lift kits and many other modifications! Contact our service department at (954) 212-9327 or schedule a service appointment online today. If you don't yet have a Wrangler to modify then our extensive Jeep Wrangler inventory is a good place for you to start looking – schedule a test drive today!
Photo Source/Copyright: Auto Truck Toys