Intel on Spied Jeep Wrangler Pickup Truck!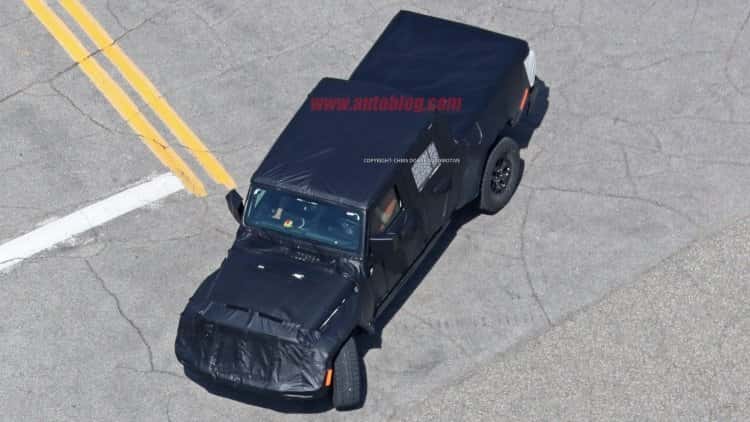 The Jeep Wrangler pickup has been spied again and it's still under heavy black covers, but its body and truck bed looks a lot like we would expect.
In the most recent spy photos, the Wrangler pickup has a truck bed that is the same size as the rest of the Wrangler body and it is very boxy, which fits the Wrangler's current design. The truck bed looks fairly close to the same size as the interior cabin of a four-door Wrangler Unlimited. While the body was covered, of course, the tires were not, and the exposed tires in the spy photos show large tires with a thick tread.
Aside from the exterior, we can only pass on guesses that other publications have made. In terms of the engine, Autoblog.com says, "… We also expect a turbocharged four-cylinder and a naturally aspirated V6 to be offered as engines on this and other new Wranglers, as well as the possibility of a diesel of some sort."  That seems like a pretty fair guess to us. Additionally, Autoblog.com expects the Wrangler pickup will make its debut sometime in 2019 and it will not hit dealerships until late 2019 or 2020 — so don't hold your breath … for now.
If you can't wait for the new Jeep Wrangler pickup, come by Hollywood Chrysler Jeep and check out the available Jeep Wrangler and Wrangler Unlimited models that we have available. If you don't want to commit to buying a new Wrangler, you can lease a model and then exchange it for the new Jeep Wrangler pickup when it is available. You can view our Jeep Wrangler and Wrangler Unlimited inventory online here.
Photo Credit: Autoblog.com