Introducing the Jeep Adventure Academy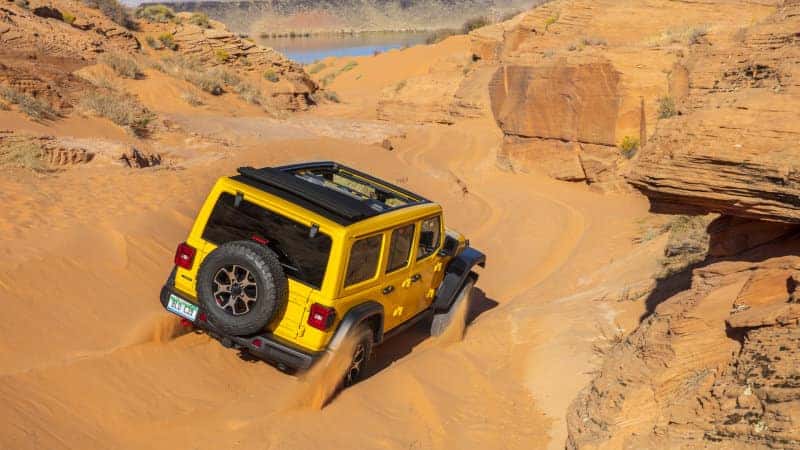 Jeep is introducing its first-ever Jeep Adventure Academy, a series of workshops that provide hands-on, off-roading driving instruction to Jeep 4×4 owners. Beginning October (2020), the Jeep Adventure Academy will launch in a few select locations, led by prominent instructors from Jeep Jamboree USA and other off-roading experts. Participants will not only learn the basics of off-roading, they'll also be treated to a course on their vehicle's legendary capability — all while building community with other Jeep adventure seekers.
Jeep Adventure courses encompass several essential off-roading areas such as:
Trail etiquette
Driving techniques
Properly evaluating terrain
Navigating challenging obstacles
Safety tips
4×4 system basics
Vehicle preparation
Equipment
"Off-roading is a rite of passage for Jeep 4×4 owners and the new Jeep Adventure Academy will provide key knowledge every off-roader can use for hitting the trails. The new Jeep Adventure Academy underscores the Jeep brand's commitment to delivering 4×4 vehicles that provide owners with a sense of capability, safety and security to handle any condition or adventure with confidence," said Jim Morrison, Head of Jeep Brand, FCA – North America.
The Jeep Adventure Academy launches during the first three weeks in October in the following places:
Holly Oaks Off-Road Vehicle Park – Holly, Michigan October 2-4
Southern Missouri Off-Road Ranch – Seymour, Missouri October 9-11
Hollister Hills State Vehicular Recreation Area – Hollister, California October 16-18
Those interested in participating can register at jeepadventureacademy.com. Not only is ownership of a Jeep 4×4 vehicle a requirement, there's also a $99 fee for a one-day session. As we mentioned prior, the academy sessions are taught by professional staff from Jeep Jamboree USA — an organization that's been in the realm of off-roading adventures since 1953.
Jeep is celebrating its 80th anniversary soon (2021), after having spent the better part of an almost-century building vehicles with legendary heritage and authentic capabilities. The automaker continues to be lauded for its versatility and craftsmanship when it comes to making cars for people who seek extraordinary journeys. Jeep Adventure Academy marks Jeep's latest invitation for its supporters to live life to the fullest while providing owners with a sense of confidence both on and off the beaten path.
Drive Jeep and handle any journey. Visit The Jeep Experts at Hollywood Chrysler Jeep to get behind the wheel of Jeep's latest offerings. Check out the Jeep lineup, whether you're in the market for the world's most-awarded SUV — the Grand Cherokee — or something with a little more bite to it like the all-new 2020 Jeep Gladiator, this brand's got you covered. Follow Hollywood Chrysler Jeep on social media to stay up to date with all things Jeep. Already a Jeeper? The Jeep Experts at Hollywood Chrysler Jeep also focus on customs and lifts. Reach out to our service department to learn more.
Photo Source/Copyright: Jeep