Jeep 4×4 Systems – Adventure Meets its Match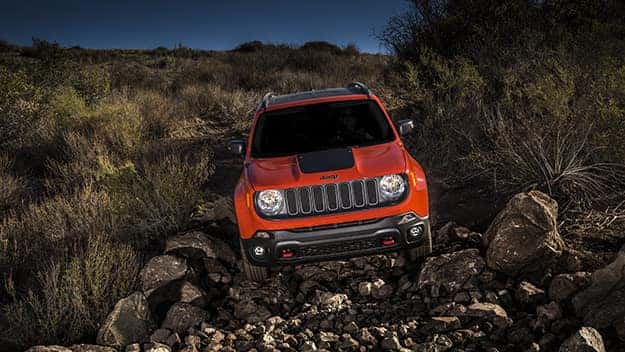 The mention of a Jeep® may trigger visuals of a vehicle making its way through steep rocky terrain, or perhaps that of crossing rivers with water splashing at the sides. However you imagine it, there is no denying that adventure is synonymous with Jeep brand vehicles – but there's more than meets the eye: their world-class 4×4 systems are designed to make all adventures possible. You can count on Jeep to help you roam freely, taking you to new heights and places unknown. Let us help you explore a few 4×4 systems offered by Jeep – and narrow down which one is right for you!
Command-Trac
The Command Trac 4×4 system is available on the Wrangler and Wrangler Unlimited, and its features add the kind of range that is to be expected from this classic vehicle. When used in the high range, the Command Trac 4×4 system makes off-roading and driving in slick conditions possible – the system is recommended for use on wet, snow-covered roads, sand or high gravel. Also included with this system is a transfer case that's smooth and quiet while taking on the tough task of protecting the vehicle's most important equipment. Whether adventure has you climbing high over massive rocks or buried deep in the snow, the Command-Trac 4×4 system has your back.
Quadra-Drive II 4×4 with Rear ELSD
The Quadra-Drive II 4×4 system with rear electronic limited slip differential (ELSD) comes as the standard on the Grand Cherokee Trailhawk and is offered as optional on the Limited, Overland, and Summit trims. This system with rear electronic limited slip differential does a fantastic job of providing drivers with excellent all-weather traction and classic off-road capabilities. Additionally, the Selec-Terrain Control System allows you to tailor the vehicle to your exact driving conditions – sand, snow, mud or rock are all available options. If that wasn't enough for your off-roading needs, the Quadra-Drive II system is also equipped with the Quadra-Lift Air Suspension system that can raise the vehicle for better off-road capability – or you know, giving you that added height to enjoy water fording without worrying too much about possible water damage.
Quadra-Trac I 4×4 System
The Quadra-Trac I system is available on the Laredo and Altitude trims of the Grand Cherokee. Meant to match the easy and comfortable feel of the vehicles, the Quadra-Trac I system requires no additional lever-pulling or button-pushing to be activated – the system is always engaged and ready to help you conquer the road regardless of driving conditions. The system operates in a high-range at all times, organically providing traction for any driving situation with no need of input from the driver. The power is split thanks to the center differential – 48 percent of power towards the front axle and 52 percent of power towards the rear axle respectively, and allows for a quiet and confident drive.
Whether you're climbing mountains, swerving through a winding road, mudding or splashing while water fording, Jeep brand vehicles come equipped as if they're tailored to match your adventure. Come get a closer look at our inventory at Hollywood Chrysler Jeep and gear up to plan your next adventure.
Photo Source/Copyright: Jeep