Jeep Adventure Reality App Puts You In the Driver's Seat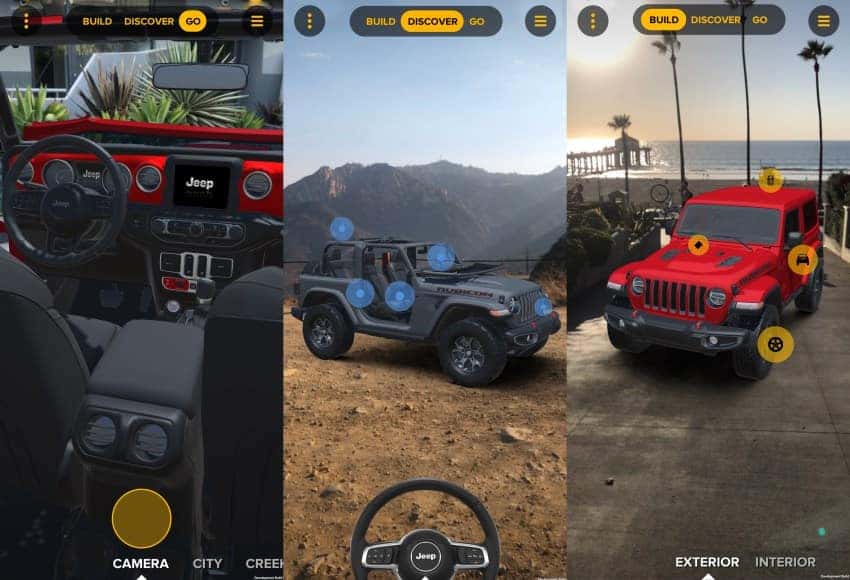 If you're like one of the many people that want to own an all-new 2018 Jeep Wrangler, but you're not sure which one to choose, which color fits you, or which configurations you want, there's a solution. Jeep has come out with a new app for smartphones that puts the power of designing a 2018 Jeep Wrangler.
The app uses augmented reality to place a virtual 2018 Jeep Wrangler JL literally anywhere, inside or outside with the exact dimensions showing in real time on the screen of your device.
About the Jeep Wrangler JL
The latest Jeep Wrangler, while holding the same iconic Wrangler appearance, has been modified to support advanced technology features built for the modern driver. The new Wrangler has an 8.4-inch touchscreen display and fourth generation Uconnect system, which is available 4G LTE connected services and an enhanced processing system, which are all features to meet the demands of consumers who always want to stay connected.
The New Jeep Wrangler JL provides a quieter cabin experience, has enlarged window openings and the spare tire has been moved to improve visibility. A lighter, more versatile Jeep Wrangler JL to be sure with a homerun when it arrives in stores, but with the new app, consumers don't have to wait to see it in stores to get a closer look.
Using a smartphone is the best way to check out what Jeep fans around the world have wanted to see for months, the all-new 2018 Jeep Wrangler. With the Jeep Adventure Reality app, fans can craft and adjust many features and craft their very own 2018 Jeep Wrangler.
From the color to the customizations, a user is given the ability to change everything right from within the app. Remove wheels, shape your Jeep Wrangler with tops off, doors on, however you'd like. Users of the Jeep Adventure Reality app can look through the entire interior and discover all the features they would like to add to their own 2018 Jeep Wrangler, should they want.
This app allows consumers to be able to walk into dealerships with what they want in mind and make for an easier car buying experience. Not only can users decide on what specific choice they want, once they are finished, the numerous options are displayed to show off their creation. Customers can easily share their design on social media or click a link to Jeep's website that will contact a dealer with the modifications the consumer has made.
If you've figured out what you wanted to craft and want to test drive a Jeep Wrangler, Hollywood Chrysler Jeep welcomes everyone to test drive a real 2018 Jeep Wrangler any day of the week. You're not only going to love your experience from our professional staff, you'll want to return to have our service center handle any oil changes, servicing and continue to shop with us.