Jeep Dreams of a White Christmas While the Pacifica Goes Caroling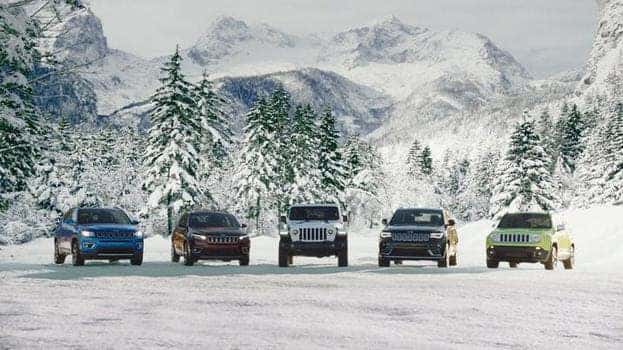 It's the most wonderful time of the year indeed, or it's about to be thanks to Fiat Chrysler Automobiles (FCA). The automaker recently announced the launch of its holiday-themed "Big Finish" ad campaign across its brands. All campaigns officially launched on television, social and digital channels, and feature recording artists like the multi-platinum, Grammy-nominated band OneRepublic and actress Kathryn Hahn. All advertising spots feature a twist on classic Holiday songs, with a rap-themed "Jingle Bells" spot and a reimagined "White Christmas" courtesy of OneRepublic.
Chrysler
Actress Kathryn Hahn lends her acting expertise for a 30-second spot titled "Caroling" that shows her Chrysler Pacifica serving as a boom box while out caroling with the kids. In the ad, Hahn showcases the Pacifica's UConnect infotainment system, complete with the Theater and apps features, the 20-speaker Harman/Kardon surround system and the hands-free sliding door. The original and brand-exclusive track, "Lit Christmas" that plays in the background is based on the holiday classic "Jingle Bells" and is performed by Scott Stallone ft. MC Rellik and Stones Throw Records. This isn't Hahn's first campaign with Chrysler as she initially teamed up with the brand's Pacifica back in March 2018 for a summer social video campaign. Check out the spot below and get ready for some holiday cheer!
Jeep®
OneRepublic partners up with the Jeep brand for the second time in 2018 – their first collaboration was during the Summer of Jeep campaign in which the band provided the music. Ironically enough, in this 30-second holiday spot, the band croons their reimagined rendition of "White Christmas" while footage of various scenery but rolls by. The entire Jeep lineup is seen conquering mountainous terrain, intensely-colored red rocks, emerald green forests, turquoise blue coastlines, soft-toned city streets, and finally, a red Wrangler plows through a white snowy landscape. Jeep knows that the holidays are where you take them, and thanks to all the Jeep SUV vehicles across the brand's lineup you can take the holidays pretty much anywhere. A fitting ode to a brand that's dedicated to getting its drivers off the beaten path. Check out the spot below and decide where the holidays will take you in your Jeep!
Chief Marketing Officer of FCA, Olivier Francois, revealed that FCA set out to accomplish three objectives with the "Big Finish" campaign – each ad had to be unique to its respective brand (Chrysler, Dodge, Jeep, and Ram) personality, had to be impactful enough to influence car-buying during the industry's busiest selling season, and each ad needed to be relevant and timely. Francois also added: "Our challenge during the holidays – when we are oversaturated with holiday music and bells ringing – is how do you get more than your fair share of attention if you use the same device as everyone else, and at the same time remain true to the identity of our brands? The answer, as always is the creative twist." Safe to say that the creative twist is definitely there.
FCA is no stranger to creativity and music as the automaker has been offering customers in the U.S. and Canada a complimentary Apple music experience to pair with its Apple CarPlay capabilities since May of this year (2018). New Apple Music subscribers receive six full months for free while existing subscribers receive three months free. The offer is extended to customers who buy or lease any new Chrysler, Dodge, Fiat, Jeep, or Ram vehicle and is good until April 30, 2019, at all Chrysler and Jeep dealerships.
So what do you say? Are you ready to kick off the holidays with a brand new Jeep? Check out our latest Jeep inventory and schedule a test drive today. If caroling with the kids is more your style then you should take a look at our Pacifica inventory as we're sure there are more than enough features to tickle your fancy.
Photo Source/Copyright: Jeep