Jeep Easter Safari Around the Corner, Ready for Moab?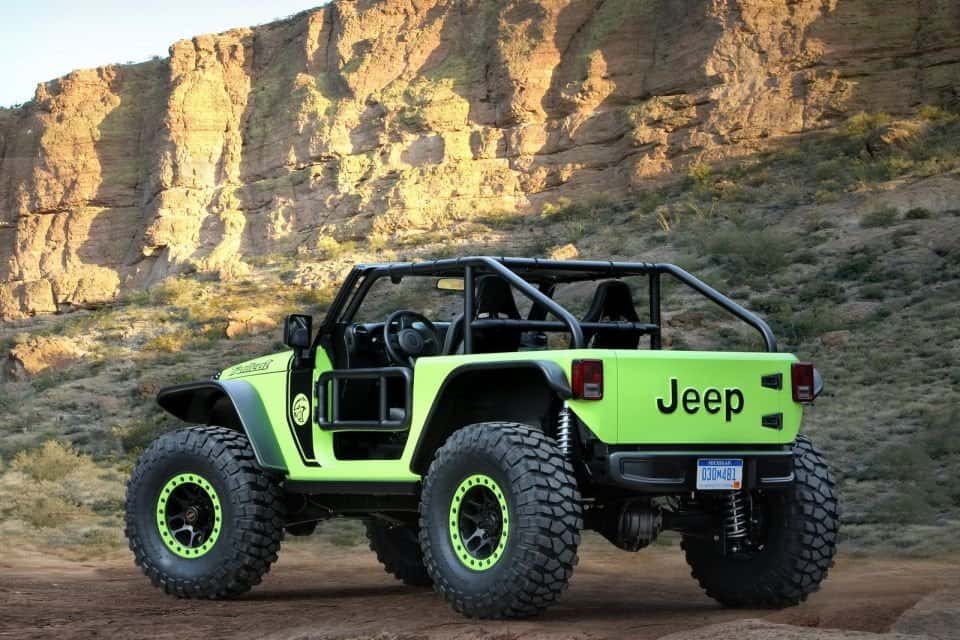 The annual Jeep Easter Safari held in Moab, Utah is one of the biggest Jeep events in the nation. Jeep drivers from all over the country head out to the picturesque red desert to ride and off-road together. To make things a little more special, each year Jeep designs and brings a couple exclusive Jeep models to the event and they are always awesome.
This year's Easter Jeep Safari is scheduled for April 8-16 and Jeep has already teased two concepts, here's a sneak peek.
2017 Concept Teasers
The first concept Jeep has teased so far for the upcoming Jeep Safari is the Jeep Switch Back.  Based on the leaked photos it appears as if the Jeep somewhat resembles the past Safari concept from 2015, the Africa MOAB concept. Features that can be spotted in the photo for the Switch Back include a Wrangler Unlimited platform, front brush guard, unique doors with cutouts in the center, and of course off-road tires.
The other leaked concept for 2017 is the Quicksand concept. For this concept, Jeep only leaked a sketch that reveals little detail. It looks as if it will be a two-door Wrangler JK with off-road tires (duh) and a roll cage. We can't wait to see the model and learn more at the Easter Safari this year.
Favorite concepts in the past
2016 Trailcat
The Jeep Trailcat is an unforgettable concept that was at last year's at Easter Jeep Safari. Imagine an off-road beast with the huge tires, a roll cage, rock rails, LED headlights and fog lights,and a vented power dome hood. Then take that off-road beast and add the SRT Hellcat engine. Yep, the 707-horsepower 6.2-liter SRT Hellcat engine. Thus, the birth of the all-mighty Trailcat.
2015 Jeep Chief
In 2015 the awesome Jeep Chief concept was released. This is one of our favorites now in 2017 there is a Chief trim available as a special edition for the Wrangler and Wrangler Unlimited. The Chief concept encompasses a classic 1970s style with a hawaiian and beachy feel. The concept had features like 17-inch slotted mag rollers, an ocean blue exterior color, surfer pink, blue and white flowered cloth and leather trimmed seats, and a white roof.

Planning on checking out Easter Jeep Safari or another Jeep event this year and are interested in a new Jeep to roll up in? We have plenty of options from you to choose from at Hollywood Chrysler Jeep. Check out our entire Jeep inventory here.
Photo source: Autoevolution