Jeep Finally Gives Enthusiasts a V8-Powered Wrangler, but There's a Catch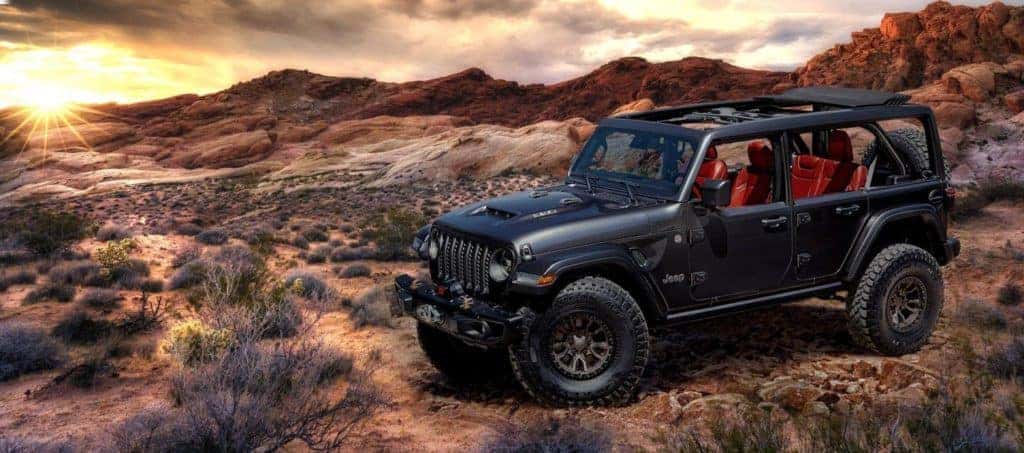 Jeep is notorious for offering one of the most recognizable vehicles on the planet — the Jeep Wrangler. The last time Jeep offered the Wrangler model powered by a V8 engine was in 1981. Back then, it was a 5.0-liter V8 under the hood of the Jeep CJ, with 125 horsepower and 220 lb-ft of torque. Jeep enthusiasts have been gunning for a V*-powered Wrangler in recent years, especially since the current-generation Jeep Wrangler has been so celebrated since it launched. These days, it looks like a V8-powered Wrangler might be a reality if the latest concept from the automaker is anything to go by.
Jeep introduced the new Wrangler Rubicon 392 Concept — it's powered by a 6.4-liter (392-cubic-inch hence the name) V8 engine that generates 450 horsepower and 450 lb-ft of torque. The concept also has a 0-60 mph time under five seconds. Additional features of the Wrangler Rubicon 392 Concept include: Dana 44 axles, electric front and rear axle lockers, a full-time two-speed transfer case, a Jeep Performance Parts two-inch lift kit, and 37-inch mud-terrain tires. The Performance Parts lift kit from Mopar is combined with suspension enhancements, a more precise eight-speed transmission, and the hefty V8 power plant to take the Jeep off-roading experience to new heights.
"Jeep Wrangler enthusiasts have been asking us for a Wrangler V8 and our new Wrangler Rubicon Concept 391 proves that we have the ability to make that happen. From the recently introduced 29-mpg Wrangler EcoDiesel to our award-winning Jeep Gladiator, and the upcoming Wrangler 4xe plug-in hybrid electric vehicle, Jeep is clearly listening to its customers. We are anxious to gauge their reaction to this new wrangler Rubicon 392 Concept, a vehicle that delivers an incredible and unmatched level of fun-to-drive performance and capability on- and off-road," said Jim Morrison, Head of Jeep Brand — North America.
Some of the modifications to accommodate such a massive 6.4-liter V8 engine and a stronger eight-speed transmission include: upgraded engine mounts and a modified frame. The Wrangler Rubicon 392 Concept features new aluminum, monotube Fox shocks that improve damping and help with heat dissipation. There's even a two-mode exhaust that works to alter the performance sound with the simple touch of a button.
The Dana 44 axles we mentioned earlier help the Wrangler Rubicon 392 Concept boast even more capability, while the Selec-Track full-time two-speed transfer case, along with the front- and rear-axle locking differentials complete the package. As for the 37-inch mud-terrain tires, those wrap around 17-inch beadlock wheels that work to hold the tires to the rims under extreme lateral loads — this allows for better reduced tire pressure operation and adds traction overall — perfect for off-roading.
In addition, the factory Jeep Performance Parts two-inch lift kit from Mopar improved the concept's overall suspension articulation along with improved approach, departure, and breakover angles. The menacing look is completed with Rubicon rock rails, steel bumpers with a Warn winch, and a steel belly pan. The Jeep Wrangler Rubicon 392 Concept is ready to navigate the toughest of off-road terrains.
Although this is only a concept for the time being, Jeep is depending on its enthusiasts and their opinions to gauge if it's a savvy move to bring this to production. In the meantime, The Jeep Experts at Hollywood Chrysler Jeep can help you with other Jeep Performance Parts lift kits from Mopar as they specialize in lifted Jeeps. Don't own your own Jeep Wrangler yet? Visit us at Hollywood Chrysler Jeep, check out our latest Jeep Wrangler inventory, and schedule your test drive today!
Photo Source/Copyright: Jeep