Jeep Gets Cryptic With its Latest Tweet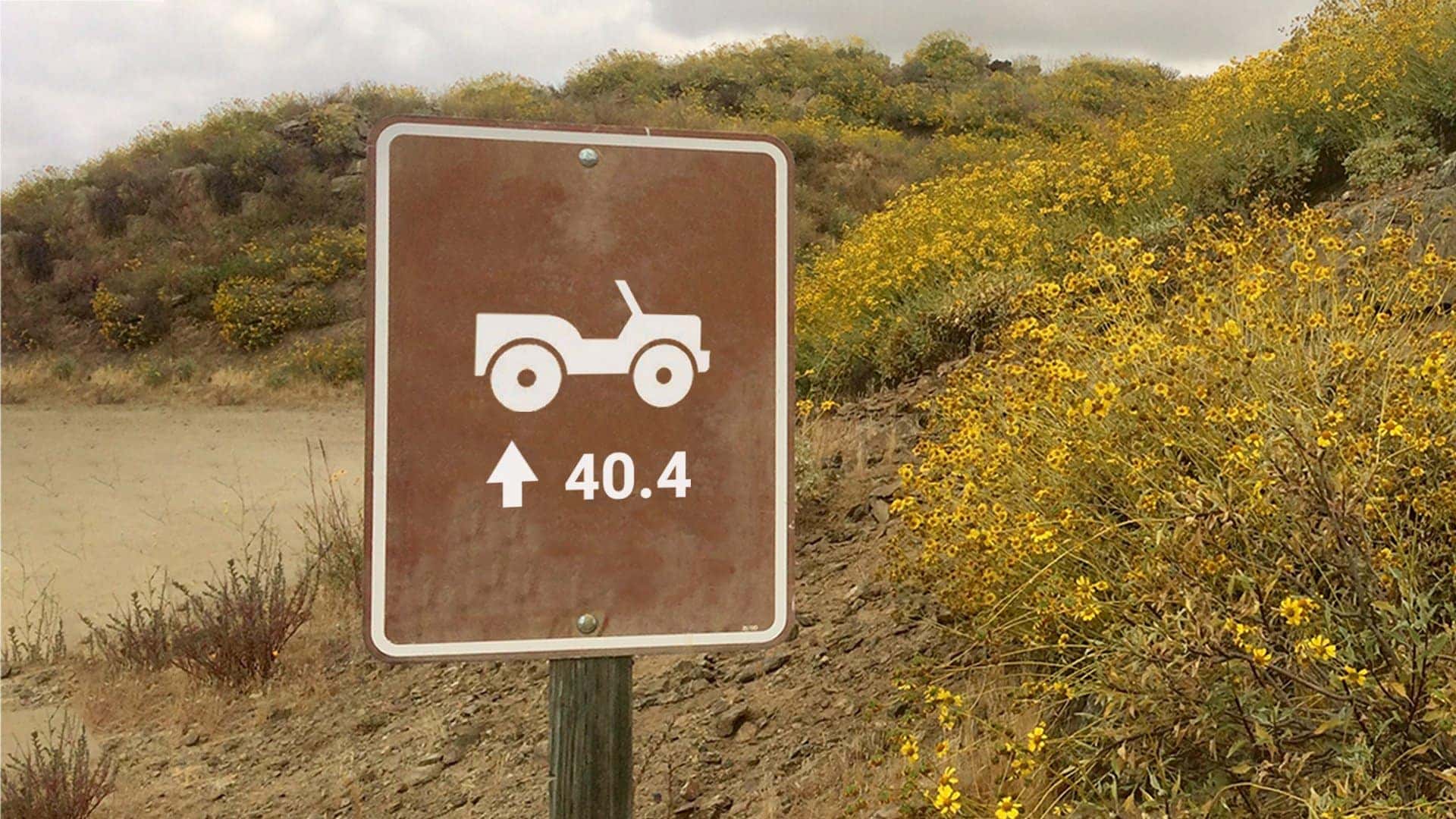 Jeep appears to have something up its sleeve once again. The iconic brand tweeted a photo — not of a vehicle — but of a sign seemingly showing a Wrangler with the number 40.4 printed on it. As for the tweet, it's cheekily captioned "A sign of things to come." That said, Jeepers immediately began to decipher what the cryptic post could imply. As online sleuths attempt to get to the bottom of Jeep's latest mystery, some have taken the time the tweet was made as a hint. Jeepers believe that the initial tweet, made at 4:02 in the afternoon, is awfully close to 4:04, thus the post time is believed to have some significance. Enthusiasts argue that it's possibleJeep's social media time was likely aiming for a post time of 4:04 but things probably got crossed up the Twittersphere. The important emphasis here is on the 40.4 and what it likely means. 
Some experts in the automotive segment get the feeling that the 40.4 figure may be indicative of electric performance chops. While everything remains up in the air and anything is possible, some experts argue that it could be an upgraded Jeep Wrangler 4xe with an improved all-electric range of over 40 miles. A figure like that would nearly double the current 22-mile all-electric range and would further catapult the best-selling off-roader even higher in the Plug-in Hybrid realm. Perhaps the figure also represents a larger 40.4-kilowatt-hour battery instead. That too would be a significant upgrade and oddly enough Jeep's cryptic post has an arrow pointing exactly where the battery pack is mounted under the second row of seats. 
Automotive Experts claim there's more evidence to support a new-and-improved battery theory. On June 11 (2021) several media outlets reported on the fact that Jeep updated its Facebook cover photo to reflect what looks like the interior of a plug-in hybrid model. Jeep enthusiasts dug deep and uncovered several details that indicated the vehicle in question is a Jeep Gladiator pickup. Others are more inclined to believe it is simply a higher-performance variant of the Wrangler 4xe. The latest teaser from the famed automaker distinctly shows the body of a Wrangler, but enthusiasts have been known to uncover even the finest details of any and every Jeep teaser in the past. Some experts give enthusiasts so much credence that they're inclined to believe the Facebook update shows a greener Gladiator, thus the two events could be unrelated. 
What else can the cryptic post possibly indicate? The sign is obviously reminiscent of a sign you'd find while out on the trail, so on some level it has to correlate to trail issues that concern serious off-roaders. While some discuss the possibility of it being a ground clearance figure, 40.4 inches feels like it's too extreme a clearance to offer directly from the factory. Approach, break over, and departure angles have also been considered as they're important when it comes to crawling over obstacles. Both the Wrangler and Gladiator models currently have a standard water fording capacity of 30 inches, so it's not farfetched to imagine 40.4 can be the new figure. 
Whatever the case, Jeep clearly has something up its sleeve and enthusiasts will likely get the final reveal when Stellantis — Jeep's parent company — meets for its big electrification summit this coming July (2021). Stellantis is poised to deliver big updates on the electrification plans for all of its brands. For the time being, enthusiasts are sure to get more teasers leading up to the big reveal, so we'll keep our eyes peeled. 
Visit The Jeep Experts at Hollywood Chrysler Jeep to get behind the wheel of the latest Wrangler and Gladiator models. Whether you're in need of a daily commuter or an off-road beast, both models can comfortably handle life both on and off the beaten path. Stay tuned on Hollywood Chrysler Jeep social media and be the first to find out the truth behind Jeep's cryptic post.
Photo Source/Copyright: Jeep