Jeep is Taking Four New Concept Vehicles to the 2021 Easter Safari

Power — be it electrified or from a traditional combustion engine — should not come at the expense of performance and Jeep knows this. In fact, the American automaker is poised to show off how well it achieves the perfect balance between power and performance at this year's (2021) Easter Safari in Moab, Utah. Jeep joined forces with Jeep Performance Parts (JPP) to create a small lineup of custom-built vehicles destined to conquer the unforgiving terrain in Utah. Jeepers from all over the world will gather beginning March 27 (2021) in Moab for a week of technical off-roading and trail rides in one of the world's most picturesque terrain.
"The Moab Easter Jeep Safari has long been our testing ground for both our newest Jeep 4x4s and for showcasing new Jeep brand concepts, Jeep Performance Parts and ideas that truly resonate with our most passionate customers — the die-hard off-road enthusiasts who attend this event every year. This year's Safari shines a spotlight on what makes Jeep vehicles unmistakably distinctive and undeniably capable, a variety of powertrains that deliver superior power, performance, torque and, above all, fun. Moab's demanding trails are a worthy opponent for our Jeep Wrangler and Jeep Gladiator concept vehicles. Each is certain to prove that Jeep's legendary 4×4 capability reigns supreme on any terrain," said Jim Morrison, Vice President, Jeep Brand North America.
Jeep has a total of seven –four of them being brand new — distinctive Jeep brand and JPP concept vehicles headed to Moab, all equipped with advanced and potent powertrains. The Jeep Wrangler Magneto concept is the first battery-electric vehicle (BEV) from the brand and signals another milestone for Jeep as the brand tries to forge the "Road Ahead" as the world's greenest SUV brand.
Here are the new concept vehicles Jeep is taking to the 2021 Easter Safari: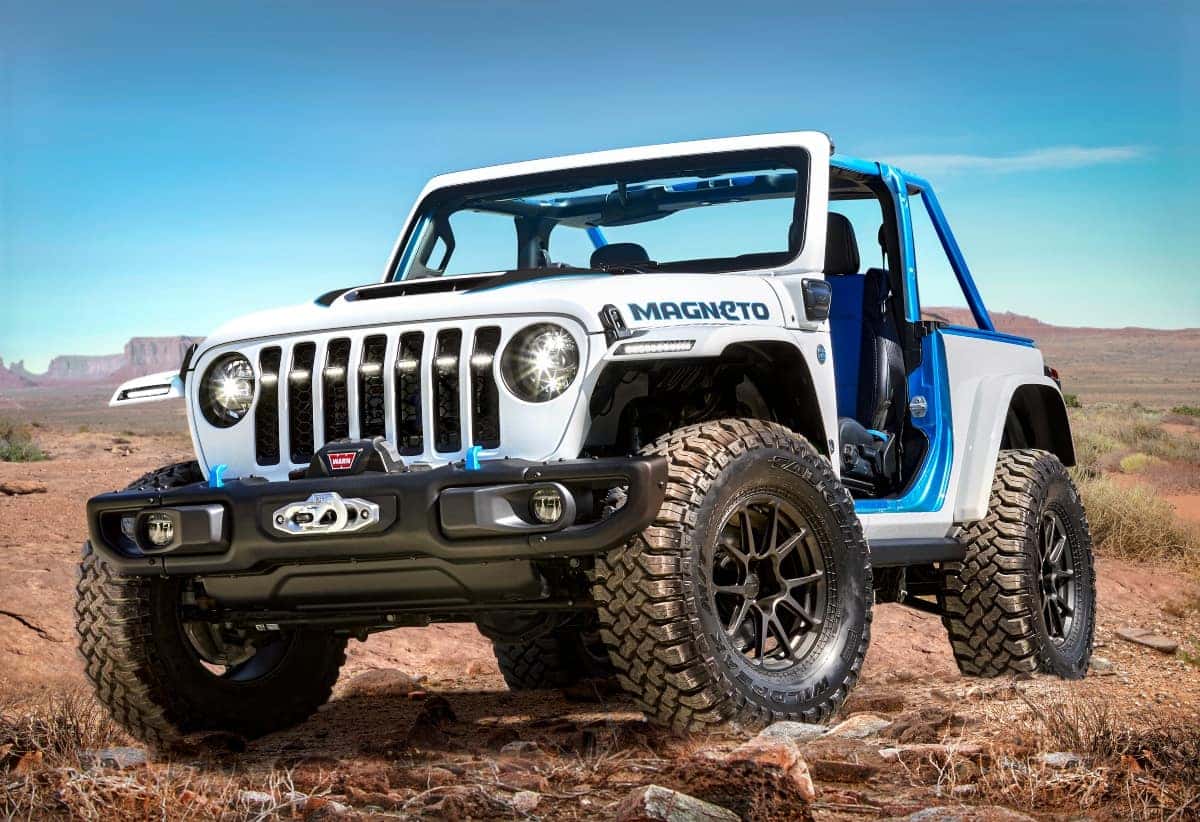 Jeep Magneto
The Jeep Wrangler Magneto helps the Jeep brand turn a corner when it comes to electrification as the automaker delivers a stealthy and quiet ride with unmistakable Jeep capability. Based on a two-door 2020 Jeep Wrangler Rubicon, the Jeep Magneto is powered by an e-motor that's mated to a manual six-speed transmission and delivers up to 273 lb-ft of torque and 285 horsepower. The Magneto concept is so powerful it can go from 0-60 mph in only 6.8 seconds. Jeep redistributed the battery weight so it's balanced on all four wheels, while one pack specifically replaces the Wrangler's conventional fuel tank, another is mounted opposite the fuel tank location and the others sit under the hood and in the space used for rear storage and cargo.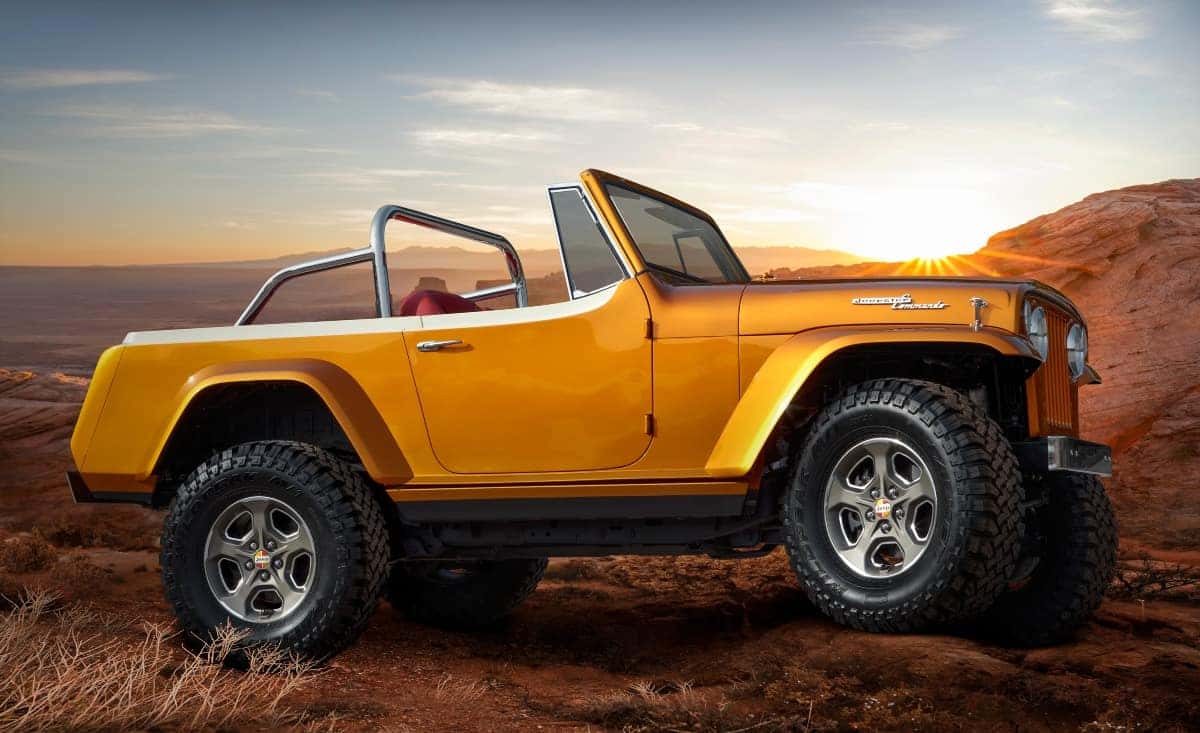 Jeepster Beach
No Easter Safari is complete without a blast from the past and this year (2021) is no exception with a restored second-generation Jeepster model. The Jeepster Commando holds a place in history for being the first compact four-wheel-drive vehicle to be paired with an automatic transmission, and unlike the old Jeep CJs of the day, it actually offered buyers modern amenities. Jeep seamlessly blended a 1968 Jeepster Commando with a 2020 Jeep Wrangler Rubicon, powering it with a high-tech 2.0-liter turbocharged four-cylinder engine with a calibration that increases engine output by 25 percent, yielding an output of 340 horsepower and 369 lb-ft of torque.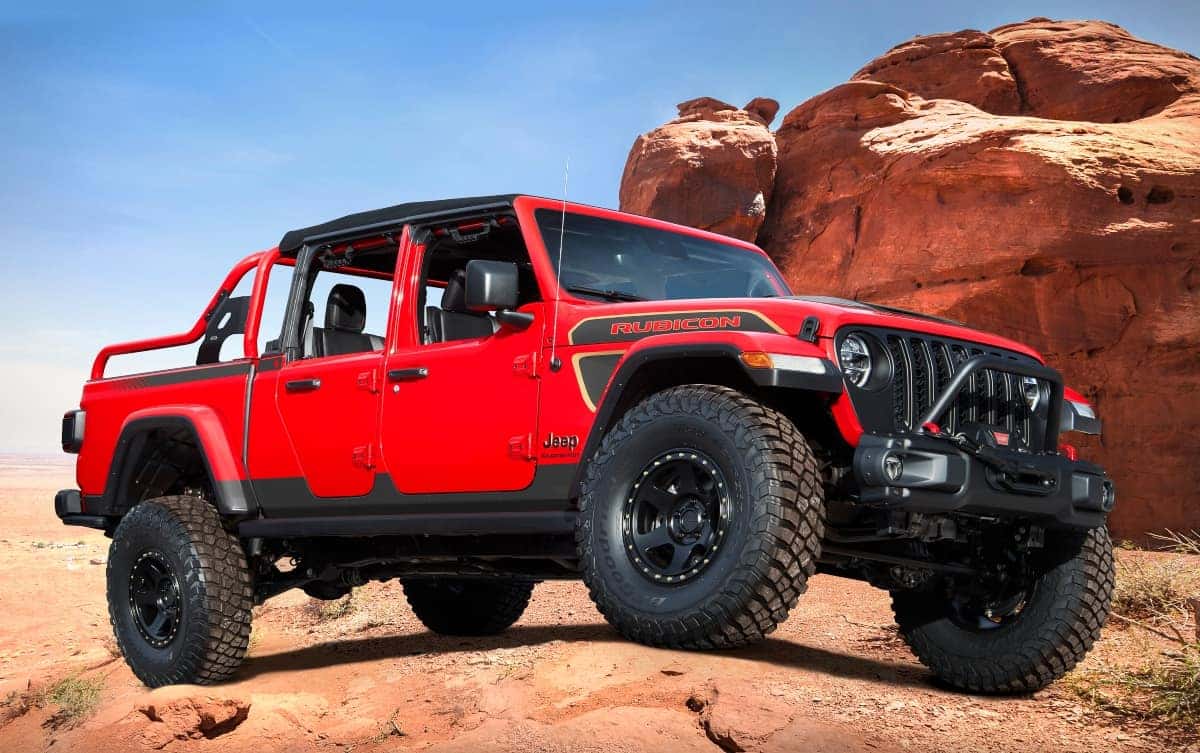 Jeep Red Bare
The only new Jeep Gladiator of the bunch, the Jeep Red Bare Gladiator Rubicon is powered by a turbocharged 3.0-liter EcoDiesel V6, rated at 442 lb-ft of torque and 260 horsepower, and including engine stop-start (ESS) technology. The Gladiator's standard TorqueFlite eight-speed automatic transmission is especially calibrated for low RPM shifts, helping it maneuver rigorous terrain. Jeep and JPP added Dana 44 front and rear heavy-duty axles, giving the Gladiator a 4.88 axle ratio for top-notch performance and an absurdly good 91:1 crawl ratio. The Jeep Red Bare Gladiator Rubicon features a 2-inch lift kit, a cargo bed-mounted sport bar, 17-inch Matte Black wheels clad in 37-inch BFG mud-terrain tires, JPP Sand Slide rock rails, factory steel bumpers and much more.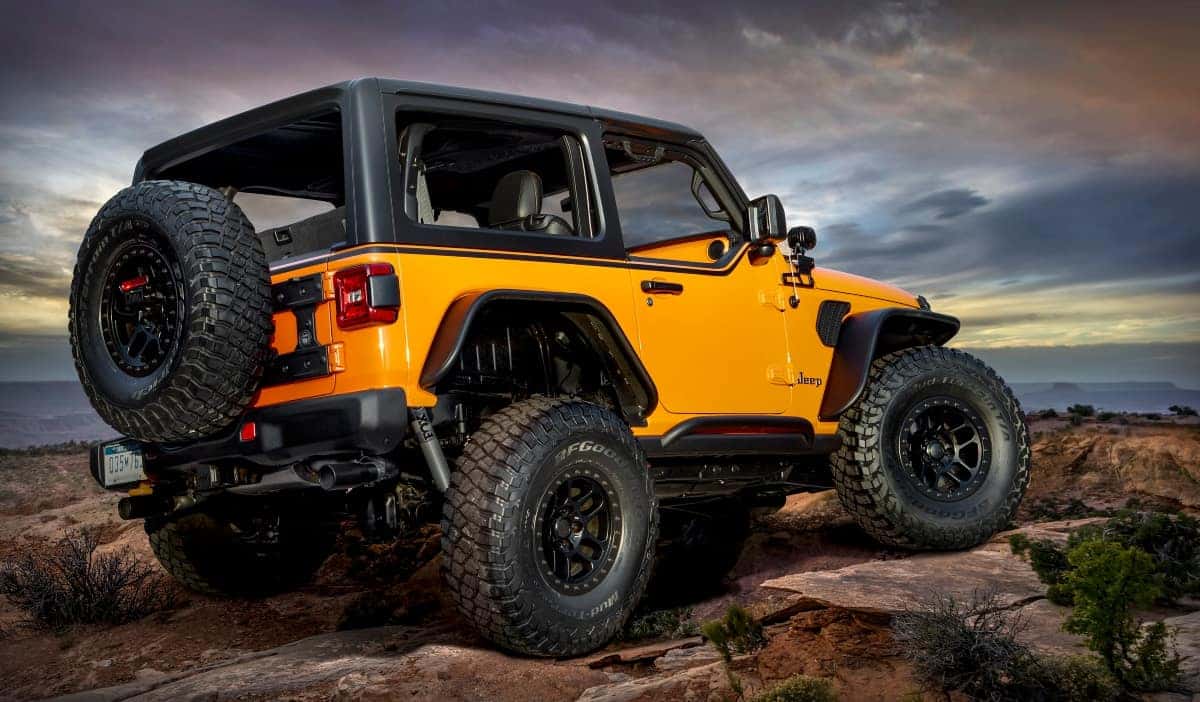 Jeep Orange Peelz
Arguably the most prominent of the bunch, the Jeep Orange Peelz is based on the two-door Wrangler a and hones in on what makes the Wrangler iconic — open-air fun and freedom. Mopar removed the side and rear windows, replacing them with JPP half doors and a custom removable Freedom Top glass sunroof. Jeep also added a 2-inch lift kit with FOX shocks to improve ground clearance, while 17-inch JPP Beadlock-capable aluminum wheels clad with 37-inch BF Goodrich complete the Orange Peelz's aggressive stance. Enhancing the overall design is a Satin Black 360-degree custom beltline graphic along with Satin Black vintage Jeep fender badges that help the Orange Peelz exterior color stand out.
Follow The Jeep Experts on Hollywood Chrysler Jeep social media to stay up to date with the latest news from the 2021 Jeep Easter Safari.
Photo Source/Copyright: Stellantis