Jeep Teases 2 Concepts Headed for Moab Easter Jeep Safari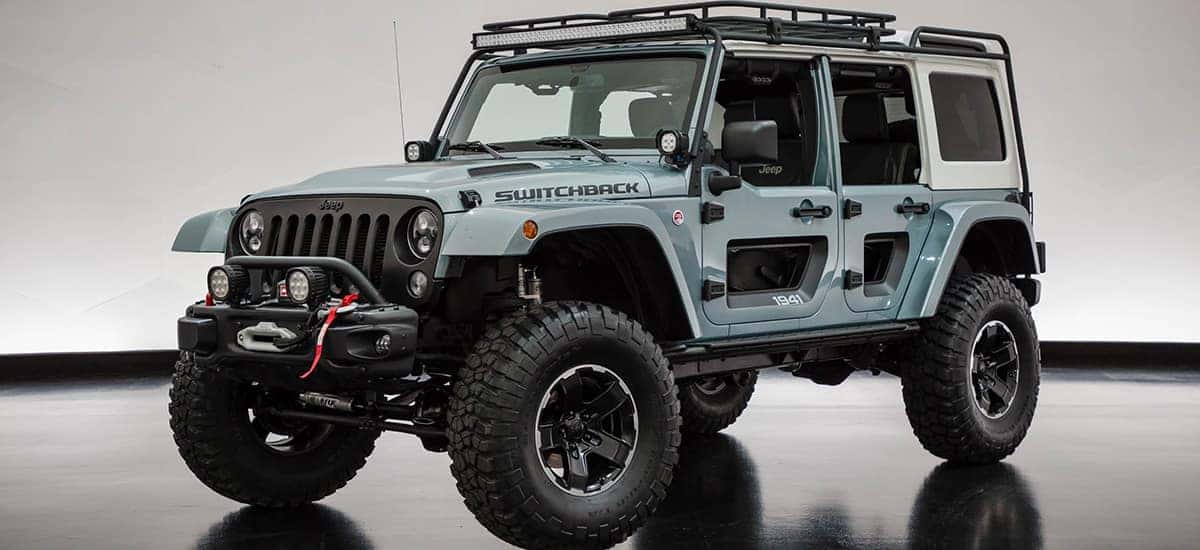 One of the more talked about events for off-road enthusiasts, the 52nd Annual Moab Easter Jeep Safari, is here. Scheduled from March 24-April 1 in Moab, Utah, the event attracts Jeepers from all over the world. The event includes dozens of trail rides and attendees also get a close look at new concepts that are unveiled at the event each year.
With Moab Easter Jeep Safari fast approaching, Jeep recently teased two photos of the exclusive concept vehicles created by Mopar and Jeep specifically for the event, which has been a tradition for the last 15 years.
"It's a truly a labor of love for the Jeep team to develop exciting, capable concept vehicles each year for Moab and the Easter Jeep Safari," said Mike Manley, Head of Jeep Brand – FCA Global. "We look forward to to the reaction and feedback from enthusiasts and our most loyal customers as these new Jeep concepts are put through their paces on the trails in Moab."
"Jeep and Mopar have teamed up over 15 years to create unique, fun and highly capable concept vehicles for the popular Easter Jeep Safari in Moab," said Pietro Gorlier, Head of Parts and Service (Mopar), FCA Global. "These concept vehicles are a perfect example of how off-road enthusiasts can use Jeep Performance Parts to personalize and enhance the already outstanding Jeep capability, allowing them to face the toughest trails in the world."
Concepts are always different each year, however, there are always features and designs inspired by Jeep's heritage.While the details of the concept vehicles teased in the recently released photos will likely be kept under wraps until they are unveiled at the event, there are a couple things we can tell from the photos. First are the massive tires and the new grille on one of the Jeep Wrangler-based creations and the second is the "Jeepster" badge, which was a term used decades ago.
Last year at the 2017 Moab Easter Jeep Safari, Jeep and Mopar debuted several worthwhile concepts including the Jeep Grand One, which recognizes the 25th anniversary of the Grand Cherokee with a spin off the 1993 ZJ Jeep.
Also last year, the Jeep Switchback was showcased after being developed with Jeep Performance Parts featured on the Switchback, including a front and rear Dana 44 axles, equipped with Mopar locking differentials and a 4-inch lift.
Among the eight vehicles that debuted last year, one of the more talked about ideas was the Jeep Quicksand that is a hot-rod inspired Wrangler made to handle sand dunes. Another being the Jeep CJ66 that fused together a trio of vehicle generations with a Mopar 345 Crate HEMI Engine kit.
History of Moab Easter Jeep Safari
The Moab Easter Jeep Safari originally started back in 1967 by the Moab Chamber of Commerce. Since then, the event has grown into a huge event for the Jeep community. Jeepers head out on trails, and since Jeep vehicles are easily accessible and can be personalized, this event allows for large audiences to see first hand the capabilities of masses of unique customizing and future ideas for enthusiasts to enjoy.
Where To Drive Away In Jeep Fashion
If you want to see first hand a collection of new Jeep vehicles, stop by Hollywood Chrysler Jeep and speak with our professional staff to see about how you can buy, lease or trade-in today. Driving a Jeep is a highly rewarding experience.
Find the latest, new 2019 Jeep Cherokee available now. We look forward to helping you drive away with a Jeep, as our professional servicing team can help you maintain your vehicle. Make a service appointment with us. should you need to service your current vehicle or for future appointments. We look forward to seeing you soon!