Jeep to Host Wagoneer S Naming Contest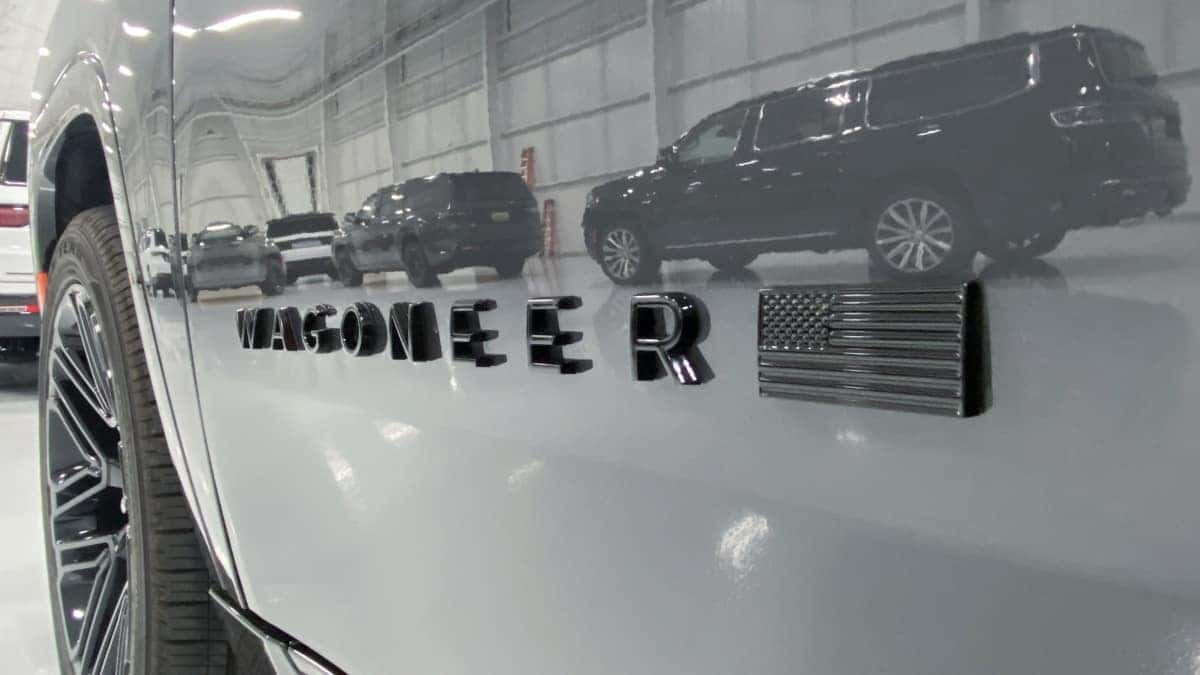 As part of its 4xe Day Celebrations, Jeep unveiled a slew of electric vehicles in September of 2022. First up is Jeep's "Wrangler-inspired" off-roader, the all-new Jeep Recon. However, lost in the mele of 4xe Day announcements was the fact that the Wagoneer brand will be taking a different approach to electrified Wagoneer S. Here's what we know about the Wagoneer S, according to some official statements and rumors.
So far, Jeep has confirmed the Wagoneer S will be an all-electric vehicle with a top-range output of 400 miles–all on a single charge. Enthusiasts eagerly awaiting the arrival of the Wagoneer S will be happy to learn Jeep is aiming for a 600 horsepower output and a 0-60 mph time of just 3.5 seconds. Such figures would put the Wagoneer S on par with the top-tier Grand Cherokee Trackhawk. Jeep claims the Wagoneer S will feature standard 4×4 capability and offer an all-terrain management system as well. As a smaller, midsize counterpart to the Wagoneer, the upcoming Wagoneer S will compete with the likes of the Range Rover Sport. An all-electric variant of the full-size Wagoneer will likely follow the 4xe introduction.
As for the nameplate, the Wagoneer S features an "S" for "speed, striking, and sexy," according to Chief Design Officer Ralph Gilles. However, Jim Morrison, Head of Jeep Brand North America, commented that the model won't be named Wagoneer S once it reaches production– the actual name remains to be seen. Speaking to MotorTrend, Jeep CEO Christian Meunier said there are "a few names in the basket" once the model comes into production. Instead, Jeep will hold a contest for enthusiasts to pick the name. Expect the Jeep Wagoneer S to be unveiled to the public next year (2023). Pre-orders are scheduled for early 2023, with production set to begin in North America in 2024.
Jeep Naming Contest
As we mentioned before, Meunier would like to tap devoted Jeepers to name the Wagoneer S. Jeep will announce a sweepstake via social media sometime during November (2022). Although names can be inspired, Jeep will choose a direction by throwing out some suggestions. The automaker hopes this will help its enthusiasts' creativity and lead to a name for the upcoming model. Meunier would like to have a name before the year (2022) comes to a close, so there's a nameplate in place to kick off reservations in early 2023. Jeep will in turn review the suggestions, come up with a shortlist, and check against trademarks so they can pin down a name. The current Wagoneer nameplate has plenty of heritage behind its wings although it is entirely modern, so Jeep hopes for a compromise between the past and the future once again.
In the meantime, while we await an all-electric Wagoneer model, take luxury to new heights behind the wheel of the all-new 2022 Wagoneer or 2022 Grand Wagoneer here at Hollywood Chrysler Jeep. Let The Jeep Experts at Hollywood Chrysler Jeep guide you when it comes to getting your next new vehicle. Follow Hollywood Chrysler Jeep on social media to stay up to date with the latest Jeep news and offers.
Photo Source/Copyright: Stellantis