Jeep Unveils the Gladiator Farout Concept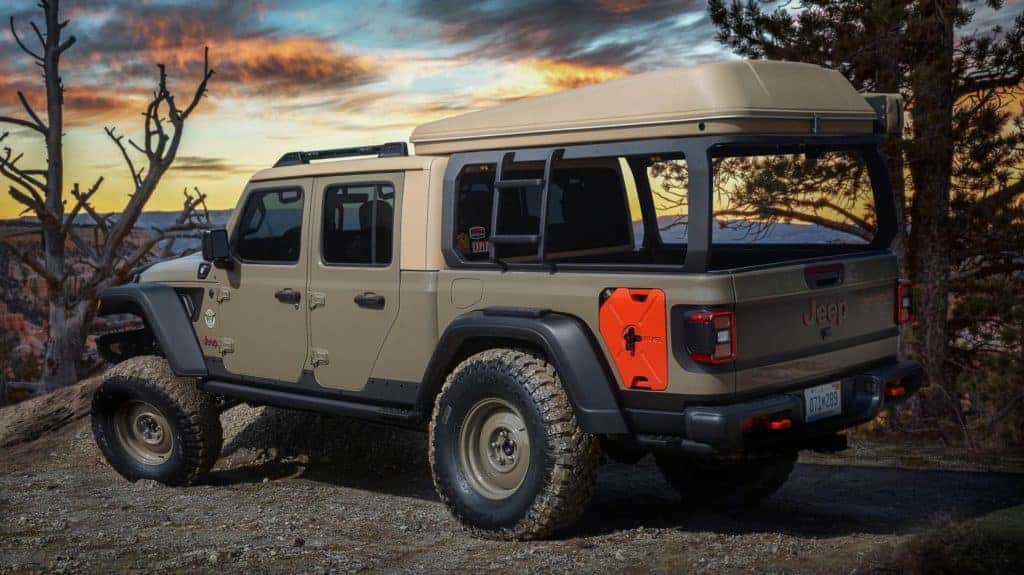 Like every other major automotive event ravaged by the ongoing pandemic, Jeep cancelled its annual Jeep Easter Safari event in Moab, Utah, earlier this year. Jeep promised that the concepts designated for the event would eventually see the light of day and the automaker kept its promise. Jeep just revealed the Gladiator Farout concept — a long-term overlanding vehicle that looks like there's no unbeaten path it isn't willing to conquer. For Jeep, this marks a continuation from last year's (2019) Gladiator Wayout concept that focused on an assortment of add-ons and accessories that take these vehicles to the next level, making them a camper's dream.
The Gladiator Farout's best feature? A fully-enclosed roof-top contraption that's actually a functional tent in the truck's bed. It can sleep up to four people and measures 16-feet long and 7.5-feet tall. On the inside, the Gladiator Farout offers a warm and inviting interior lined with wood, hanging racks, built-in seats, table space, ambient lighting and much more. There's even a fully functional refrigerator and stove! As for the cabin of the pickup itself, there's dark blue leather, plaid flannel seat inserts, and orange stitching.
Under the hood, the Jeep Gladiator Farout concept is powered by Jeep's latest 3.0-liter EcoDiesel engine that's slated to be available on the Gladiator lineup for the 2021 model year. The EcoDiesel generates a stout 260 horsepower and 442 lb-ft of torque. Featuring Jeep Performance Parts, the Gladiator Farout comes with a two-inch lift kit, custom front and rear rock rails, a 12,000-pound Warn winch, Fox performance shocks, and a modified Gladiator Rubicon bumper. It also sports 17-inch wheels that are clad in 37-inch mud-terrain tires.
Jeep finished off the Gladiator Farout concept with a brand new exterior color — "Earl," and pale green/yellow accents throughout, including on the hood, badging, shocks,rear tailgate tow hooks and more. Even though this is simply a Jeep concept, the automaker can easily put together a Gladiator Farout thanks to its robust aftermarket parts inventory. Making an equivalent of the Gladiator Farout is fairly easy, and the concept alone is designed to show Jeepers and non-Jeepers alike just how versatile the Gladiator is. Imagine the possibilities.
Follow The Jeep Experts at Hollywood Chrysler Jeep on social media to stay up to date with the latest Jeep news, including the upcoming debut of several 2021 models. If you're ready to get behind the wheel of a Jeep, check out our current Jeep inventory, including the all-new 2020 Jeep Gladiator, and schedule your test drive today!
Photo Source/Copyright: Jeep