Jeep Vehicles Sweep at the FOUR WHEELER Awards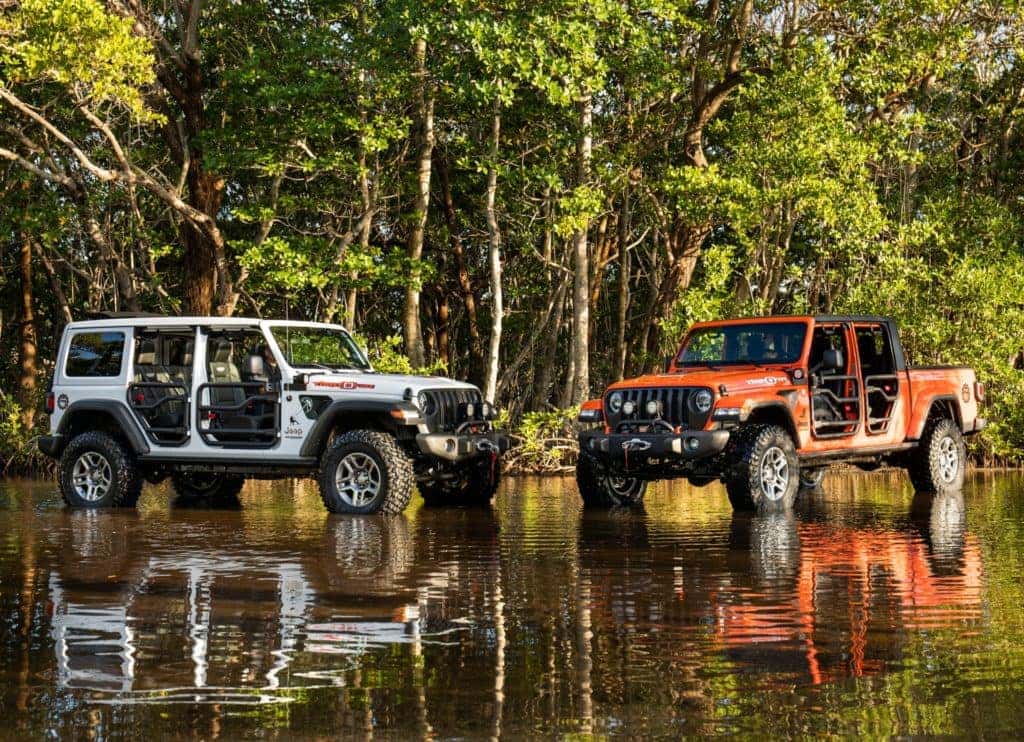 Both the 2020 Jeep Gladiator Rubicon and the 2020 Jeep Wrangler Rubicon EcoDiesel have earned awards from the leading off-road enthusiast publication FOUR WHEELER. The Jeep Wrangler Rubicon EcoDiesel is now the "2020 SUV of the Year," while the Gladiator Rubicon is the "2020 Pickup of the Year."
FOUR WHEELER judges test the vehicles over the span of a week through various terrain that includes gravel, dirt, sand mud, snow, pavement, and rocks. With more than 1,000 miles of testing, FOUR WHEELER also puts the vehicles through a loose-dirt hillclimb and several water crossings. Another integrated part of testing is night driving, so that judges can gauge how effective a vehicle's lighting equipment is. The judging panels not only include staff from FOUR WHEELER, but also from other 4×4 publications such as 4-WHEEL & OFF-ROAD and JP MAGAZINE.
Ken Brubaker, editor at FOUR WHEELER, said the following about the 2020 Jeep Gladiator: "The new Jeep Gladiator is the truck many buyers have been waiting for. After a week of testing in a variety of challenging environments, the Gladiator proved that it is all truck and all Jeep, which is a formidable combination. Mix in the impressive Rubicon package that includes Tru-Lok differential lockers, Rock-Trac transfer case with 4:1 low range, front-disconnecting stabilizer bar and full skidplating, and it's clear the Gladiator is at the front of the class."
Brubaker also chimed in about the 2020 Jeep Wrangler Rubicon EcoDiesel, saying "The Wrangler is a truly exceptional machine both on- and off-road, and the new-for-2020 EcoDiesel engine option complements the outstanding JL platform. The EcoDiesel's power and efficiency raise the bar for the already incomparable 4×4, making it even more extraordinary."
2020 marks the first model year in which the 3.0-liter EcoDiesel V6 engine powers the Jeep Wrangler. The EcoDiesel Wrangler offers buyers 260 horsepower and an impressive 442 lb-ft of torque complete with standard engine stop-start (ESS) technology. A TorqueFlite eight-speed automatic transmission is paired with the engine to calibrate accordingly with low RPM shifts and provide an even balance between the on- and off-road duties of the Jeep Wrangler. Jeep is happy to brag that there are more than 40 individual shift maps so that Wrangler owners can optimize shift points for performance, fuel economy and 4×4 capability.
"Our customers have been asking for a Wrangler with unmatched fuel economy, incredible driving range and the legendary off-road capability they're rightly come to expect, and our new Jeep Wrangler Rubicon EcoDiesel delivers on that ask and then some. I've even driven the new Jeep Wrangler Rubicon EcoDiesel on the Rubicon Trail and can attest that our customers knew exactly what they were asking for: the perfect combination of off-road capability, fun-to-drive on-road performance and 29 mpg," said Jim Morrison, Head of Jeep Brand — FCA North America.
FOUR-WHEELER tests these vehicles in invitation-only competitions that are open to all-new or significantly revised vehicles for the upcoming model year. Don't just take FOUR WHEELER's word for it, come visit The Jeep Experts at Hollywood Chrysler Jeep and take the 2020 Jeep Wrangler or 2020 Jeep Gladiator out for a spin. Once you've taken the vehicles for your very own test ride there's no turning back! Follow Hollywood Chrysler Jeep on social media and stay up to date with the latest Jeep news.
Photo Source/Copyright: FCA/Jeep