Jeep's Five-Year Plan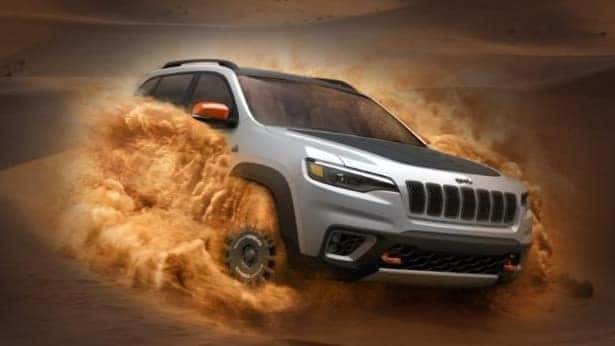 Photo credit: Jeep
Jeep began their five-year plan when Fiat Chrysler Automotives (FCA) CEO Sergio Marchionne made an announcement that should bring a smile to Jeep lovers everywhere. Plans to embrace Jeep's global reach and take over their respective SUV and large crossover market will exceed his run. Marchionne is expected to choose his successor and retire shortly after 2019 begins. Let's get into the latest announcements and future Jeep vehicles expected to come out in the years ahead.
New Jeep Models Already Announced
The next wave of moves Jeep has planned are aimed at taking the Jeep brand's current success in the North American market and making it a global force. Ten plug-in hybrid and four fully electric vehicles are expected to be produced, including an all-new A/B-segment crossover and all-new versions of the Renegade, Cherokee, Grand Cherokee and a mid-cycle update for the Jeep Compass. With so much news going on among the various brands under the FCA umbrella, one brand that never gets lost in the shuffle is Jeep. The changes at FCA will include the expansion of Jeep vehicles with a brand-new Deserthawk model.
Upcoming Deserthawk + Brand New Hellcat Jeep Model
The latest Jeep that will provide an excellent fit for adventure over sandy terrain, the Deserthawk is just that and it's scheduled to launch in 2020. Designed to handle driving through the sand and coming with its own "Desert Rated" badge, the Deserthawk will be selectively priced higher than the current line-up of Jeep vehicles. The Jeep Deserthawk will provide the ability to handle sand dunes and desert terrain unlike any other Jeep vehicle seen before. The exact specs to the Jeep Deserthawk have not been announced, but FCA regarded the vehicle as having "sand performance underpinned by eight desert-specific engineering standards".
If you can't wait to have your hands on such a powerful Jeep, you don't have to wait on the latest Jeep vehicle that's caused a buzz. Fans of the Dodge Charger and Challenger Hellcat engine will love to know that the 2018 Grand Cherokee Trackhawk engine is the same, the ferocious 6.2-Liter Hellcat engine with 645 lb-ft of torque, providing drivers with a breakneck 0 to 60 time of just 3.5 seconds. The quarter-mile time for the Trackhawk is only 11.8 seconds.
All-New Jeep Wagoneer Plans
The anticipated return of an all-new Jeep Wagoneer has been speculated. The Jeep Wagoneer was last built in 1991 after being in production for 29 years. What would eventually become the Jeep Grand Cherokee, the Jeep Wagoneer was the pioneer SUV that helped carve a path for brands like Range Rover.
With the revolutionary Wagoneer SJ, the Jeep brand enjoyed independent front suspension, power steering, automatic transmission and an air-conditioning unit that proved luxury that wasn't used in vehicles prior to the Jeep Wagoneer introduction.
In addition to those plans, there's plans for a three-row midsize SUV and Level 3 autonomy, which means these special Jeep vehicles will have the ability to take full control and handle driving during certain portions of any trip, as long as select conditions are met.
Find Your Way Home In a New Jeep
If you're hoping to drive a Jeep this summer, there's no better place than Hollywood Chrysler Jeep. We have a large selection of new Jeep vehicles, like the new 2019 Jeep Cherokee, and quality pre-owned Jeeps just waiting for a test drive. Our team loves taking out Jeep vehicles for a test-drive for obvious reasons. We are knowledgeable and hope you come to visit us today!
From our professional team that can handle your buying, leasing or trade-in requests, to our full service capabilities, trust your friends at Hollywood Chrysler Jeep to get the job done. Even if you haven't shopped with us, we can handle all your repairs. If you want to mod your Jeep to handle offroad adventures, ask us about how we can help make that possible! This summer, ride with Jeep as your choice.