Kathryn Hahn is Back for Another Chrysler Ad Campaign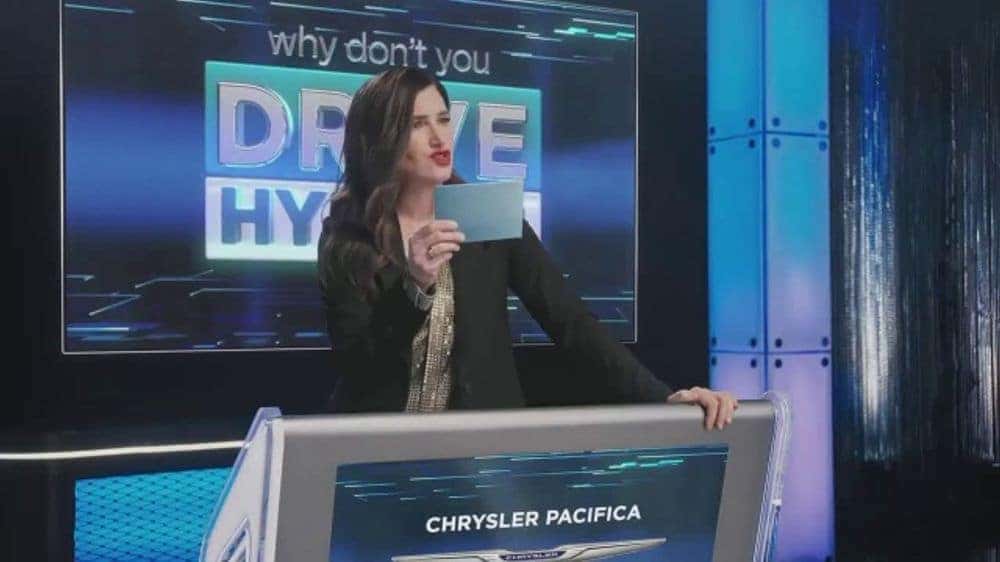 Chrysler and actress Kathryn Hahn teamed up once again before the year is over for a new advertising campaign. Customarily spanning television, digital and social media, including Chrysler's Facebook, Instagram, and Twitter channels, the latest campaign is titled "Drive a Hybrid." The ad in question features actress Hahn as a disapproving game show host that's quizzing contestants on their knowledge of the merits of driving not just any hybrid, but the Chrysler Pacifica Hybrid.
"The Chrysler Pacifica Hybrid is the only plug-in hybrid minivan on the market, and our "Drive a Hybrid" campaign featuring Kathryn Hahn is a fresh and engaging way to educate people about the benefits of hybrid ownership. With this campaign, we take a direct and light-hearted approach to giving our audiences answers to some of the most asked questions about hybrid ownership, in a way that is unique to the Pacifica Hybrid and to Kathryn's comedic talents," said Marissa Hunter, Head of Marketing, FCA — North America.
The 30-second ad spot, aptly titled "Game Show," features Hahn as the game show host that's asking the contestants direct questions such as "why don't you drive a hybrid?" Each contestant then gets a turn to respond with a false stigma associated with hybrid vehicles as Hahn rejects and debunks their responses one by one. In doing so, she actually highlights the many features of the Chrysler Pacifica Hybrid and that there truly isn't a good enough reason not to own one. "I got to realize my dream of being a game show host AND help customers realize the many benefits of owning a hybrid vehicle," said Hahn. Chrysler created the ad campaign in partnership with the Doner agency.
2021 Chrysler Pacifica
The 2021 Chrysler Pacifica offers an unprecedented level of versatility, functionality, bold styling, and technology — all factors that help the brand with its reinvention of the minivan segment. Reengineered from the ground up thanks to an all-new platform from 2017, the Pacifica offers potential buyers class-leading efficiency thanks to its gasoline and hybrid powertrains in the minivan segment. The Pacifica Hybrid takes the minivan to new heights with its advanced and innovative hybrid powertrain. It remains the first and only plug-in hybrid vehicle in the minivan segment and boasts more than 80 miles per gallon equivalent (MPGe) in electric-only mode. All-electric range taps out at 30 miles with a complete combined range of over 500 miles. The model continues to be eligible for a federal tax credit up to $7,500, and has an all-electric range of more than 30 miles and a combined total range of more than 500 miles. If that doesn't sound fantastic, perhaps there are other options we have that might draw some interest for our readers in the new year!
Visit us at Hollywood Chrysler Jeep and experience all that the current Pacifica lineup has to offer. Check out our Chrysler Pacifica inventory and schedule your test drive today! Follow Hollywood Chrysler Jeep on social media to stay up to date with the latest Chrysler news.
Photo Source/Copyright: Chrysler