Looking for Adventure? Experience the 2018 Jeep Grand Cherokee Trackhawk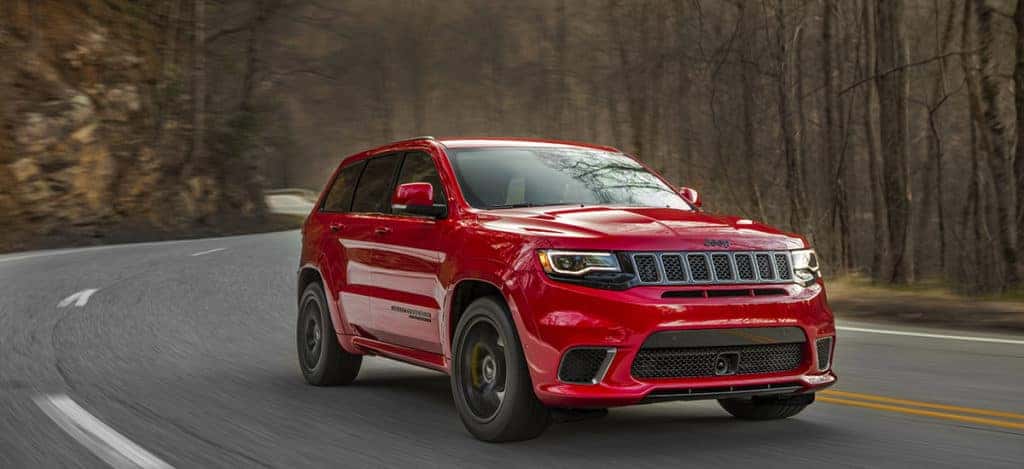 Photo credit: 2018 Jeep® Grand Cherokee Trackhawk
Jeep® is known for creating vehicles that provide adventure unlike any other brand. There's a Jeep vehicle for everyone, from the smaller Jeep Renegade to the Jeep Grand Cherokee, a luxury SUV that seats seven passengers. However, there's no comparing the difference of the 2018 Jeep Grand Cherokee Trackhawk to any other luxury SUV. The supercharged 6.2-Liter V8 engine with 707 horsepower and 645 lb-ft of torque brings about a smile to any driver sitting behind the wheel of the Trackhawk. Besides its stunning speed capabilities, this four-door 4×4 seats five people easily with a lush interior and premium amenities for drivers.
Trackhawk Speed
What can the Jeep Grand Cherokee hit in terms of speed? Blistering quick track times. Not many vehicles, let alone a luxury SUV, can hit a quarter-mile time in under 12 seconds. Listed at 11.7 seconds for a quarter-mile, the speed of this supercharged engine despite its large size is remarkable. What makes this Jeep vehicle special is that it can generate massive power right from the start. The 8-speed automatic Trackhawk can boost ahead with the assistance of "Launch Mode", helping drivers reach 60 mph in 3.3 seconds. Hitting 60 mph that quickly in a large SUV is not something many people have experienced, but drivers easily can in the Trackhawk.
This is not quite the typical family vehicle, as the base model 2018 Jeep Grand Cherokee could handle all the duties a family might need from a spacious, highly capable SUV. For owners of the Jeep Grand Cherokee Trackhawk, there's something marvelous about the performance and measured luxury that few people get to experience. Now the only drawback to having the quality of a supercharged engine performance is losing out on better fuel economy. The Trackhawk has 11 city and 17 highway mpg. The top speed of the Trackhawk is 180 mph. Still, if looking for storage space, there's a total 68.3 cubic feet of cargo space available in this luxury SUV.
Long Live the Trackhawk
A production SUV like the Trackhawk has break neck speed and the high-quality Brembo brakes to help stop the vehicle. Also included are all-new rubber Pirelli 295/45ZR20 Scorpion Verde tires that come standard. The available Pirelli P Zero three-season tires are an option for owners looking to up the ante. With performance suspension, drivers can feel the suspension stiffen for better handling in Sport and Track modes, but the ride always remains comfortable for the driver.
The drive isn't the only thing that's comfortable; the seating and entire interior is modern, sleek and gives everything drivers would want like standard Apple CarPlay and Android Auto, Uconnect 4.0 guided with an 8.4-inch touchscreen, and in-car Wi-Fi and premium leather seats. With the strength to tow up to 7,200 pounds, a well-rounded interior and a beautiful look both inside and out, there's so much drivers will love about this Jeep vehicle. With a starting price of $85,900 (plus destination fee) owners can experience everything that makes the Jeep Grand Cherokee Trackhawk one of the best luxury SUVs ever made.
Your Place for New Jeep Grand Cherokee Vehicles
Wondering where to test drive new Jeep vehicles? Look no further than Hollywood Chrysler Jeep. We have the new 2018 Jeep Grand Cherokee Trackhawk right now. Our dedicated staff is friendly and happy to help you out with any buying or leasing needs you have. We also help with selling and trade-ins.
If you have any existing car problems with your current vehicle, we have a full service team that's friendly and professional. With a simple appointment, we can help with any routine maintenance needs including oil changes, new tires and more. Even if you haven't shopped with us, we can help you get your vehicle back to running smoothly. Stop by and see us soon!