Modifications So You Can Drive Your Jeep in Deep Water or Mud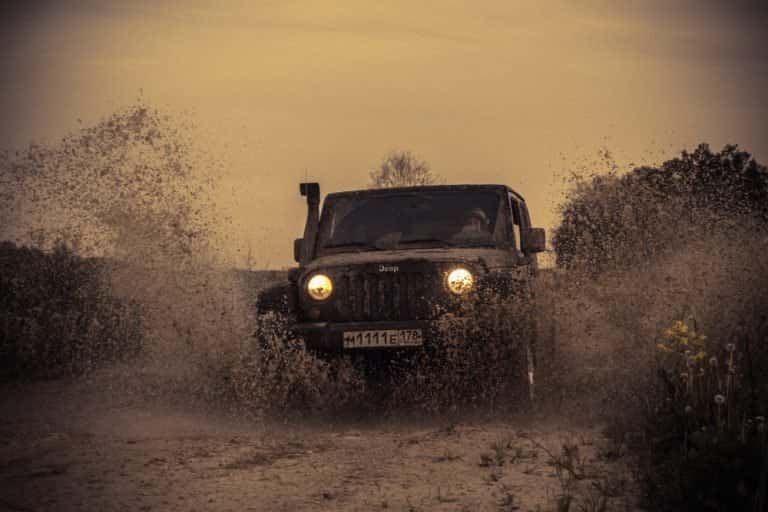 Some Jeepers love cruising the city, but a lot of Jeepers love getting down and dirty in mud, swamps and ponds. Though Jeeps love it as much as their drivers, before a Jeep can be submerged in water or mud, it needs a couple modifications to ensure the engine and electrical equipment doesn't get destroyed. Here's a rundown on the equipment needed to waterproof a Jeep.
If you plan to be crossing water, especially deep water, it is important to completely waterproof your Jeep. This means that water will not get inside the Jeep or impact any of the mechanical parts or electrical components.
Electrical Parts
For starters, the electrical parts must be protected because electronics do not like water — just ask your cell phone. There are devices (harnesses for ignition switches, kits for waterproofing fans, and waterproof power distribution packs) that will protect all of the electric components from water.
Exhaust
You know how people tell you not to drive through deep water? That's not because water will go through the car doors, but because if you get water in your car's exhaust (the bottom of the vehicle) it will stall out and possibly damage the engine.So with that in mind, your Jeep's exhaust must not take in water.
There are kits that can be purchased that help protect the exhaust such as an exhaust fording kit. The exhaust fording kit comes with everything you need to protect your exhaust from water such as vent tubes and raider ties. You can also purchase a smog pump to keep the water out, or DIY with a pipe and weld.
Caps
Caps, caps and more caps. Things like gas caps, oil caps, steering caps, and distributor caps (on older models) are all highly important when it comes to the functionality of your Jeep, and caps might not be enough to keep water out if they are completely submerged in water. So if you plan on crossing water in your Jeep it is important to seal these caps before doing so.
Caps are easy to seal, but just be sure you get them all. To seal the caps on your Jeep, just use room temperature vulcanization (RTV) silicone around the entire cap and make sure the seals is watertight before taking the Jeep out.
Suspension, lift and tires
Lifts and big tires don't only look great, but they also provide much better functionality and capability when off-roading, especially when going through water. Having an upgraded suspension made for off-roading, a lift kit (sizes vary), and large all-terrain tires will give you your best bet when it comes to water crossing.
Larger tires, higher lifts and suspensions all have one thing in common, and that is creating higher ground clearance, which is great for trekking through deep mud and water. Though it is harder to change these things on some 4×4 vehicles, Jeeps are made to accommodate custom off-road features like wider tires and lift kits. In fact, 2015-2017 Jeep Wrangler models have backspacing that allows for tires up to 35 inches, making tire modifications a much easier process.
Snorkels
Last but not least, snorkels, and yes, like the snorkels people use. Just like humans use snorkels to breathe underwater, a snorkel on a Jeep supplies the engine with air when under water.
Snorkels connect to the engine air intake and go all the way up the side of the Jeep to the top of the windshield. Where the top of the snorkel opening sits, is where the air is going into the Jeep. So as long as a Jeep is fitted with a snorkel that is big enough to feed the engine with enough air, the Jeep can be submerged in water. Snorkels are particularly great and almost necessary for those who plan on off-roading often into muddy terrain or through bodies of water.
Interested in a Jeep or in need parts to waterproof your Jeep?
You can check out our Jeep inventory here, or contact our parts department here.
Photo source: Shutterstock