Mopar Introduces New Doors-Off Mirror Kit for the Jeep Wrangler, Gladiator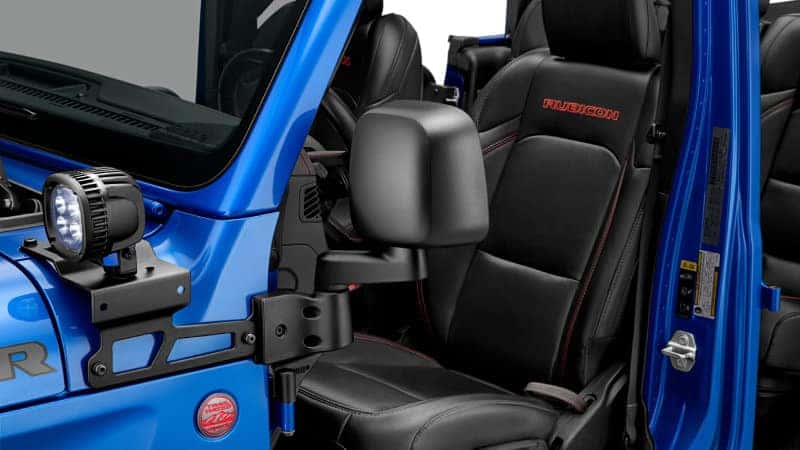 Mopar is constantly innovating its aftermarket gadgets, with the inclusion of a new, factory-backed, doors-off mirror kit for Jeepers who are looking to upgrade their open-air driving experience behind the wheel of their Jeep Wrangler or Gladiator. When Jeepers remove their original factory-installed doors with attached mirrors, they can instead install two separately mounted side mirrors that enhance the rear view. 
"Mopar offers more than 500 quality-tested, factory-backed performance parts and accessories across the entire Jeep lineup. With our new doors-off mirror kit, Jeep Wrangler and Gladiator owners will enjoy an improved range of vision during their open-air adventures," said Mark Bosanac, Head of Mopar Service, Parts and Customer Care, FCA — North America. 
Unlike other available aftermarket parts and accessories, Mopar's doors-off mirrors were engineered and tested to meet original-equipment standards, thus giving customers production-equivalent field of vision complete with minimal vibration. Each individual mirror attaches to a cowl-end cap bolt and upper door hinge. Additionally, the mirrors even include a built-in break-away feature that protects them from damage while maneuvering in tight spaces or on the trail. Mopar makes installation super simple as the only thing buyers will need is a standard T40 bit wrench. Jeep offers the wrench with every new Wrangler and Gladiator model, but no other special tools are required. 
The all-new Mopar Doors-off Mirror Kit is available for purchase as a stand-alone part throughout the U.S. and Canada and retails for $295. The kit is compatible with the current-generation Wrangler (2018 – present) and the (2020 – present) Gladiator models. All Mopar aftermarket parts are backed by Mopar's factory-backed warranty coverage for two years/unlimited miles from the date of purchase or for the remainder of a new vehicle's three years/36,000 miles warranty. 
More On Mopar
Mopar, launched in 1937 as a purveyor of antifreeze products, is the official service, parts and customer-care brand for Fiat Chrysler Automobiles (FCA) around the globe. With more than 80 years of experience, Mopar is the go-to service for complete care and authentic performance parts for enthusiasts around the world. Mopar made a name for itself during the muscle car era of the 1960s, with Mopar Performance parts that were designed to enhance speed and handling both on the road and on the track. Today, Mopar is a global brand whose reach encompasses over 150 markets, and distributes more than 500,000 parts annually. Mopar integrates customer-care operations, service, and parts to enhance the customer experience and dealer support worldwide. 
Ready to discover parts unknown behind the wheel of a Jeep vehicle? Visit The Jeep Experts at Hollywood Chrysler Jeep and check out the all-new 2020 Jeep Gladiator. If the midsize pickup isn't your style, you can always opt for the iconic Jeep Wrangler with its track record of not only conquering paths unknown, but of dominating them as well. Follow Hollywood Chrysler Jeep on social media for the latest Jeep news and offers, and visit our service and parts department for your very own Mopar accessories.
Photo Source/Copyright: Jeep