Mopar is Ready to Upgrade the all-new 2020 Gladiator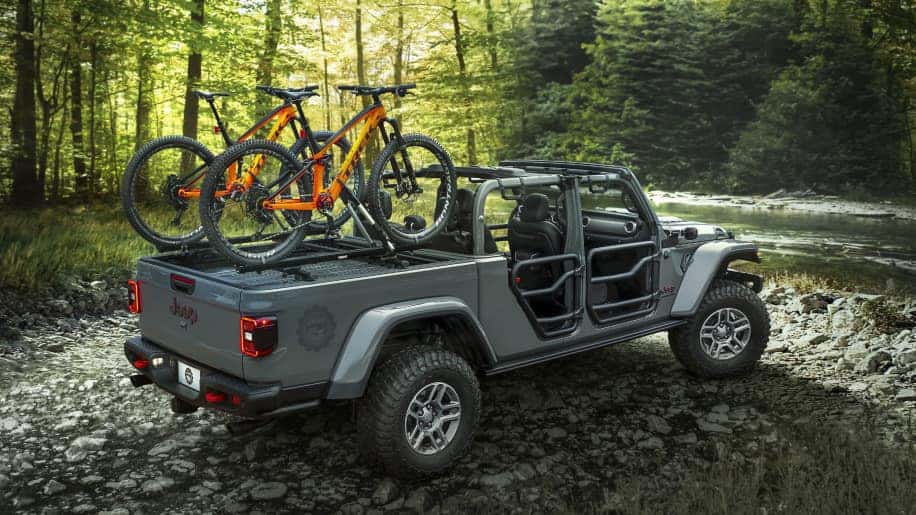 Jeep® vehicles are made to be customized and Mopar is here to help. It makes sense after all considering that the all-new 2020 Gladiator pickup was inspired by the brand's best-seller that's prone to modifications and personalizations – the Wrangler. Mopar announced at the 2018 LA Auto Show that they've developed over 200 accessories for the Gladiator, with the majority of the parts available once the pickup hits dealer lots in the second quarter of 2019.
Never ones to miss out on the fun of the spectacle, Jeep and Mopar brought a modified Gladiator to this year's (2018) LA Auto Show to showcase a slew of their parts. The Gladiator Rubicon was outfitted with a number of goodies, including a two-inch lift kit, tube doors, rock rails, and off-road LED lights – all from Mopar's Jeep Performance Parts (JPP). A blacked out grille, additional hood decals, windshield tie-down straps, and unique five-spoke wheels also make an appearance on the show vehicle. A Mopar cold air intake also draws in fresh air from the hood cut out for improved engine performance.
Mopar also showcased a truck bed storage system complete with lockable dual sliding drawers, while bed-mounted cross rails help transport kayaks and bikes – perfect for embodying the Jeep spirit of adventure! Inside the cabin, Mopar outfitted this Gladiator with Mopar grab handles, Katzkin leather seats, and molle bags. Additional accessories available from Mopar include a tonneau covers, door sill guards, Rubicon and "Stubby" bumpers, and ramps similar to those currently offered on the Ram 1500. Owners can also choose from several hood graphics, including a Flag theme, a 1941 theme, or even a Jeep Grille Through the Years theme; retro and military side graphics are also available.
Mopar will produce a wide array of active lifestyle products, truck-capable accessories, and additional performance content – off-road lights and beadlock wheels for example. All parts have been specifically developed for the new Jeep Gladiator and are backed by a factory warranty. Designed in close conjunction with the Jeep brand, the parts were engineered, tested, and validated through tens of thousands of hours of development and subsequent tweaks. Largely relying on factory-exclusive data (unavailable to the public), Mopar worked to seamlessly integrate parts and accessories for a proper fit and finish – matching accessories down to the respective color, grain, look and line of each corresponding part of the Gladiator.
Mopar has over 80 years of experience and serves as the service, parts, and customer-care brand for Fiat Chrysler Automobiles (FCA) globally. The brand came to prominence in the muscle car era of the 1960s with their line of performance parts meant to enhance speed and handling. Nowadays, Mopar distributes over 500,000 parts in about 150 markets worldwide. They've also got 50 parts distribution centers and 25 customer contact centers across the globe as they integrate parts, service, and customer care meant to enhance the owner's experience and provide dealer support.
Have questions about current accessory options? Let The Jeep Experts at Hollywood Chrysler Jeep help you out. Check out our Service & Parts FAQ, or feel free to reach us at (954) 239-7493. If you're eagerly waiting on the Gladiator like we are follow us on Hollywood Chrysler Jeep social media to stay up to date with the latest news.
Photo Source/Copyright: Jeep