Mopar, Jeep and Chrysler Bring Cool Concepts to SEMA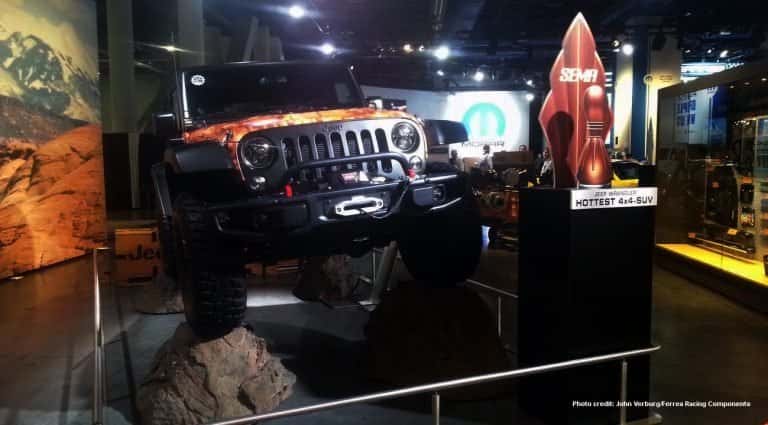 Car and truck lovers rejoice as all the new, unique, and never seen before concepts are being displayed this week at SEMA. The show has everything from self driving cars to highly modified versions of already existing cars. As major players in the auto world, Jeep and Chrysler both brought cool concepts decked out with unique Mopar styling and features. One of Jeeps concept even won the Hottest 4X4 SUV Award for the seventh consecutive year in a row.
Jeep Wrangler Trailstorm
The Jeep Wrangler Trailstorm is the Jeep that is taking home the "Hottest 4X4 SUV Award" from SEMA this year, and for good reason. The Trailstorm is awesome. It looks good, it has high off-road capabilities, and it is full of Mopar performance parts inside and out.
The Trailstorm's exterior is both "hot" and capable. Its off-road capabilities are fairly advanced as it has 17-inch off-road wheels, 37-inch tires, and a 2-inch lift kit. Other features include a winch guard, a satin black grille, LED headlamps, fog lights, high top fenders and a big brake kit add a fierce style. Inside the Trailstorm has all-weather mats (of course), Katzkin seat covers, and a modified interior with Trailstorm specific accents and stitching.
Image featured in the picture above.
Jeep CJ66
Imagine a mix between a Jeep TJ Wrangler, a '66 Jeep CJ Tuxedo Park, and a Jeep JK Wrangler with all newly engineered Mopar parts. Yeah, hard to imagine, but it was done. Mopar named this concept the Jeep CJ66 and it is currently proudly on display in all its glory at SEMA. This concept comes with great mechanical features like an upgraded Jeep engine with a Mopar cold air intake, a cat-back exhaust system, and is paired with a six-speed manual transmission. Of course, like any other Wrangler this concept is a great fit for off-roading with features like Mopar Dana 44 Crate Axles, a two-inch suspension lift, and 35-inch BFGoodrich all-terrain tires wrapped around 17-inch wheels.
The style and design of the Jeep is also cool as all get out, how could it not be when you put Jeep and Mopar together? The exterior consists of features from the Mopar 10th anniversary Jeep JK including front and rear bumpers, skid plates, and rock rails. Mopar added their own personal touch to the vehicle with their custom made LED amber fog lights and fuel-cap filler. The interior comes with unique Viper style seats, a custom roll cage, and a custom 50th anniversary Moab Easter Safari steering wheel. Sounds pretty cool, we certainly hope Mopar and Jeep consider making this concept a reality in the future.
Chrysler Pacifica Cadence
The Chrysler Pacifica has already transformed people's opinions of minivans from lame to cool. Chrysler wanted moms and dads to drive a minivan because they actually like it. They succeeded with the Pacifica, but if the Pacifica concept on display at SEMA were to become a reality, the Pacifica would really give the competition a big challenge.
Like the Jeep CJ66, Mopar also plays a huge role in the Pacifica concept. The van at SEMA shows over 100 different accessories and upgrades offered by both Chrysler and Mopar. 20-inch wheels with blue Mopar accents, the M logo on the cap filler, a exterior Mopar decal, molded rear splash guards, and roof storage are just some of the many Mopar exterior features on this van. Upgraded interior features and technology including a wireless phone charger, a pet kennel and vinyl second-row floor mats are also unique Mopar features on display. The features both inside and out allow for awesome style, convenience, and capability. We would love to see this concept come to life as well. It would be a huge hit with the minivan dads!
Let us know what you think of these concepts on our Facebook page. If you are in need of a Chrysler or Jeep we have plenty to go around, check out our full inventory here.
Photo credit: John Verburg/Ferrea Racing Components