New Half Doors from Jeep Performance Parts Spruce Up the 2021 Jeep Gladiator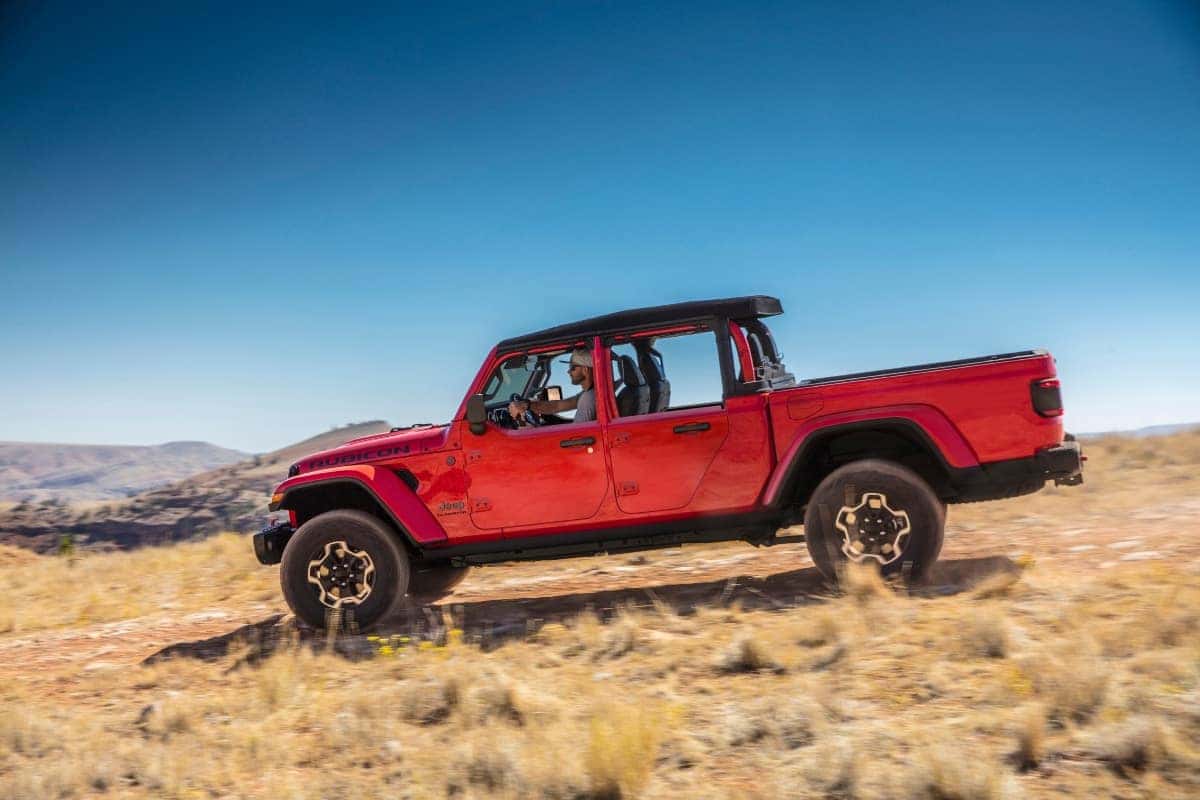 Jeep Performance Parts (JPP) and Mopar just announced the addition of half doors for the 2021 Jeep Gladiator as a new aftermarket option. Now the most off-road capable Jeep truck ever can gift its riders with an even better open-air experience.
"Open-air freedom is a hallmark of the Jeep brand. Following our introduction of new half doors for Jeep Wrangler earlier this year, we are now giving passionate Gladiator owners an opportunity to let even more of the outside in," stated Jim Morrison, Vice President, Jeep Brand North America.
Designed, tested, and backed by the factory, the latest half-door option complements the Gladiator by upping the driving experience, adding style and occupant protection to boot. The Jeep Gladiator, the highest-ranked midsize truck in the J.D. Power 2021 Initial Quality Study now features lower window ledges for improved visibility both on- and off-road thanks to the new half doors.
Available on all Jeep Gladiator trims via the Mopar Custom Shop, the new Jeep Gladiator Dual-Door Group includes both full and half doors. Mopar Custom Shop offers buyers of a new Gladiator in the U.S. the option of lightweight, high-strength aluminum doors that come already installed, while matching body color, aluminum half doors are also packaged within the vehicle. As official as aftermarket parts can possibly get, the new half doors are made with production-level materials and are designed to work in tandem with power mirrors, blind-spot detection, power locks, and passive and non-passive entry handles as well. Enthusiasts can easily swap out the full doors into half doors within minutes by using the same exact wiring connections and existing hinge locations.
"We work closely with our friends at Jeep to create and properly engineer new accessories. Across the entire Jeep vehicle lineup, we offer more than 500 quality-tested, factory-backed parts, and accessories," said Mark Bosanac, North America Vice President, Mopar Service, Parts & Customer Care.
Jeep Gladiator Dual-Door Group Pricing (includes factory full doors and new half doors):
Dual-Door Group with base-model upper-window assemblies: sales code AJB, $4,590
Dual-Door Group with premium-model upper-window assemblies: sales code AJS, $4,990
Jeep includes standard warranty coverage for each Dual-Door Group option as part of the new vehicle warranty of three years/36,000 miles, whichever comes first.
Visit The Jeep Experts at Hollywood Chrysler Jeep and check out the latest Jeep Gladiator inventory. Already drive a Jeep Gladiator? We here at Hollywood Chrysler Jeep specialize in modified and lifted Jeeps if you're interested in taking your vehicle to the next level. Follow Hollywood Chrysler Jeep on social media to stay up to date with the latest Jeep news and offers.
Photo Source/Copyright: Stellantis