Need a New Paint Job or Other Auto Body Work? Come to Hollywood Chrysler Jeep
In addition to Hollywood Chrysler Jeep's sales, service and parts departments, Hollywood Chrysler Jeep also has a reputable body shop. All body shop work completed at Hollywood Chrysler Jeep is guaranteed for life and we take on all types of projects, from small fender benders, to new paint jobs to repairing framework caused by a collision.
We know that experiencing a car collision is an awful and scary experience, so we do as much as we can to make the auto body repair process as smooth and as stress-free as possible. Hollywood Chrysler Jeep takes care of every claim from beginning to end and as soon as a vehicle arrives for service, a member of our staff is assigned as a contact person for each customer. We offer free auto collision repair estimates and throughout the entire process, the assigned contact person communicates with the customer to ensure they understand all phases of the repair cycle. If the repair involves an insurance claim, we coordinate each detail with the insurance company and make sure that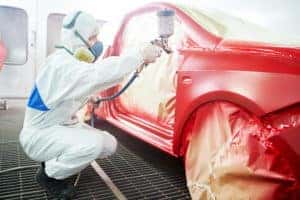 customers understand all aspects of the repair process as it relates to the insurance claim.
Benefits of Using Hollywood Chrysler Jeep Body Shop
Hollywood Chrysler Jeep has special certifications in aluminum and welding
All vehicles being serviced in the auto body shop are covered with a roof
Parts are under warranty parts for 1 year or what is specified by manufacturer. Paint is covered for a lifetime for the original owner
We work with all major insurance companies
FREE auto collision repair Estimates
FREE shuttle service at 9:30 a.m. Monday through Friday
FREE Rental coordination assistance for Enterprise and Hertz
Open 6 days a week
Need auto body work? Visit Hollywood Chrysler Jeep Body Shop
Stop worrying about auto body work and come visit Hollywood Chrysler Jeep. We have a friendly and knowledgeable staff and our shop is conveniently located at 2100 N State Rd 7, Hollywood, FL 33021.To make an appointment for body shop repairs or to speak with one of our body shop advisors, please call 954-342-5102.