Remembering Jeep Concepts From Previous Easter Safaris
Fiat Chrysler Automobiles (FCA) announced that its Jeep brand is pulling out of the 2020 Easter Safari due to the ongoing coronavirus outbreak. Jeep has participated in the event throughout the years, using the nine-day celebration in Moab, Utah, as the stage for its wildest and much-beloved concept vehicles. Although not all news is bad, FCA also told the media that this year's concepts will be making an appearance elsewhere, although Jeep hasn't quite figured out when or where the concepts will get their moment in the spotlight. While we wait on this year's concepts, let's take a trip down memory lane and remember some of our favorite Easter Safari concepts from previous years.
2015 Jeep Chief
The 2015 Jeep Chief was an Ocean Blue tribute to the classic Cherokee model. Teaser images had the crowd riled up in the weeks before the event. This concept is a perfect mix of vintage looks — real riding that current wave of nostalgia — and modern underpinnings which made it a capable beast while on the trail. Many Jeepers would kill to have one of these sitting on their driveways.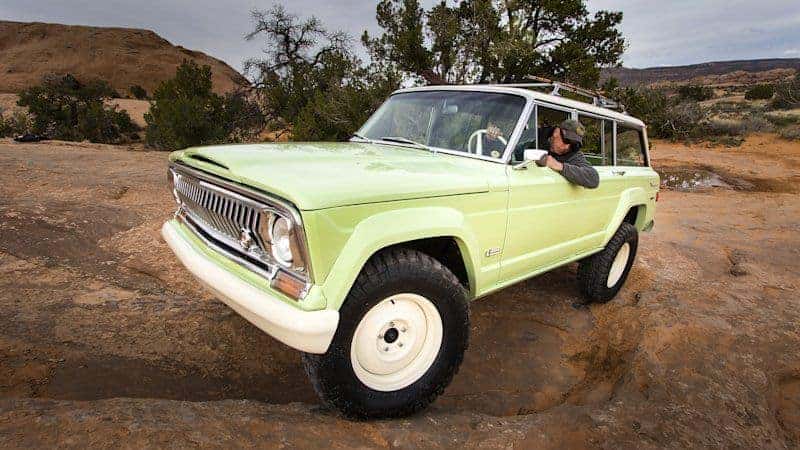 2018 Jeep Wagoneer Roadtrip
The nostalgia wave continued for Jeep as this Wagoneer Roadtrip concept tugged on everyone's retro-loving heartstrings. This concept debuted at the 2018 Easter Safari at the same time that the rumor mill began heating up that there was a brand-new Wagoneer in the works — turns out that's true! Although the final product probably won't look like this concept once it debuts, this 1965 Wagoneer served as the base for the concept and included 17-inch wheels with 33-inch BFG Mud-Terrain tires, Dana 44 front and rear lockers, four-link suspension bits, and a five-inch wheelbase stretch.
2019 Jeep Five-Quarter
Mopar really outdid itself for the 2019 Easter Safari as the aftermarket and official parts partner of FCA built quite a few Jeep Gladiator concepts. Although this pickup truck is originally a 1968 M-715, just about everything pictured above is 100% custom. The Five-Quarter concept featured a modified 6.2-liter Supercharged Hellcat crate engine making way over 700 horsepower. Additionally, Jeep also added a vintage 8-71 supercharger for the transmission and transfer case shifters.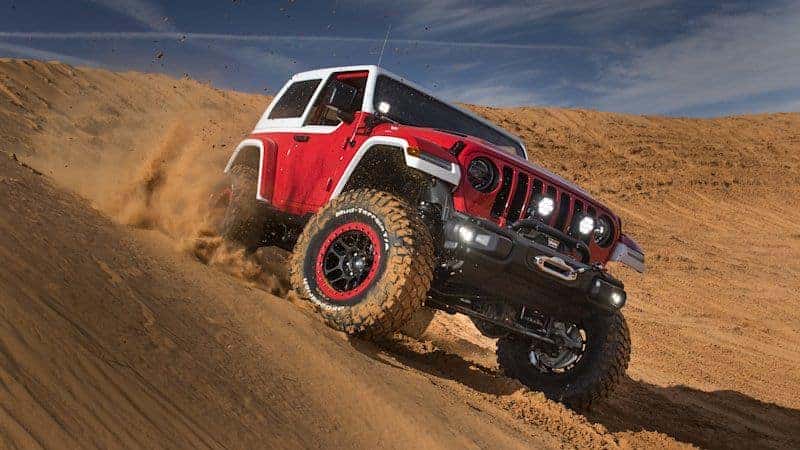 2018 Jeepster
Yet another nostalgic name revival on our list, the Jeepster was a Rubicon-based concept that went in a completely different direction. Jeepster was a nod to the brand's Willys-Overland days. Not only did the Jeepster feature a Firecracker Red body with a Bright White hardtop, the concept also had Bright White fender flares and a tri-color Jeepster badge. Additionally, the Jeepster also featured a two-inch lift kit, 17-inch wheels clad in 37-inch BF Goodrich KO2 tires, a roll cage, black leather seats, and a custom windshield that's raked back 2.5 inches. Custom storage packs for gear, tools, and food are located in the back of the concept.
Although Jeep won't be participating in this year's (2020) Easter Safari, enthusiasts can still visit The Jeep Experts at Hollywood Chrysler Jeep for a test drive and get a feel for Jeep's iconic vehicles. Already a proud owner of a Jeep vehicle? Well, you'll be happy to learn that Hollywood Chrysler Jeep has a dedicated team that specializes in lifts and mods to help take your ride to the next level. Follow us on Hollywood Chrysler Jeep social media for the latest Jeep news.
Photo Source/Copyright: Yahoo