Self-Driving Pacifica Fleet Just Got A Lot Bigger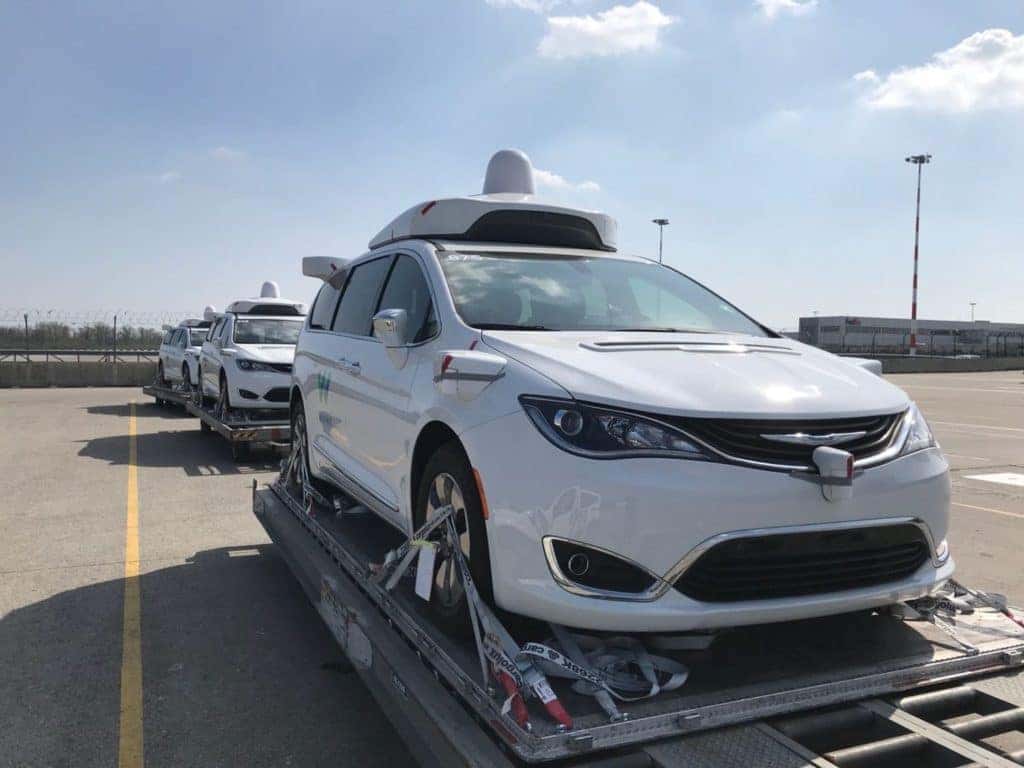 Photo credit: AutoMoto
Self-driving vehicles are going to be driving next to you, way sooner than you might have expected. Self-driving vehicles are going to change the automotive industry and life as we know it and Waymo is one of the automakers making strides in developing the new technology.
A Large Order of Chrysler Pacificas
Waymo has been transforming modern retail vehicles into self-driving cars by adding radars and sensors to the vehicles once they have arrived from the manufacturer. In recent news, we learned that Waymo is significantly expanding their self-driving fleet because the company ordered 62,000 2018 Chrysler Pacifica Hybrid models and 22,000 compact cars from Jaguar Range Rover. Together, these vehicles will create a large fleet that will serve as the catalyst to the future of driving. Waymo claims their sensor technology is more cost efficient than other companies and this will allow future retail versions to be sold. However, as most expect, these driverless vehicles would cost significantly more and would most likely be seen as a luxury.
There's definitely an area of interest, as noted by a rise in public stock with a positive response from investors. Fiat Chrysler went upwards of 4.7 percent after the announcement. This enthusiasm is huge for the future of a growing boom going on within the automotive industry with some of the smartest innovations coming out from hybrid vehicles and electric technologies placed into these cars. Self-driving vehicles are the next big step towards reducing accidents and carbon emissions globally.
The CEO of Waymo, John Krafcik has been a large advocate in trying to make self driving cars an accessible asset for drivers in America and around the world. "Our goal is to build the world's most experienced driver & make self-driving technology available across a range of vehicle platforms to make our roads safer. Excited about our growing partnership with FCA! " Krafcik proclaimed on the day of this purchase by Waymo in his first announcement after the deal was released to the public.
Growing Technologies
Waymo, which already had around 600 Chrysler Pacifica minivans in their fleet, will now have 62,000 more to experience with in the pursuit of a perfectly sufficient driverless vehicle. Since their inception in 2009, Waymo has been the pioneers towards getting human hands off the steering wheel and focusing on making vehicles highly capable to handle the road without assistance or guidance.
The vehicles that ride on the road have specialized sensors that are highly capable of doing the work human drivers have done for over a century. These adaptable sensors can sense movement up to hundreds of yards ahead in any direction.
The choice to go with the Chrysler Pacifica minivan might have been the easier part. The Chrysler Pacifica is a back-to-back award winner of the Cars.com's "Family Car of the Year" title. There's few vehicles that have as much to offer, especially in terms of comfort and space, than the latest 2018 Chrysler Pacifica. If you're looking to find out for yourself why Waymo fell for the Chrysler Pacifica, we know where you can head to drive one (before you can't!)
Find Your New 2018 Chrysler Pacifica
Hollywood Chrysler Jeep has a welcoming staff and we're ready to help you with any buying, leasing or selling needs you have. We accept trade-ins as well, plus our financing team can help in the event you want to finance with us to take home any of our 2018 Chrysler Pacifica vehicles, or any of the new vehicles we have on our lot.
Stop by if you have any needs for repairs or routine maintenance on your current vehicle, even if you haven't bought with us. We're happy to help with a simple appointment, we can help get you back on the road. Visit us at Hollywood Chrysler Jeep today!