2016 Compact SUV Comparison: Jeep Renegade and Toyota Rav4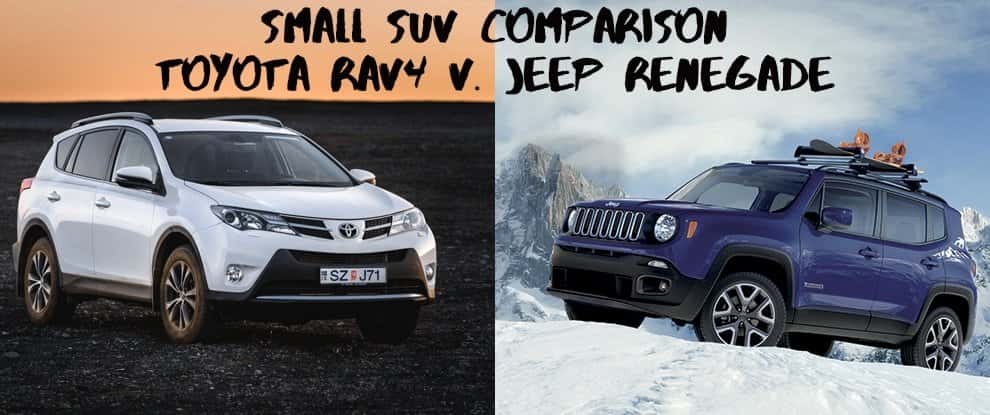 One of the top-selling new vehicles in 2016 are SUVs and the versatility and efficiency of compact SUVs makes them a popular choice among SUV shoppers. Two compact SUVs on Kelley Blue Book's "10 Best SUVs Under $25,000" include the Jeep Renegade and the Toyota Rav4, so we decided to take a closer look at engine, towing capacities, fuel economy and pricing between both of these SUVs.
Overview
The newest of these subcompact SUVs is the Jeep Renegade, and despite its young age, it is one of the best small SUVs on the market. The Jeep Renegade is the only one of the three compact SUVs that was an Editor's Choice pick by the trusted auto publication, Car and Driver.
The Toyota Rav4 has dominated the compact SUV market since its introduction in 1994. The Toyota Rav4 is currently in its third generation and it's been a consistent Top Safety Pick on the annual IIHS list.
Pricing
With a starting price of $17,995, the 2016 Jeep Renegade is substantially more affordable than the 2016 Toyota Rav4, which starts at $24,350. Despite its affordability, the Jeep Renegade also offers comparable horsepower, fuel economy and more towing capacity than the Toyota RAV4.
Engine Specs
The 2016 Jeep Renegade Sport (base model) is powered by a 1.4-liter 4-cylinder MultiAir turbo engine that produces 160 horsepower. The Toyota Rav4 LE (base model) is equipped with a 2.5-liter 4-cylinder engine that generates 176 horsepower.
Though the Rav4 has a slightly higher horsepower, the Renegade has a higher towing capacity. The Rav4 has a maximum towing capacity of 1,500 pounds and the Renegade offers a maximum towing capacity of about 2,000 pounds, which is enough to trailer a couple of jet-skis to and from Hollywood Beach. Both vehicles are available to buyers as front-wheel or four-wheel drive, with the front-wheel drive options being more affordable.
When comparing fuel economy, the Renegade and Toyota RAV4 both offer one of the best fuel economies out of most compact SUVs. Both vehicles have an average fuel economy of 24 mpg city and 31 mpg highway.
Available Models
The Renegade's most basic trim is the Renegade Sport, and there are also six other 2016 models, including the off-roading model, the Renegade Trailhawk, and two limited-edition models, the Renegade 75th Anniversary Edition and the Renegade Dawn of Justice Special Edition.
The Toyota Rav4's base trim is the Toyota Rav4 LE and in 2016 there are six different Toyota Rav4 trims, two of which are hybrid options. The full Toyota Rav4 lineup includes the Rav4 LE, Rav4 XLE, XLE Hybrid, SE and SE Hybrid.
Interested in a Jeep Renegade? 
You can search our selection of Jeep Renegade models here.
Photo credit and copyright: SvedOliver / Shutterstock.com