The 2020 Jeep Gladiator Gets its Chance to Shine During the Super Bowl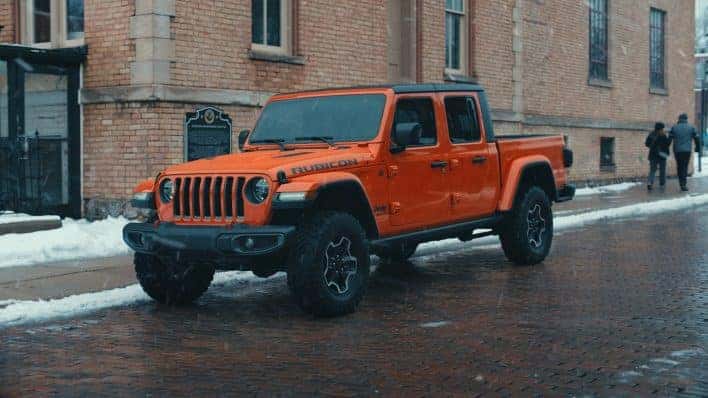 Jeep skipped the 2019 Super Bowl, opting to go with an online-only ad strategy, but the brand is back and better than ever in this year's (2020) big game thanks to a Jeep Gladiator spot. It just so happened that the stars aligned and Super Bowl Sunday landed on Groundhog Day and Jeep went all in with its big game commercial with assistance from eclectic actor Bill Murray. In a nostalgic homage to the 1993 film "Groundhog Day," (a career-defining role for Bill Murray) Jeep treated viewers to a spin on the classic. The spot features an all-new 2020 Jeep Gladiator, as Murray, reprising his role as Phil Connors, lives out the same day over and over while behind the wheel of the Gladiator. Unlike in the movie, Phil is self-aware and points out that the Jeep Gladiator is what's different this time around, letting viewers know that no day is the same behind the wheel of a Jeep Gladiator. Murray is accompanied by his furry friend, an adorable groundhog, as he goes on numerous adventures.
Jeep replicated the beginning of the iconic film with the ad opening up as an alarm clock turns 6:00 a.m. and "I Got You Babe" by Sonny & Cher plays in the background. Jeep worked with Sony Pictures in the spirit of authenticity to ensure the ad matched the original movie. "In my wildest dreams, any advertiser's dream, really, could you dare to believe that Bill Murray would agree to be in your Super Bowl commercial, and on top of that, ask him to relive his iconic role in 'Groundhog Day'?," Olivier Francois, Chief Marketing Officer, FCA.
"How do you even have that make sense and not be forced? Magic first happened when I had the incredible luck to meet Bill in person a few years ago, and I knew then that he was perfect for Jeep. Because like Jeep, Bill is a free spirit, he intentionally seeks out ways to find adventure and live an extraordinary life," Francois added.
Francois broke down how Jeep arrived at the commercial, detailing some of the creative process that took place behind the scenes. "When we learned that Groundhog Day fell on Super Bowl Sunday for the second time in 54 years, we couldn't help but take that chance. The stars magically aligned. Bill agreed to do the first national broadcast commercial in which he's ever appeared, and not only that, relive his role as Phil Connors for our Jeep Gladiator. But this time, in our spot, the hero makes a different choice by choosing a different pickup truck — the Jeep Gladiator — and it changes everything for him," Francois added.
Jeep drummed up excitement in the lead up to the big game by running several daily teasers starting on Thursday (1/30/2020) through Saturday (2/1/2020). The ad didn't only focus on showcasing the all-new Gladiator, it also showed the actor riding around on an all-new Jeep e-bike powered by QuietKat. Jeep plans to offer the bike beginning in early summer (2020) so that Jeep enthusiasts can continue their own adventure in a brand-exclusive bike. Interested parties can find more information on jeepe-bike.com. Jeep is also reveling in the occasion with a collection of custom merchandise inspired by the commercial. Check out Jeep's game day ad below:
Visit The Jeep Experts at Hollywood Chrysler Jeep and explore all that the all-new 2020 Jeep Gladiator has to offer. Follow The Jeep Experts from Hollywood Chrysler Jeep on social media to stay up to date with the latest Jeep news.
Photo Source/Copyright: Mopar Insiders