The 2020 Jeep Gladiator Mojave is Officially Desert-Rated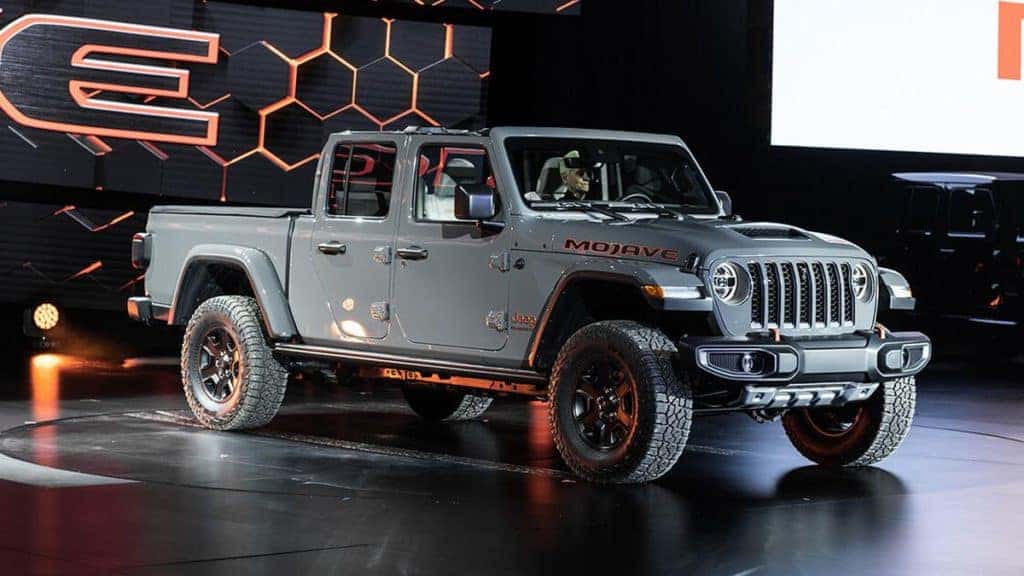 Jeep made a splash at the 2020 Chicago Auto Show thanks to its all-new Jeep Gladiator Mojave model, the brand's first offering to sport an all-new Desert-Rated badge. Designed to traverse challenging desert terrain and other sandy environments, the Jeep Gladiator Mojave is a fitting model to represent what Jeep deems as the ultimate when it comes to off-road capability. The 2020 Jeep Gladiator Mojave is scheduled to arrive in showrooms sometime during the second quarter of 2020.
"4×4 capability has always been the foremost pillar of the Jeep brand and the new Gladiator Mojave is a natural extension of our legendary Trail Rated 4×4 capability leadership. Jeep Gladiator is already the most capable midsize pickup on the planet, and with the addition of the new Mojave model, we are delivering our most passionate customers a new level of capability with the ability to master high-speed desert and sand terrains," said Jim Morrison, Head of Jeep Brand — FCA North America.
Jeep Desert Rated
This model is the first of its kind as the Jeep Desert Rated badge is like an extension of Jeep's existing Trail Rated badge system. Every Desert Rated Jeep Gladiator Mojave has more than exceeded tests in the following five categories: Desert Prowess, Maneuverability, Ground Clearance, Traction, and Ride Control and Stability. 
Desert Prowess: The Gladiator Mojave can withstand intense heat, loose gravel, coarse sand, and the dust that accompanies harsh desert environments. 
Maneuverability: Responsive handling allows drivers to nimbly navigate desert terrain and climb challenging angles. 
Ground Clearance: The Gladiator Mojave's maximized running clearances allow it to crest dunes and blast through whoops, along with anything else that comes its way. 
Traction: The Gladiator Mojave's exceptional traction helps it navigate tenuous surfaces such as gravel, loose dirt, and even sand. 
Ride Control and Stability: A special desert-tuned suspension is responsible for the Gladiator Mojave's uncompromising stability and comfort.
Mojave Exterior
The Jeep Gladiator Mojave features a one-inch suspension lift, thus making its design more aggressive and its appearance more prominent. On the heavy-duty performance hood of the Mojave model, there's a one-of-a-kind decal, as well as a center scoop, unique exterior badges, and orange tow hooks. The 2020 Gladiator Mojave rides on 17 x 7.5-inch wheels and features a Jeep Performance Parts step sand slider side rails between the wheels. Those interested in the model can upgrade to the forward-facing off-road camera for a clearer view when driving off the beaten path.
Mojave Interior
On the inside, the 2020 Gladiator Mojave has aggressive front seats complete with integrated upper bolsters that hold occupants in place. The seats are available in cloth upholstery or leather. Both materials feature accent orange stitching and embroidered Mojave logos. Buyers can choose between two interior color options — Black and Steel Gray, while the leather-wrapped steering wheel even has an aggressive design with a rim section for extra grip.
Looking to get behind the wheel of your very own 2020 Jeep Gladiator? Visit The Jeep Experts at Hollywood Chrysler Jeep, check out our latest Jeep inventory, and schedule your test drive today! Follow Hollywood Chrysler Jeep on social media to stay up to date with the latest Jeep news. 
Photo Source/Copyright: Jeep CNET