The Apple Experience Has Arrived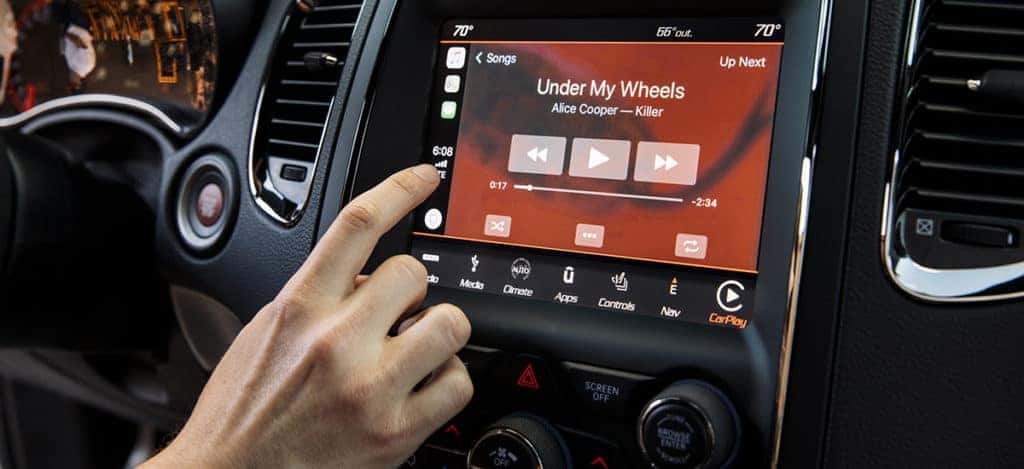 Photo credit: FCA
Jeep®, Chrysler, Dodge, FIAT, and Ram make up several of the vehicle brands under Fiat Chrysler Automobiles (FCA). FCA has partnered with Interscope Records and their talented artists to create a new summer campaign aimed at showcasing the new Apple Experience. This is highlighted by a summer advertising campaign set to feature 10 music artists working with all these FCA vehicle brands, including Alice Cooper for Dodge and OneRepublic for Jeep. Each artist contributed their own song or curated playlist for their respective brand, that will be available exclusively through Apple music.
"With this new campaign, Interscope continues our relationship with the FCA-crafting campaigns that speak to the power of music.. Our diverse roster and FCA's respect for the magic of artistry and the creative process are evident in the new Summer of Jeep spot featuring OneRepublic." said Steve Berman, Vice Chairman Interscope Geffen A&M Records.
Free Apple Music With Purchase?
Since June 2018, FCA has offered customers in the United States and Canada the remarkable Apple experience in their vehicles for six months for free upon purchase of a new vehicle. Each Chrysler, Dodge, FIAT, Jeep or Ram vehicle with standard CarPlay support could be partnered with this Apple Experience partnership. This campaign was created to add the immense talent generated by both respective industries with each other to inspire customers to want access to Apple Music's very large collection of music as well as award-winning FCA brand vehicles. For new customers that already had Apple Music, they will receive three free months to their subscription. This promotion will run until April 30th, 2019.
2018's Stand Out Summer Tracks
Dodge brand's "The Rider" with Alice Cooper includes the track "Under My Wheels", pairing the unique rock legend and Rock Hall of Famer with all the adrenaline packed madness of the Dodge Journey. A spanish flavor was added to the "Perfect Sync" showing off the 2019 Jeep Cherokee with the help from Sofia Reyes and her track "1, 2, 3". OneRepublic joins in with the Jeep fun in their "Soldout" advertisement that shows the great lengths one group of fans go through in their new 2019 Jeep Cherokee to find the best seat of the concert. Their latest track "Connection" is played throughout.
The smooth sounding Brothers Osborne and Ram Nation help show off the easy-to-use connectivity of Ram and Apple Music with Apple Carplay in "Support the Port" and their song "While You Still Can". FIAT gets "Drum Kit" that highlights the 45 million tracks available with Apple Music, including Dej Loaf as well as Leon Bridges's new track "Liberated" as heard in "Finger Dance". Chrysler continues to show off the hilarious Kathryn Hahn as the Chrysler Pacifica spokeswoman in "Girls Night Out" with "Good Time" by Nicky Blitz.
"FCA offers an incredible Apple experience, giving consumers the ability to enjoy Apple Music's catalog of 45 million songs and to listen with premium BeatsAudio sound, in addition to all the features that come with CarPlay. This collaboration inspired us to leverage the strength and identity of each of our individual brands. Additionally, as the only automaker to now offer branded playlists on Apple Music, this allows us to provide increased relevance to targeted audiences." said Olivier Francois, Chief Marketing Officer, FCA.
Looking to Drive an FCA Vehicle? We Know You'll Love It!
We have the latest 2019 Jeep Cherokee and the vehicle Cars.com named as the "Family Car of the Year" in the 2018 Chrysler Pacifica. Whether you're looking for a new vehicle or a quality pre-owned, we have a large selection for you to find the best vehicle choice that fits your needs. Our professional staff is ready help you with any buying, leasing, trade-in or selling requests you have. Come in for a test drive at Hollywood Chrysler Jeep today!