The Future Vehicles of Jeep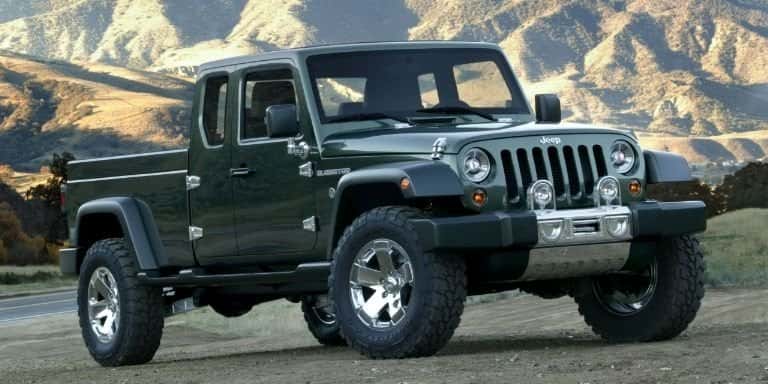 Wow Jeep® is really changing things up lately. In the last year, they've announced several vehicles, and the brand has already delivered on some of them. The rest of the new ones in the pack have either been confirmed or spied, but as far as we know, they're not finished. When Sergio Marchionne, CEO of FCA said Jeep could stand on its own, he wasn't kidding. Jeep smashes sales every year, and with all the new vehicles coming out, there's something for everyone.
Jeep Grand Wagoneer
Jeep has talked about bringing back the Wagoneer "Woody," which was once popular in the early '90s. The new Grand Wagoneer "Woody" will be built on a similar platform to the 2017 Grand Cherokee, hence the "Grand" in the name, but will be a little bigger. We're talking three rows with plenty of luxury features to compete in the SUV market with the likes of the Land Rover and Mercedes. The engine is unknown, but it could be a diesel engine or even the 360-horsepower 5.7-liter V8. Earlier, the Grand Wagoneer was set for the 2018 model year, but it looks to be set to debut with the Jeep Wrangler Pickup truck in 2019.
Jeep Wrangler Pickup Truck
Yes, the Jeep Wrangler Pickup Truck has been confirmed, and there's spy shots of the Wrangler Pickup to prove it! FCA announced a $1 billion dollar plan earlier this year, and part of that investment includes building a new Michigan production plant that will focus on building the truck and upcoming Jeep Wagoneer models. At the moment, there's too many rumors about the Pickup truck to know what is true or false. So far we just know the Wrangler Pickup is set for 2019, but could show up as early as mid-2018.
Jeep Grand Cherokee SRT Trackhawk
Yep, it happened. Jeep put a supercharged 6.2-liter HEMI SRT Hellcat V8 engine in their Grand Cherokee. Able to accelerate from 0-60 mph in 3.5 seconds and cover a quarter-mile in 11.6 seconds, the SRT Trackhawk debuted in April at the New York International Auto Show (NYIAS) and would've stolen the show if it wasn't for the 2018 Dodge Challenger SRT Demon. It's a little crazy to put that kind of power into an SUV, you may as well call it a wrecking ball, but Jeep did it anyway. Look for it in show rooms later this year, 2017.
The Future
It's official. Jeep has announced that they will produce a Jeep Wrangler Hybrid in the future. Electric vehicles aren't their thing, although they're known to produce a good amount of torque, go figure. According to Jeep boss Mike Manley, a Wrangler EV wouldn't be appropriate for the go-anywhere Jeep brand due to range issues. Still, a hybrid Jeep does sound interesting. Said to be built on the new generation Jeep Wrangler platform. Plus, because of the torque of electric motors, that plus a V6 engine could really change the off-road rock crawling game.
We'll see what happens. Stay in touch with us on social media to learn more about what's coming up for Jeep in the future.
Photo Source/Copyright: Pinterest; Marc Urbano/Jeep