The Grand Wagoneer Was Caught Going for a Spin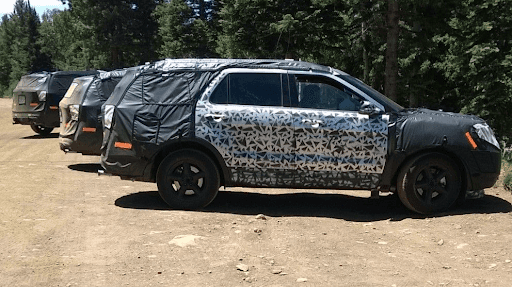 Back in February of 2019 Fiat Chrysler Automobiles (FCA), confirmed that the Jeep Wagoneer and Grand Wagoneer models are slated to debut sometime in 2021. Although the prototype has been spotted on several test runs, we've yet to get a real hint about what the finished product is going to look like. Spy photographers recently captured the upcoming luxury-leaning three-row SUV, giving us the best idea of how large the Wagoneer and Grand Wagoneer will be. 
According to the photographers, the vehicle appears to be riding on the revamped Ram 1500 truck platform, thus confirming a long-standing suspicion. It's possible that Jeep is set to return to the body-on-frame platform that supported a large part of its iconic lineup back in the day. Additionally, a body-on-frame platform likely indicates that the Wagoneer may feature a 5.7-liter HEMI V8 among other powertrain options. 
The mild-hybrid eTorque feature found on the Ram 1500 will also be making an appearance according to automotive experts. Currently, the 3.6-liter Pentastar V6 engine is FCA's standard engine, but the automaker did recently file a patent for an inline-six engine that may be its replacement. A plug-in hybrid variant is also in the works as Jeep has announced its five-year electrification plan. 
When it comes to design, the Jeep Grand Wagoneer will probably feature its classic wood grain accents — although it's hard to tell under all the extensive camo. Heritage styling cues appear like they'll be honored judging by the concept Jeep presented its fans a few years ago. Additionally, experts believe that the Wagoneer and Grand Wagoneer will share some of the next-generation Jeep Grand Cherokee features as it'll be the latest Jeep model prior to these. Photographers indicated that the three-row Grand Wagoneer resembles the Chevy Tahoe and Ford Expedition in size.
Other rumors about the Wagoneer and Grand Wagoneer indicate that both models will share a relationship like the Tahoe and Suburban models. One is a smaller option, while the other is a considerably more spacious SUV with a longer wheelbase and a price tag to match. Production is set to begin by 2021 with the Wagoneer and Grand Wagoneer models to be made at the Warren Truck Plant. The plant recently underwent a $1.5-billion investment and retooling to ready it for the occasion.
To keep up with Jeep's plans to expand its lineup in a time when SUVs are all the rage, follow Hollywood Chrysler Jeep on social media for the latest news. Looking for your own Jeep SUV? Visit us at Hollywood Chrysler Jeep and check out our latest Jeep inventory, then schedule your test drive!
Photo Source/Copyright: topspeed.com