The Jeep Gladiator Looks to the Future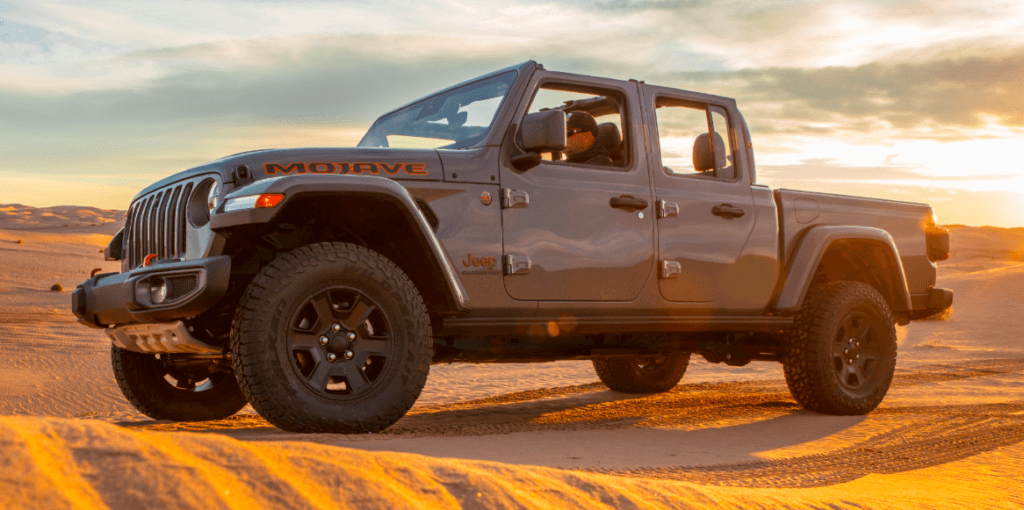 Now that the merger between Fiat Chrysler Automobiles (FCA) and PSA Groupe is complete, the world's newly-minted fourth-largest automaker is wasting no time when it comes to pushing the Jeep brand forward. A sky high priority for the automaker is to move towards all-electric vehicles after neglecting the segment for too long. An all-electric Jeep vehicle is closer than ever now that the plug-in hybrid 2021 Jeep Wrangler 4xe is making its way through the assembly line.
Now that the Jeep Wrangler 4xe is entering the market with its plug-in hybrid powertrain — consisting of a 2.0-liter turbocharged engine that's paired to two electric motors powered by a 17-kWh battery pack, the next frontier for the automotive brand is an even more advanced electric powertrain. If the Wrangler 4xe and its 375 horsepower and 470 lb-ft of torque is any indication, surely whatever Jeep offers next will wow its biggest fans. Speaking to Australia's Go Auto, Christian Meunier, Jeep's Global President, mentioned that an electrified Jeep Gladiator is a must for the brand. Given that the Gladiator was inspired by the Jeep Wrangler — and borrowed plenty of its design cues — it makes sense for it to be the next vehicle in the brand's lineup to carry the 4xe trim.
At present, the Jeep Gladiator comes standard with a 3.6-liter V6 engine that generates 285 horsepower and 260 lb-ft of torque. A new 3.0-liter diesel V6 is scheduled to arrive later this year (2021). Will there also be an almighty Gladiator 392 powered by a V8? Meunier didn't bring up the topic, but experts aren't ruling it out. One thing Meunier did confirm was that the brand currently has zero plans to bring a diesel-powered Grand Cherokee and Grand Cherokee L to market. The next-generation Grand Cherokee will stick to gasoline and electrified powertrains only.
Jeep is very proud of the 4xe plug-in hybrid system it designed and Meunier did state that it's so great it's "as competent as a V8." Keep in mind that the 4xe plug-in hybrid system generates the same amount of torque as the Wrangler 392 that's powered by a rather large 6.4-liter HEMI V8. It was only a few years ago that the idea of electrified SUVs and pickups seemed far fetched, but these days it's becoming more and more common. Aside from a possible Jeep Gladiator 4xe, the automaker does have an electrification plan in place that aims to electrify the entire lineup by 2022.
Have questions about the Jeep Wrangler 4xe? Reach out to The Jeep Experts via Hollywood Chrysler Jeep social media and they'll be sure to clear any questions you might have. In the meantime, if you're itching to go off-road check out the Jeep Wrangler and Jeep Gladiator inventory and schedule your test drive at Hollywood Chrysler Jeep today!
Photo Source/Copyright: Jeep