The Jeep Wrangler Spirit of Adventure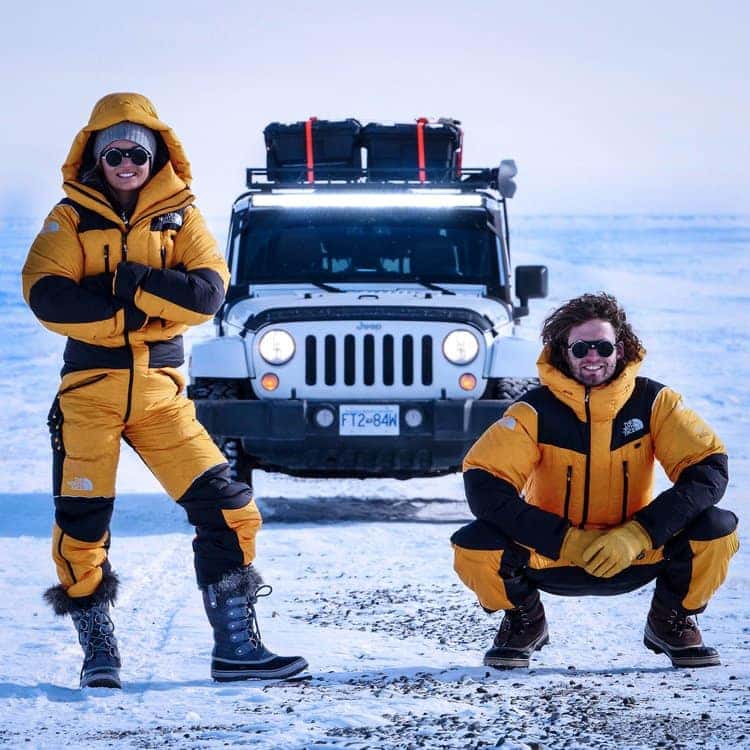 Over the past few years, Instagram has become a treasure trove for stunning travel photos. With the help of very specific hashtags and geotags, it feels as if there's always an ongoing travel album being curated. We stumbled upon Expedition Earth Live's account while scoping out Jeep® content, but it wasn't only their posts that attracted our eyes – it was how they were embodying the Wrangler's adventurous spirit throughout their travels.
Expedition Earth Live follows New Zealand natives Topher and Bridget as they make their way across the globe in their beloved Jeep Wrangler Rubicon Unlimited – aptly named "Gunther" after the man (Gunther Holtorff) who inspired their trek. Both Topher and Bridget refer to Gunther as the heart and soul of the expedition and often quip about how he loves long drives and unexplored terrain.
Topher and Bridget state that they researched vehicles for some time before setting out on their expedition, and that what they sought was a reliable vehicle that would be able to perform and withstand the entire travel route – a route that will take them to six continents over the course of two years. Additionally, the team wanted a fun vehicle with accessibility to spare parts around the globe – enter the Jeep Wrangler Rubicon! The Wrangler stood out thanks to its wide range of aftermarket parts and accessories available, allowing the travelers to customize their Wrangler on the go as they adapt to the changing landscape around them, with tire changes constituting a large part of their services.
The benefits of the Wrangler's freedom panels didn't go unnoticed, with the traveling team repeatedly referencing the freedom the panels provide to experience the outdoors from the protection of their vehicle, especially once the team makes it to Africa and comes face to face with more sizeable wildlife. While potential buyers may not naturally give a lot of thought to a vehicle's color for anything other than aesthetic reasons, Topher and Bridget specifically chose white as Gunther's color because it's statistically known to be safer thanks to its visibility on the road. Furthermore, other fellow travelers advised the team that white vehicles attract less attention in what's often referred to as unsafe areas – in this case, the team believes that a white Wrangler cannot be confused with law enforcement.
The team's one and only accessory recommendation so far? A Deep Sleep for Jeep air mattress! While traveling through remote areas, the team is not interested in struggling to find a place to sleep, so they've opted to sleep in their Wrangler, proving that you don't need to convert your Wrangler into a camper to embody the adventurous Jeep spirit. The Deep Sleep for Jeep air mattress is designed to fit the contours of the JK-generation four-door Wrangler (it's likely that a newer version to fit the JL is in the works) and retails for $166 with a pump included or $150 without the pump. Check out how it fits inside a Wrangler: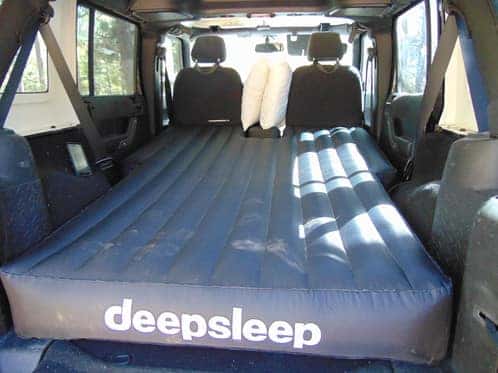 Ready to embrace the free spirit of Jeep while venturing off on the path less traveled? Pass by Hollywood Chrysler Jeep and check out our inventory of the all-new 2018 JL Jeep Wrangler.
We pride ourselves as the Jeep experts, with our service department specializing in lifted Jeeps – but we'd be happy to help with any other customization questions you may have. Schedule a service appointment today and get ready to hit the road!
Photo Source/Copyright: Expedition Earth Live & deepsleep4jeeps.com