The Truck Bed on the Gladiator Isn't Like Any Other Truck Bed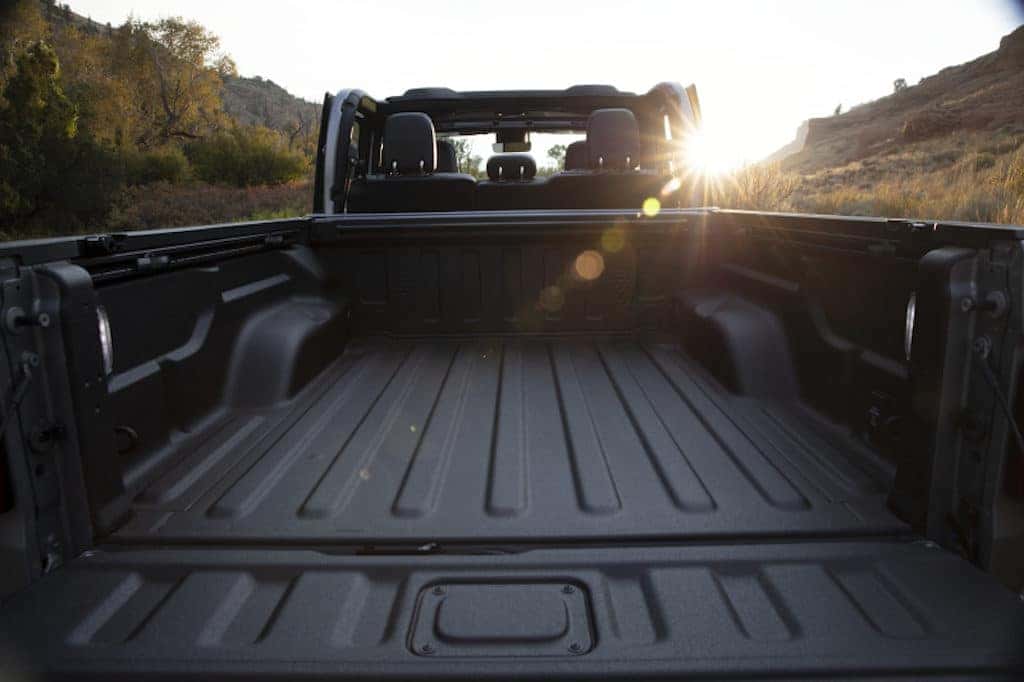 "It's a Wrangler with a truck bed tacked on…" If we had a dime for every time we had to hear that same statement be made about the 2020 Jeep Gladiator, we actually wouldn't have that much chump change. Considering the Gladiator is so much more than a Wrangler-inspired pickup, even the truck bed has its own special functions. Speaking of the truck bed, the bed on the all-new 2020 Jeep Gladiator is capable of carrying more than cargo. So what other amenities does the 2020 Jeep Gladiator offer on its truck bed other that a best-in-class payload of 1,600 pounds? Thanks to its body-on-frame build, the design of the Gladiator is predisposed to being a capable midsize pickup. With its five-link suspension system, the Gladiator offers capability complete with composed on-road driving dynamics, best-in-class towing and 4×4 payload capacity.
The aforementioned body-on-frame design is remarkable due to its use of advanced materials and overall engineering that make the truck relatively lightweight, yet stiff and durable thanks to the high-strength steel in use. When squared up against the iconic four-door Wrangler, the Gladiator features a frame that's an additional 31 inches and a wheelbase that's 19.4 inches longer. The longer wheelbase enables better weight distribution and ultimately makes for a more comfortable and composed ride – especially while hauling cargo.
Mark Allen, the Head of Jeep Design, FCA – North America, stated: "We didn't want to just bring a pickup and variant of a wrangler. We wanted to make sure it was built to fit the needs of what a truck buyer was looking for beyond the capability that is inherent in all our Jeep vehicles."
What follows are thoughtful, useful and creative features that owners can locate throughout their Jeep Gladiator truck bed:
An available spray-in liner
Under-rail bed LED lighting
Available, lockable tonneau cover to keep cargo safe
A specially-integrated brake light housed within the tailgate handle due to the Gladiator's removable roof
An aluminum tailgate that borders on malleable thanks to its three predetermined positions, including one called a "weekend warrior" position that allows for the tailgate to remain partially open while transporting large items
The cargo box is intentionally low to allow for easy reach-in access over the side
An available (and covered) external power source
Cargo tie-downs are strong and integrated, including two that can rotate and fold down for extra space
Toledo, the city where the Gladiator is assembled, gets a special mention in the form of a stamp inside the bed
Versatility to add Mopar products and accessories such as cargo carriers, bicycle carriers, and a lockable storage system
There's an imprint of a motorcycle tire on the front of the available tool box
Check out the all-new 2020 Gladiator at Hollywood Chrysler Jeep. Looking to have it your way? The Jeep Experts at Hollywood Chrysler Jeep specialize in lifts and modifications, feel free to reach out on social media and in person if you're ready to take on the Jeep life.
Photo Source/Copyright: FCA Media