Three Jeep Wrangler Summer Essentials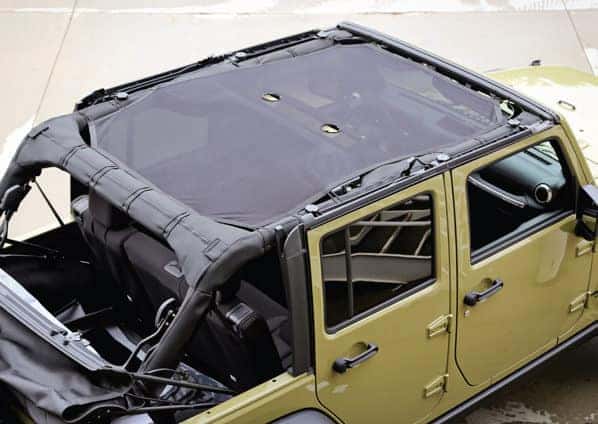 Summertime and Jeep vehicles were practically made for one another – hand and glove style! Although it isn't Summer yet, climbing temperatures in South Florida certainly make it feel like the hottest season is imminent. Although there's nothing more fun than a Jeep Wrangler out on the trail, the scorching Florida sun can sometimes be overwhelming. Sure, air conditioning can provide some relief from blistering temperatures, but what's off-roading in a Jeep if all the windows are up? The Wrangler is a versatile vehicle, and its appeal lies in its customization abilities – removing doors, tops, and even the windshield for those looking to crawl. There's no need to despair, there are numerous Jeep must-haves that can make off-roading or Jeeping under the Florida sun much more enjoyable in what can become unbearable Summer months.
Soft Top
Owners of hard-top Wrangler vehicles will definitely appreciate this. There are plenty of aftermarket soft tops that make owning a Jeep a pleasure during the Summer months. Not only do two tops come in handy as the seasons transition, but it helps Jeepers alternate their vehicle's look. Soft tops are much easier to remove and their pragmatic storage – easily folded and stored in the back of the Jeep – can't be beat. Investing in an additional soft top will eliminate the need to arduously remove (and travel without) the hardtop every time. The protection and versatility that soft tops provide make them a Jeep Summer essential.
Sun Shade
Alright, now that we've discussed the perks of having a soft top it's only fair we acknowledge there's one drawback – driver and passengers alike are left without shelter from the beating sun if the Jeep is entirely topless. No need to be alarmed though, here's where a sun shade comes in handy. Wrangler sun shades usually don't require any extra modifications and are manufactured to withstand high wind levels, meaning they won't be flapping in the wind as Jeepers cruise on the highway or make their way throughout the trails. Many sun shades are also UV-resistant, which prevents them from fading. Enjoy the best of both worlds with a sun shade – Jeeping in the open air while shielded from the sun's harmful rays.
Seat Covers
Whether Jeepers like to get down and dirty in the mud or opt to play in the sand instead, that dirt spreading to the inside of the Wrangler is inevitable. Seat covers are a perfect way to protect the interior. Pet owners can also enjoy taking their four-legged friends along without having to worry about pet dander, muddy paw prints or any odors that otherwise would be here to stay without removable seat covers. Most seat covers are machine washable or can just as easily be rinsed off, without having to worry about any lasting damage to the upholstery.
Shop for official Mopar accessories here at Hollywood Chrysler Jeep. Need a lift before hitting the trails? The Jeep Experts at Hollywood Chrysler Jeep specialize in lifted Jeeps – come see us before hitting the road!
Photo Source/Copyright: cjponyparts.com