Trunk-or-Treat With Chrysler This Halloween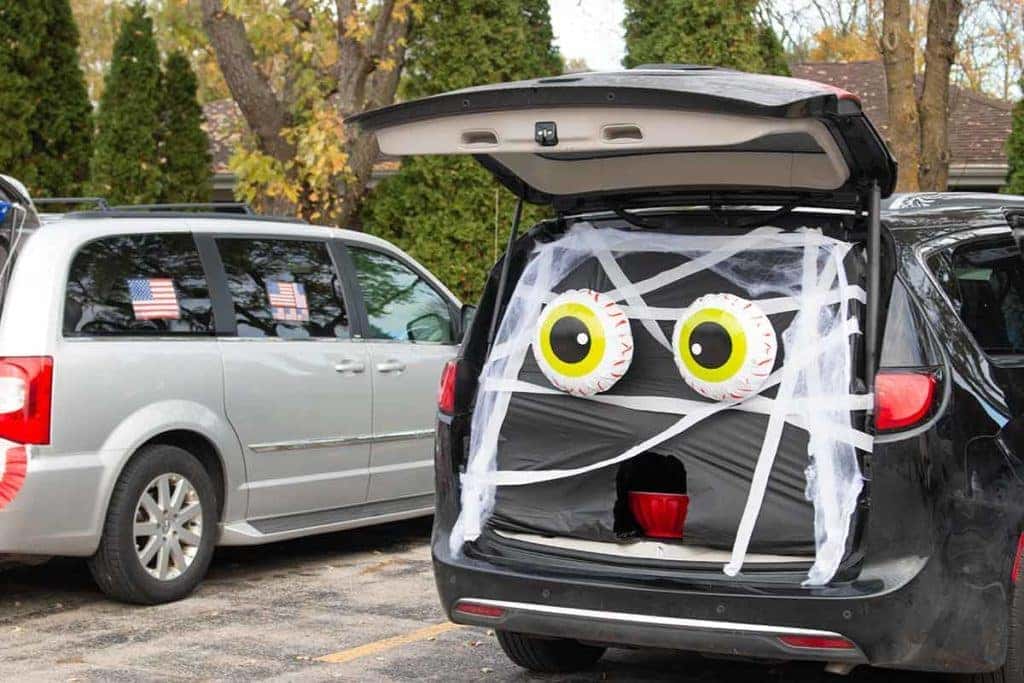 Trick-or-treating feels outdated when we think of the possibilities that come with celebrating trunk-or-treat instead. A new tradition gaining a lot of ground over the past few years, trunk-or-treat offers parents a great alternative to traditional door-to-door trick-or-treating. Conceived as an event to cater to both kids and adults, trunk-or-treat is like a perfect Halloween tailgate party. Children go trunk-to-trunk instead of door-to-door, collecting candy in their bags or baskets, in a designated area while the trunks of vehicles turn into makeshift front porches.
Offered as a great alternative to those parents wary of their children receiving candy from strangers, trunk-or-treat events allow for a more controlled environment and are usually put on by schools, churches, and communities. Trunk-or-treat events tend to be geared towards the youngest kids, helping them avoid some of the scarier costumes and decorations out there. Frights are kept to a scare-minimum while kids still get to enjoy the tradition of dressing up in their favorite costume and collecting candy all in a wholesome way that's intended to reduce the risks parents are trying to avoid — everybody wins!
Trunk-or-treat events can take place at local parks or churches as we mentioned earlier, but they'll always resemble something like a block party in a neighborhood. People usually decorate their cars, especially their trunks, with Halloween decor and a candy station to boot. Usually, there are also games and activities in which kids can win other prizes as well. Depending on how the event is organized, children can move freely within a designated area, or if a larger crowd is expected organizers can implement ticket-based systems so that they don't run out of prizes and candy too early in the night.
Adults can get in on the fun as well with some healthy competition for a top decorated trunk award. Categories can include the creepiest trunk or people's choice so that the crowd can choose a favorite. Even hosting a responsible tailgate is a wonderful option for adults as they can fire up the grill and maybe even have a themed bonfire. Here are some other tips to make this year's trunk-or-treat a success:
Play the Part
A costume that matches the theme of the trunk is the perfect way to get into character. Remember to keep it light and don't pick something too spooky that's sure to make the kids take off running!
Bring Backup
Extra batteries, phone power banks, blankets in the case that temperatures drop, disposable wipes to clean up any messes, and extra candy to avoid running into the scariest situation possible — running out of candy. Whatever you do, don't be the person letting trunk-or-treaters walk away empty-handed.
Go All the Way
Commit to your theme and make your trunk a triumph with decorations and other multi-sensory additions to the design. Music, lights, sound effects, and even a photo opp make for a best-in-trunk nominee. Make it an interactive experience!
What vehicles make the best trunk-or-treat candidates? Any vehicle from either the Jeep or Chrysler lineups. The trunk of a family-friendly Chrysler Pacifica surely offers plenty of space, while the more luxurious Jeep Grand Cherokee also ranks high up there with its 68 cubic feet of cargo room. Ghouls and goblins are sure to appreciate listening to the Monster Mash on the Harman Kardon sound system, available on both the Chrysler Pacifica and Jeep Grand Cherokee models as an optional upgrade. Share your spooky trunk-or-treat creations with Hollywood Chrysler Jeep this Halloween via our social media channels!
Photo Source/Copyright: Go Valley Kids