Tyler Wright, Malia Manuel and Jordy Smith selected as Jeep's WSL Athletes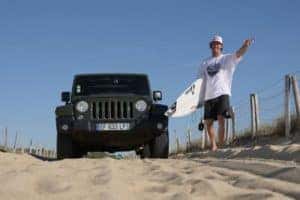 Jeep has made their selection for brand ambassadors representing Jeep globally as part of a cross-promotional campaign. All three choices, Jordy Smith, Malia Manuel and Tyler Wright represent ideals that embody every Jeep vehicle. As some of the best surfers in the world, they are constantly raising the bar, pushing the limits of their industry and relentless in the pursuit of adventure.
Jeep values each athlete's remarkable abilities and quest for adventure. Their roles as brand ambassadors will include producing social media content on Facebook, Twitter and Instagram showcasing their training for their upcoming events. Jeep will sponsor the men's and women's 2017 World Surf League (WSL) Championship, and the winners of the Best Surfer will be awarded a new Jeep brand vehicle at the end of the season.
The Jeep and WSL partnership for the 2017-2018 competition season will be filled with action and drama, with all three athletes providing ongoing access across broadcast print, online and social media channels.
The Jeep brand, WSL and surf culture embody a unique trait that can be best summarized as "Crazy Passionate". Take a look at this collaboration's exhilarating adventures in the created for the worldwide campaign during the 2017-18 season.
If you're like us and embrace the Jeep lifestyle, we're ready to help you test drive both new and used Jeep vehicles. Hurry and find yourself riding the waves over at Hollywood Chrysler Jeep today!
Photo Credit: FCA Media Site