UPDATE: More Jeep Wrangler JL Details Leaked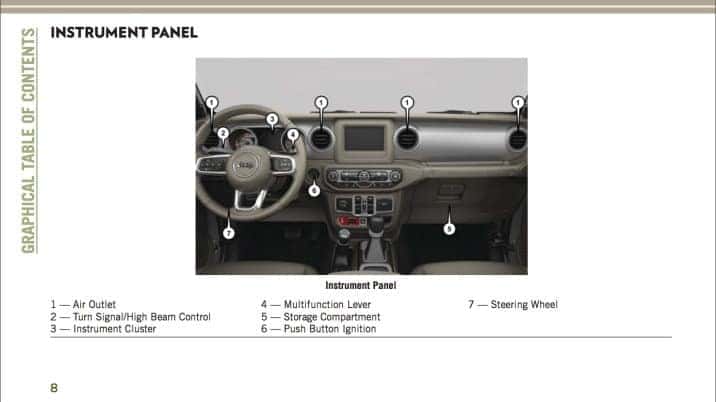 Someone recently leaked the owner's manual for the next generation Wrangler, the Wrangler JL, and it's provided us with some pretty great insight about what's to come on the next gen Wrangler.
One interesting change in the leaked documents on JL Wrangler Forums indicates that Jeep has brought the Wrangler's iconic removable hard-top into the 21st century by making the hardtop a power sliding top. A power sliding top would be a pretty cool feature because it would make opening the top a lot easier and more convenient, especially in locations like South Florida where rain isn't always predictable.
However, speculation on Car and Driver and JL Wrangler Forums suggests that the new power sliding top would mean the top would no longer be removable, and that might not be ideal some die-hard Jeepers that love getting out their tools to remove the top. It is still unclear if there would be an optional manual removable top in addition to an optional power sliding top.
But even if Jeep did make the top a permanent adjustable fixture, owners would still be able to remove the vehicle's doors and windows, so it would still be a pretty versatile and unique SUV.
The owner's manual also includes information about 2.0L and 3.6L engines, so it looks like the Wrangler JL will be available with a slightly less powerful and more fuel efficient engine for those that don't need the 285-horsepower 3.6L engine.
Can't wait to get a Jeep Wrangler? Check out our Jeep Wrangler inventory and start your adventure today!
Photo Credit: JL Wrangler Forums