Virtually Modify Your Jeep with Interactive Garage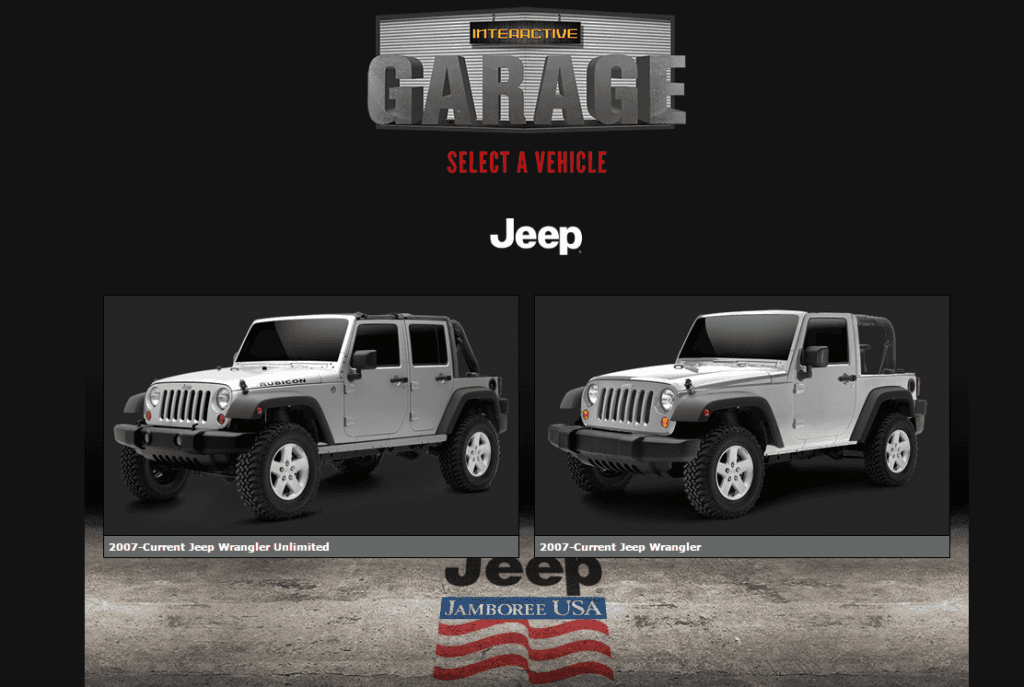 If you have a Jeep Wrangler (or want one) and have the need or want to modify it, there is an easy way to do so! Googling different parts and buying them from all over can be frustrating, but Jeep Jamboree's Interactive Garage is an excellent and easy alternative where you can do it all in one place.
Interactive Garage
The interactive garage can be found here.
With the online tool, users have the choice of modifying a Jeep Wrangler or Wrangler Unlimited made between from 2007 to the current model year. Once the model is selected, users can choose all types of mods like front and rear bumpers, running boards, lift kits, hoods and roofs. Each item that is selected is then added onto the Jeep so users can actually see what the modification would look like.
Then, once a user has figured out what they want to purchase, they can do so right on the site. With Jeep Interactive Garage there is no longer a need to Google different parts and risk getting the wrong one.
The garage is super simple to use. Just follow the following steps and that's it!
Pick your Jeep from the options.
Click on different types of mods (they are separated by categories to allow for ease of searching).
Watch your Jeep come to life on the screen.
Keep what you like, take off what you don't. The items you like automatically go to your shopping cart.
When you are done, click on the shopping cart and check out. It is seriously that easy!
Check out our entire Jeep Wrangler inventory at Hollywood Chrysler Jeep here.
Photo source: Screen shot taken from Jeepjamboreeusa.com