2021 Jeep Wrangler 4xe vs 2021 Range Rover Sport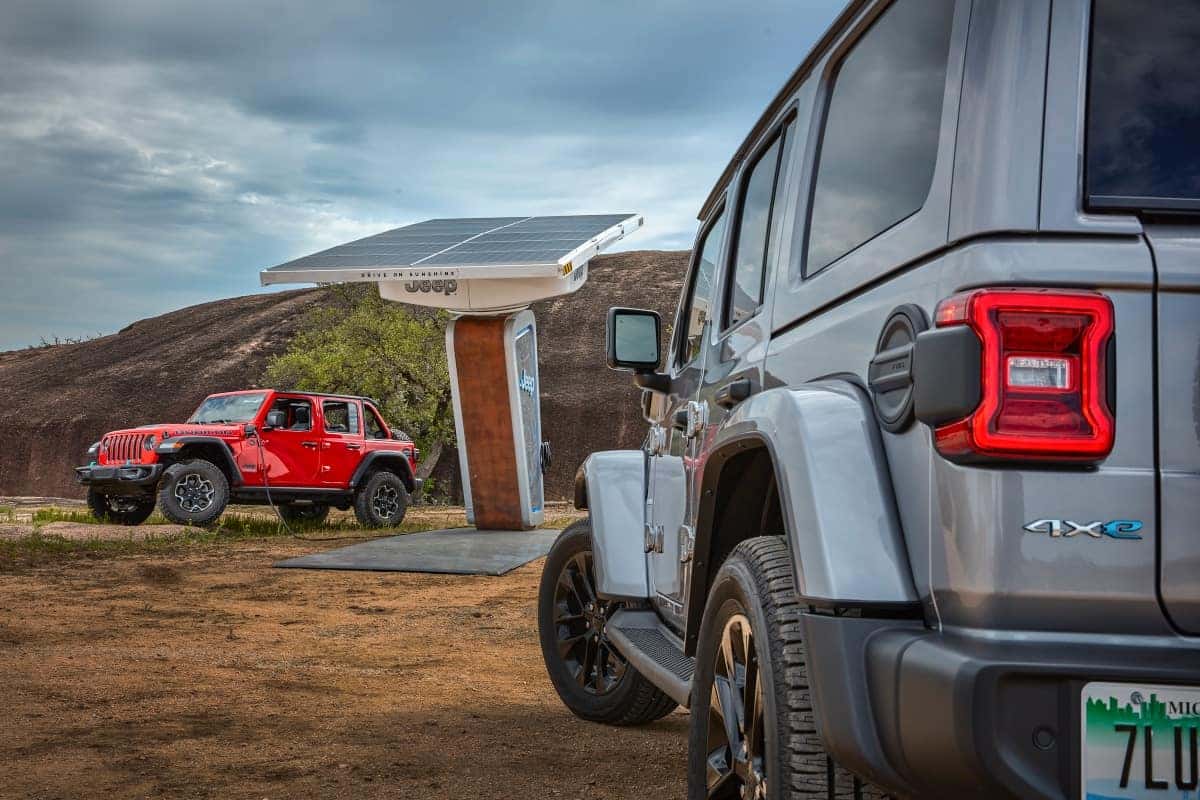 It's rare to think of a model as authentic and iconic as the Jeep Wrangler having some competition, but with the arrival of the Wrangler 4xe — the first plug-in hybrid of its kind — things have changed. Both the 2021 Jeep Wrangler 4xe and 2021 Range Rover Sport P400e compete in a niche segment that combines genuine off-road capability with a plug-in hybrid powertrain. Here's how the two models fare when compared head-to-head.
For starters, the 2021 Jeep Wrangler 4xe and Range Rover Sport P400e have very different starting MSRPs, with the Wrangler 4xe starting at $52,520 (plus destination fee) and the Range Rover Sport P400e at $84,350 (plus destination fee). Besides the thousands of dollars difference in pricing, the Wrangler 4xe is lauded as a perfect combination of robust off-road ability and daily practicality. Mixing classic design, modern safety features, first-class technology, and punchy off-road chops, the 2021 Jeep Wrangler 4xe is an exciting first foray into the electrified sphere on behalf of the brand. Oh, and one big bonus? The Wrangler 4xe not only offers buyers all-electric off-road ability, but it also comes with free trailhead charging for life.
Introduced for the 2021 model year, the Wrangler 4xe offers 21 miles of all-electric range, allowing for a few hours of absolutely silent off-roading. It also doesn't hurt that with 375 horsepower the Wrangler 4xe is among the most powerful ever built. Drivers can travel up to 21 miles on electric power before the Wrangler 4xe's turbocharged 2.0-liter four-cylinder engine engages. Capable not only on but off the trail as well, the Wrangler 4xe can do it all thanks to its hybrid powertrain. Be it off-roading in mere silence, taking long road trips, conquering paths less traveled, or handling adverse weather conditions like a pro, the Jeep Wrangler 4xe can do it.
The 2021 Jeep Wrangler 4xe is available in three different trims: Sahara, Rubicon, and High Altitude. 4xe buyers won't have to worry about charging costs thanks to the brand's partnership with Electrify America, which stipulates free charging for 4xe owners at popular off-road trailheads across the country. While there's no denying that the Range Rover Sport P400e is also well-equipped for the trail, the price range difference between the two models, along with Jeep's well-established track record, makes the 4xe a better choice. Regardless, the Wrangler 4xe offers buyers two more miles of all-electric range.
Visit The Jeep Experts at Hollywood Chrysler Jeep to learn more about the 2021 Jeep Wrangler 4xe, the only hybrid SUV available with its own heritage styling and an impressive powertrain. Check out the latest Jeep Wrangler 4xe inventory and schedule your test drive today! Follow Hollywood Chrysler Jeep on social media for the latest Jeep news and offers.
Photo Source/Copyright: Stellantis