4 Reasons We Love The Jeep Wrangler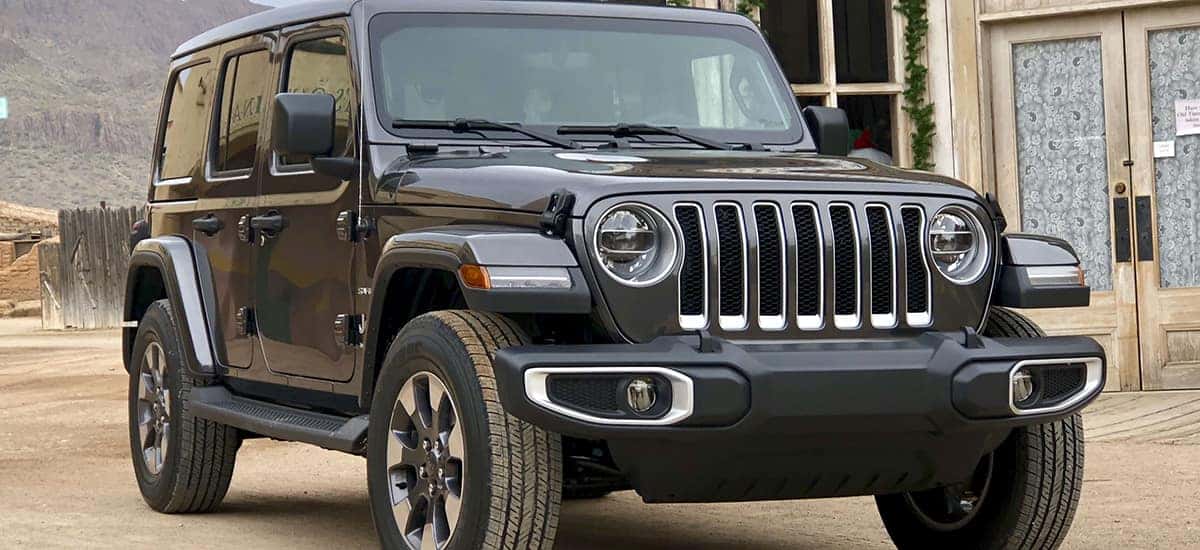 This month is all about "love" and today is Valentine's Day, so we are giving a little love to America's best off road vehicle, the 2018 Jeep Wrangler.
Unique History
The history of the modern Jeep Wrangler dates back as far as the 1980's, while the original progression of this vehicle dates back to the World War II Jeep vehicles. Both those original vehicles and the current Jeeps continued the use of a separate body and frame with off roading capabilities due to rigid live axles, upgraded suspension and anti-roll bars that match the design of a flared fender and fold-flat windshield the Jeep Wrangler is popular for.
There are few vehicles that have a customer base as loyal as the Jeep Wrangler has and their loyalty paid off. Over the years customers have been rewarded with a very strong resale value. The finance and business magazine, Forbes, recognizes that the Jeep Wrangler has one of the highest resale values in the industry.
Off-Roading Capabilities
Each 2018 Jeep Wrangler is a fully capable off road vehicle that can handle driving on any terrain. In fact, the next generation 2018 Jeep Wrangler separates itself from the previous generations of the Wrangler with its all-new aluminum and steel frame system. Despite remaining tough, this new body is a lighter weight frame that allows for better fuel economy, incorporating aluminum components of the body makes the Wrangler 200 pounds lighter.
Keeping the vehicle balanced between maintaining the powerful drive you'd expect and a vestitle vehicle, the 2018 Jeep Wrangler does just that. There's different engine types, 2 or 4 door models and various optional features to customize from top to bottom. Take your 2018 Jeep Wrangler wherever the road goes, no terrain is too harsh for this fully capable off road vehicle.
All-New 2018 Jeep Wrangler
All the iconic prestige of the Jeep Wrangler is just the starting point in the all-new 2018 Jeep Wrangler. From upgraded technology to improved designs and 4×4 capabilities, the new 2018 Jeep Wrangler is ultra powerful and can handle any menacing path with ease.
The 2018 Jeep Wrangler has the all-new 2.0-liter turbocharged four-cylinder engine that provides 270-horsepower and 295 lb.-ft. of torque. The new engine eTorque system uses an electric motor to direct power to the crankshaft, positioned where the alternator would be. Available in 2019, will be another engine option for the four-door 2018 Jeep Wrangler model, a 3.0-liter EcoDiesel engine. Drivers will have the strength of 260 horsepower and 442 lb.-ft. of torque, that's the most torque delivered in the Jeep Wrangler lineup.
Optimizing your Jeep's features have never been easier or faster than the new 2018 Jeep Wrangler. A push-to-start button is the first on any Wrangler, accessible and easy-to-use. Select trims include the next-generation Uconnect 4, included with both Google Android and Apple CarPlay systems, providing hands-free options for drivers. With a 7-inch touchscreen and available Uconnect 8.4-inch touchscreen with navigation the 2018 Jeep Wrangler also includes a premium sound system with a subwoofer, also available on select trims for premiere audio quality.
Customization
Every Jeep Wrangler is built the same, but can be made special with unique customizable pieces and additions that every Jeep Wrangler owner knows and loves. With the most versatile configurations and ability to transform into the vehicle you want, for any of  your adventures, there's no shortness of fun with the Jeep Wrangler. In fact, there are more configurations with the new 2018 Jeep Wrangler than ever before, so much so there's an app that allows users to customize their own 2018 Jeep Wrangler to their liking and make a purchase with their exact specifications!
If you need any more reasons to fall for the Jeep Wrangler, come and see our collection for yourself at Hollywood Chrysler Jeep. For all things Jeep, we're the name to trust. From our wide selection of new and preowned to our professional servicing department. No task is too small nor too large for us to handle. We look forward to making your experience a spectacular one.