Canine Companions for Independence: Prue's Fourth Month in Training
A few months ago, Fiat Chrysler Automobiles announced a new product, the BraunAbility Chrysler Pacifica, and around the same time they also partnered up with Canine Companions for Independence to start a new initiative, the 'Give a Dog a Job' campaign, and that got us thinking … why not follow a local dog in training to become a service dog? So we reached out to the South Florida chapter of Canines for Companions for Independence and we met Sheryl (trainer) and Prue (dog).
Fourth Month in Training
It's mid-October so it's time for another update about Prue! Prue is now 6 months old and she weighs a little over 30 pounds. She is now officially going out in public and socializing in the community. Prue is busy practicing old skills and working on a lot of new ones, including speaking on command, shaking paws, and rolling over. Sheryl is also teaching Prue to go under tables and lay down quietly when in restaurants.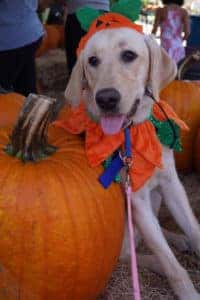 Canine Companions for Independence News
The main headquarters of Canine Companions for Independence is located in Santa Rosa, California, an area that has recently been affected by wildfires. The building headquarters was evacuated, and unfortunately several trainers and staff have lost their homes. Since the evacuation, training at the campus has been suspended and all the dogs that were in the kennels were moved to volunteers' homes and veterinary staff homes. The building was not damaged by the fire and it will re-open.
Since 1975, Canine Companions for Independence has provided assistance dogs free of charge to recipients and they rely on donations and volunteers. If you would like to learn about how you can help, visit Canine Companions for Independence.
If you would like to know more about the Braunability Chrysler Pacifica, reach out to us at Hollywood Chrysler Jeep.