Jeep 4xe Propulsion System Earns Wards 10 Best Engines Distinction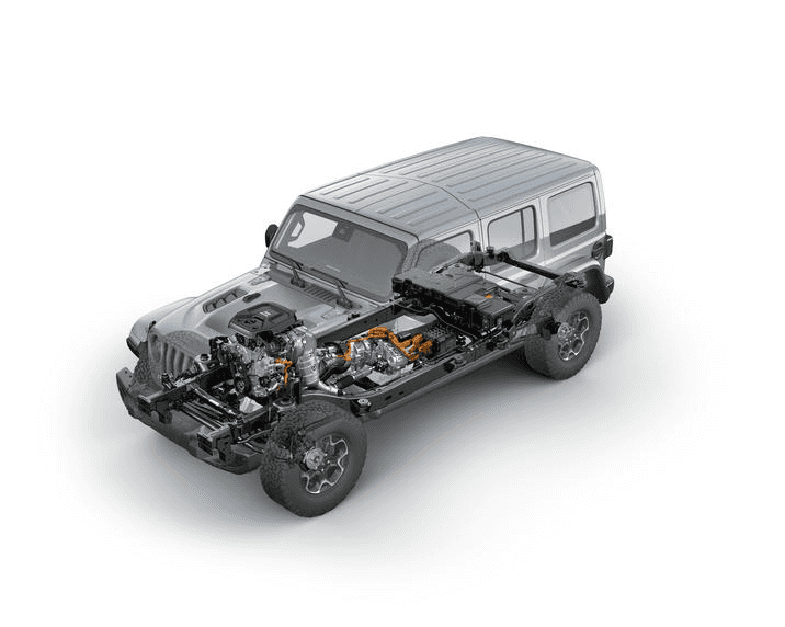 Although the newly-minted Jeep 4xe plug-in hybrid propulsion system is new on the scene, Wards deemed it worthy of its "10 Best Engines and Propulsion Systems" list. Quite the feat for a system that's within its first year of eligibility. First available on the Jeep Wrangler 4xe model, the plug-in hybrid powertrain turned out to be a hit with consumers once it launched. Within weeks of rolling across dealer lots, the Jeep Wrangler 4xe quickly found itself as the No. 1 selling plug-in hybrid vehicle in the U.S. for the second quarter (2021). Praised by automotive media as revolutionary for the Jeep brand, the Wrangler 4xe offers buyers up to 21 miles of zero-emission, all-electric range. The model is EPA rated at 49 miles per gallon-equivalent (MPGe).
"This is advanced, environmentally friendly technology that seamlessly fits into anyone's daily life. Then you take the Jeep Wrangler 4xe off-road and it hits you that electrified propulsion and nearly silent running are unlike anything you've ever experienced. You won't want to come off the trails. Delivering a powertrain that manages torque from three sources and loses nothing from the Jeep Wrangler's legendary capability is a challenge. We are energized by the response from our customers as well as the recognition from the Wards editors. We're not finished, there is more to come," said Micky Bly, Stellantis Head of Propulsion Systems. 
These days, the Wrangler 4xe is being driven across Canada, Europe, China, and of course, the United States. In North America, the Wrangler 4xe is offered in three different trims: Sahara, Rubicon, and High Altitude. Combining two electric motors with a 2.0-liter inline-four engine and an eight-speed automatic transmission, the Wrangler 4xe is not only exceptional as a daily commuter but as an avid off-roader as the enhanced 4×4 off-road capability due to the instant torque takes the model to new heights — both literally and figuratively. The Wrangler 4xe retains running gear that includes a full-time two-speed transfer case, 30 inches of water fording capability, a fully articulating suspension, and solid front and rear axles, to name a few. 
Jeep offers three E Selec modes when operating the vehicle — Hybrid, Electric, and eSave. Although the first two modes are self-explanatory, eSave conserves the battery pack charge for later use. On a Level 2 (220-volt) charger, the Wrangler 4xe takes up to two hours to fully charge, while on a Level 1 (110-volt/household power) charger the vehicle takes up to 12 hours to reach a full battery. 
This occasion marks the 11th consecutive time that a Stellantis product earns a spot on this list from Wards. Ten different engines/systems manufactured by Stellantis and its predecessor companies accounted for 21 wins over a 28-year timespan. Here are some former winners: 
2.0-liter I-4 plug-in hybrid (Jeep Wrangler 4xe): 2021
3.6-liter Pentastar Upgrade with eTorque (Ram 1500): 2019-2020
3.6-liter Pentastar V-6 hybrid (Chrysler Pacifica): 2017-2018
3.0-liter EcoDiesel V-6 (Ram 1500):2014-2016
6.2-liter Hellcat supercharged HEMI® V-8 (Dodge Challenger SRT Hellcat): 2015
83-kW electric motor (Fiat 500e): 2014
3.6-liter Pentastar V-6 (Dodge Avenger, Chrysler 300S, Ram 1500): 2011-2013
5.7-liter HEMI V-8 (Dodge Charger R/T, Chrysler 300C, Dodge Challenger R/T, Ram 1500): 2003-2007, 2009
5.9-liter Cummins turbodiesel I-6 (Ram HD): 2004
4.7-liter SOHC V-8 (Jeep® Grand Cherokee): 1999
Visit The Jeep Experts at Hollywood Chrysler Jeep to learn more about the 2021 Jeep Wrangler 4xe, the only hybrid SUV available with its own heritage styling and an impressive powertrain. Check out the latest Jeep Wrangler 4xe inventory and schedule your test drive today! Follow Hollywood Chrysler Jeep on social media for the latest Jeep news and offers.
Photo Source/Copyright: Stellantis