The JK Wrangler Joins the #Camperlife Trend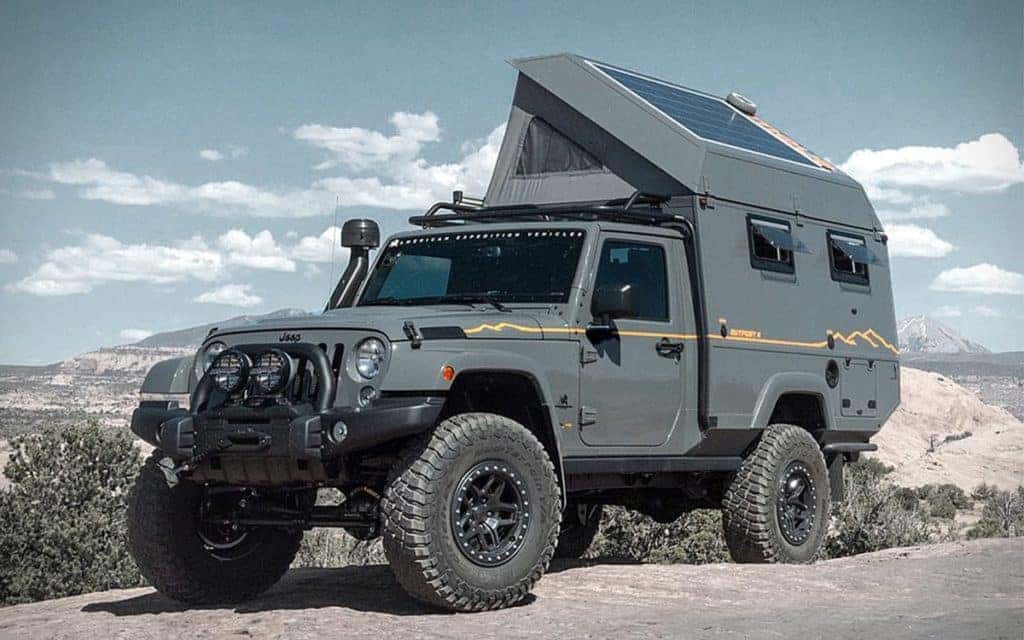 We recently brought you the story of the couple that's touring the world in their JK-generation Jeep® Wrangler, continuing the #vanlife trends that seems to have exploded across social media within the past few years. Montana-based aftermarket parts manufacturer American Expedition Vehicles (AEV) is getting in on the #vanlife action (read more like #camperlife) thanks to the JK Wrangler and its ability to serve as a base vehicle for all sorts of creative modifications. AEV recently built the Outpost II – a fully customized JK Wrangler Unlimited with a self-contained overlanding camper that contains 600 hand-made parts.
AEV did away with the stock body as it was sliced off after the front cabin seats, keeping the wheelbase while stretching the frame toward the rear axle to make space for the camper and a spare tire as well. The camper, made of fiberglass, required a special steel "birdcage" to be constructed and subsequently mounted on the new and improved wheelbase. Additionally, the Jeep Wrangler's actual structure is made up of marine-style honeycomb fiberglass and polypropylene (a thermoplastic polymer) with the hull being integral to supporting the weight of the entire camper.
This vehicle couldn't qualify as #camperlife-ready if it didn't have all the amenities within, and AEV kept that in mind when they designed and completed the project. The Outpost II includes a refrigerator and a freezer that are mounted over an oven, a 22-gallon water tank, and a 4-gallon marine water heater that suctions water out of the fresh water tank and warms it by using engine coolant. There's also a triple-duty couch that turns into a bed and provides additional storage space beneath it for a dual-tank air compressor, a water pump, and an additional water heater. All of these additional amenities add up to 750 pounds to the camper's final weight, which is supported by a custom-built sway bar and a sturdier suspension system with reinforced springs. A 5.7-liter HEMI V8 engine is powerful enough to keep the 6,340-pound camper moving (weight does not include the 22-gallon freshwater weight).
AEV CEO and lead designer Dave Harriton refers to the Outpost II as a project that was a "personal labor of love." Additionally, Harriton stated that the Outpost II was made as a celebration of the outgoing JK Wrangler Unlimited, the first four-door Wrangler that provided enough room to make these sort of camper modifications. #Camperlife enthusiasts will be saddened to learn that AEV has no plans to enter the Outpost II into mass production, and the only one they've built currently serves as Harriton's mobile office, but that doesn't mean that the latest generation Jeep Wrangler can't be customized.
Looking to embrace the #camperlife lifestyle? Come by Hollywood Chrysler Jeep and check out our latest 2018 Jeep Wrangler inventory. Offered in over 9 different special editions and numerous trims with plenty of modifications available, the 2018 Jeep Wrangler is ready to hit the road less traveled. We are The Jeep experts and we are ready  to help you with any questions or concerns that you may have. Looking for service on your Jeep? You can even schedule an appointment online for your convenience!
Photo Source/Copyright: insidehook.com