Which Jeep top is Right for you?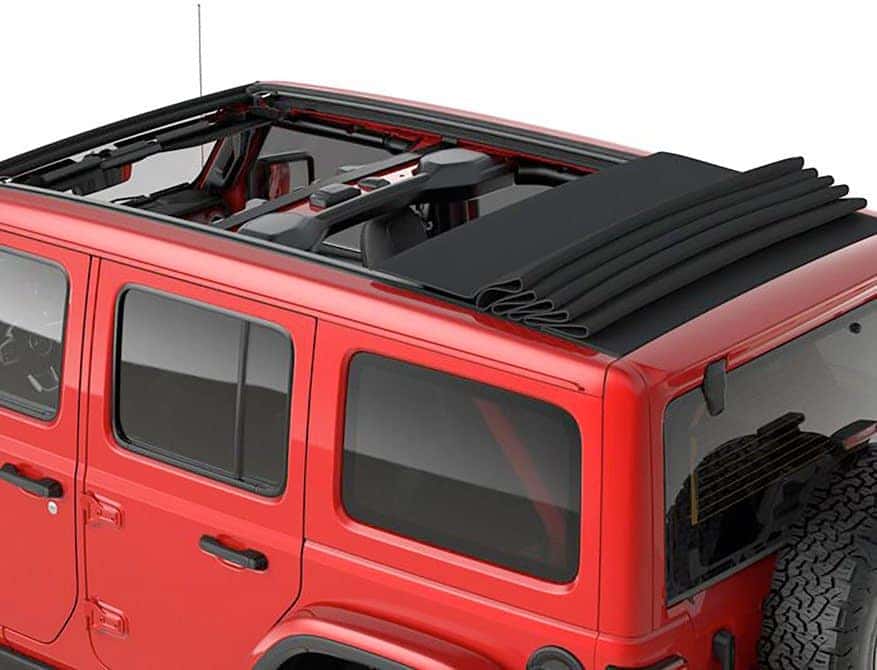 The iconic Jeep Wrangler is a vehicle intended to go off the beaten path, and its many trims over the years have provided consumers with endless options that match their personalities – down to the type of top. Be it a hardtop, a soft top, or the recently introduced Sky One-Touch Power Top, there's a Jeep top to suit every level of comfort and adventure depending on the potential buyer's needs. Continue reading below to see which Jeep top is right for you!
Hard Top
Naturally, a hard top is the closest thing to a regular cabin roof. A hard top on a Jeep Wrangler comes equipped to protect passengers from the outside elements like snow, rain, winter cold, summer heat, and city fumes. The sturdy and closed off cabin reduces noise, allowing the passengers to enjoy a small amount of quiet or to listen to some tunes. A hard top is much more durable than a soft top, intended to last many years (typically the life of the vehicle) – it is unlikely that a hard top needs replacing due to old age. A hard top also gives owners more cargo space – gears can be loaded on top to get the most use out of it. Consumers can also opt for an aluminum half rack or rugged rack for their kayaks or bikes. In fact, consumers can even choose to build a tent on top of the hard top! Hard tops also act as theft deterrents since they function as a traditional car roof and are less likely to be broken into.
Depending on the kind of activity a potential buyer is interested in there could be some negatives to owning a Jeep Wrangler with a hard top. Hard tops are difficult to remove, require more than one person to complete the task, and need somewhere to be stored. Also, riding around without a top at all exposes the Wrangler to the elements, and with South Florida's turbulent weather it's likely that Jeepers will find themselves under a sudden rainstorm without a top and risking damage to the upholstery and interior electronics.
Soft Top
Jeep soft tops offer tons of versatility, from full tops, half tops, bikinis, flip tops, and even sometimes a combination of a few of these. Depending on the kind of activities that Jeepers may be into, Jeepers can configure their tops however they wish – the side or back windows can be removed, as can the doors for an additional adventure factor. As we previously mentioned, soft tops come in all kinds of styles.
Summer soft tops tend to be inexpensive, and consumers can actually buy various soft tops for the same amount it costs to get just one hard top. Of course, a soft top is the easiest way to feel close to nature in a Jeep Wrangler. For those great outdoor enthusiasts a soft top may seem like a no-brainer, and with its ability to be adjusted in just a few minutes, a soft top can help people escape to get back to their wild side rather quickly.
The downside to a soft top is that it won't last as long as a hard top. South Florida's sun and summer's constant rain can damage and wear down a soft top over the years, rendering them non-functional. While soft tops won't require a designated space to store them as a hard top would, soft tops still need several steps, and consumers might not have the patience to complete the task. Check out our handy guide for the removal of Jeep tops. Also, unlike the hard top, the soft top offers little security against theft – it's fabric that can be cut open if any thief wants to get their hands on any valuables left behind.
Sky One-Touch Power Top
The Sky One-Touch Power Top is a top that's half soft top and half hard top, the latest technology, and innovation when it comes to Jeep tops. Targeted towards consumers unwilling to go through the ordeal of removing their entire hard top, or towards consumers who struggle taking apart the large soft top piece by piece, the Sky One-Touch Power Top is a canvas top itself that operates on a track system much like a convertible. With the single touch of a button, the top opens and slides back where it stacks accordion-style above the rear quarter windows. Closing the top requires the single touch of a button as well, propelling the top towards the windshield where it'll latch into place creating a watertight seal. The top is equipped with sensors that can detect if anything is in the way of the track – like little fingers for example – and will automatically stop until the path is clear.
Downsides to this particular top style? Only the Sahara and Rubicon four-door Wrangler vehicles currently have this top as an option, complete with an MSRP of $3,995. The Sky One-Touch Power Top is slowly making its way across Jeep dealer lots as it begins its introduction into the current market. It is still unclear if this top will be available on the Sport trim down the road.
Infected with the Jeeper bug? Come by Hollywood Chrysler Jeep and decide for yourself what top style is right for you. Pick a 2018 Jeep Wrangler JL from our inventory and schedule a test drive today!
Already a Jeeper? Our service department is open Monday through Saturday for your convenience. Feel free to schedule a service appointment online.
Photo Source/Copyright: FCA