All you Need to Know About the Jeep Jamboree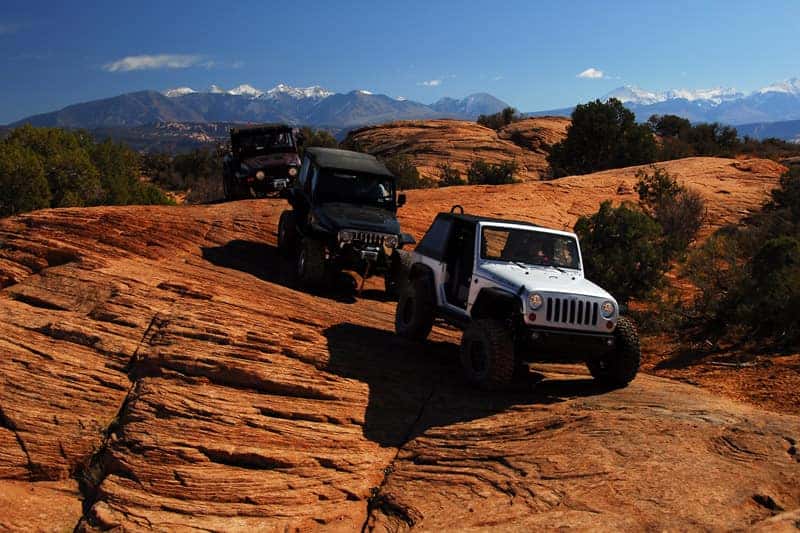 It's no secret that if you're an adventure enthusiast you're likely to gravitate towards the iconic Jeep® brand when it comes to your vehicle choices. Who can blame you when you've got the Jeep Badge of Honor Program to encourage your adventurous spirit? Or the Jeep Wave Program that's got your back no matter where you go. Know what else encourages Jeepers' sense of community and adventure? The Jeep Jamboree!
A Jeep Jamboree is a wholesome, two-day, family-oriented four-wheel-drive adventure that's available to participants with every level of off-roading expertise – be it their first time or their hundredth time. All Jeep vehicles are welcome as long as they've got four-wheel drive and a 4-LO transfer case – the lower the crawl ratio, the higher the torque output, making these Jeep vehicles the perfect machines for crawling and off-roading. There are also experienced guides that will help Jamboree attendants navigate challenging off-road situations and scenic switchbacks as they push their Jeep vehicles to the limit. Oh, and sharing this jovial atmosphere with other Jeepers can't be that bad!
While there is no set fee to attend a Jamboree as they all differ depending on the area that they take place in, children under five years of age can join in on the fun free of charge. Credit cards and checks are accepted as forms of payment and all fees must be paid in advance before arrival. The Jamboree fee covers the cost of the experienced guides, all land-use fees, necessary permits, access to some of the best trails (some that are only available through this program), and meals on both Friday and Saturday. There's also an option that allows for participants to choose evening meals only instead should they choose to brown-bag it the rest of the day. An official Jeep Jamboree dash plaque is also given to participants, and each Jamboree features different prize drawing events provided by the sponsors.
Families of four or more get access to a special Family Plan that is designed to make the experience more affordable. Instead of there being a charge per person, the Family Plan is based on a per vehicle price. To qualify, families must have two adults in the vehicle (no more, no less) and two or more children under 15 years of age. Occupants must wear their seatbelts at all times and must travel in the same Jeep vehicle as well. The Rubicon Trail Jeep Jamboree does not offer the Family Plan due to its difficulty and popularity.
All Jeep vehicles participating in the Jamboree must have a Citizens Band (CB) radio for proper communication. Safety issues and trail information will be transmitted over the CB radio by the trail guides – consider it mandatory! Besides the obvious need for each participating vehicle to be street legal with a current license plate, they must also carry a full-size spare tire (not a donut), and all vehicles willing to go topless must have roll bars for protection. Tow points mounted to the frame of the vehicle with grade-eight bolts are also mandatory, while D-ring anchor points are an acceptable alternative – without either of these, participants will be turned away at the door.
Although 2018 is winding down there are a few Jeep Jamboree events left – the Moab, Greenbrier Valley, and the Death Valley jamborees are still available. If you've got any additional Jeep Jamboree questions reach out to us via Hollywood Chrysler Jeep social media – remember, we're The Jeep Experts!
Photo Source/Copyright: jeepjamboreeusa.com